Posted on
Mon, Jun 14, 2010 : 4:15 p.m.
Lonnie Scott picks up endorsement from UAW, shares 15th Congressional District support
By Ryan J. Stanton
Democrat Lonnie Scott today announced two major endorsements for his campaign for state representative — from the UAW and the 15th Congressional District Democratic Organization.
While Scott is the only 54th District candidate with the blessing of the UAW, he shares the 15th Congressional District endorsement with another Democrat in the race.
Scott, of Ypsilanti Township, is one of six candidates in a heavily contested primary race vying to replace state Rep. Alma Wheeler Smith in the 54th District House seat. Smith, who is term-limited, also has endorsed Scott.
Scott, who comes from a family of auto factory workers, said in a statement he's honored to receive support from both groups.
"Most of my family has worked in local auto plants, so my whole life I've witnessed firsthand the results of the UAW's tireless efforts on behalf of local families," Scott said.
"The UAW has been a crucial force in fighting for the people of the 54th District. These endorsements, along with the endorsement of Rep. Smith, show confidence in the work I've done for the hardworking families the 54th District, work I will continue as our next state representative, and for that I'm deeply grateful."
For a complete list of candidates, click here.
Jeff Donofrio, chairman of the 15th Congressional District Democratic Organization, said while his group has endorsed Scott, it also has equally endorsed his opponent, David Rutledge, chairman of the Washtenaw County Road Commission.
"We did endorse Lonnie but it was a dual endorsement of Lonnie and Dave Rutledge," Donofrio said. "Both are very well qualified. Both have been active and involved in the organization, so we felt both deserved our endorsement."
Donofrio said the organization also recently issued a dual endorsement of Jeff Irwin and Ned Staebler in the 53rd District state House race.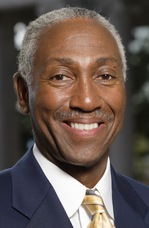 In the 18th District state Senate race, the organization has endorsed Rebekah Warren, who is facing off against Pam Byrnes and Thomas Partridge on Aug. 3.
The organization also is backing Mike Smith, the only Democrat running to replace 55th District state Rep. Kathy Angerer, who is term-limited.
Scott, who grew up in Ypsilanti Township, has served as Alma Wheeler Smith's legislative director in the state House for the past two years. He says he is the only 54th District candidate with experience in the state's appropriations and budget process.
Scott has argued that term limits have devastated the Michigan Legislature's ability to retain any institutional knowledge. He says that knowledge and experience is crucial to passing legislation needed to move the state forward.
"I have that knowledge and experience, and in this troubled economic environment, we don't have time for on-the-job training," Scott said. "I believe this is why I've been able to secure a number of endorsements — they're an acknowledgment of that experience and the energy I bring to this campaign."
Rutledge said this afternoon he was pleased to have the endorsement of the 15th Congressional District Democrats.
In response to Scott's statements about experience, though, Rutledge argues he has his opponent beat in that area.
Rutledge served as Superior Township's elected supervisor from 1980 to 1988. He also spent 1986 to 1988 as deputy director of the research staff for the Michigan House Democratic Caucus.
He also served 30 years on the Washtenaw County Parks & Recreation Commission and has spent the last six years on the Washtenaw County Road Commission and the last 13 years on the Washtenaw Community College Board of Trustees.
"In terms of experience, I think where I'm linking my experience to is to local government and to education and to the budget process," Rutledge said. "I'm not wrapping myself in somebody else's experience. These are my own experiences from having served in the organizations themselves. I know local government."
Rutledge, who also is emphatically against term limits, said Scott has no business talking about his experience working on budgets.
"I don't think that he can talk about budgets at all because I have actually had to have hands-on dealings with budgets at the township level, at the Road Commission and at the community college," he said. "I've worked with more budgets — and kept them balanced —than I think he's seen budgets."
Click here for a map of state House districts.
Ryan J. Stanton covers government for AnnArbor.com. Reach him at ryanstanton@annarbor.com or 734-623-2529.