Posted on
Sun, Feb 26, 2012 : 5:59 a.m.
Southeast Michigan residents already making commuter rail between Ann Arbor and Detroit possible
By Ryan J. Stanton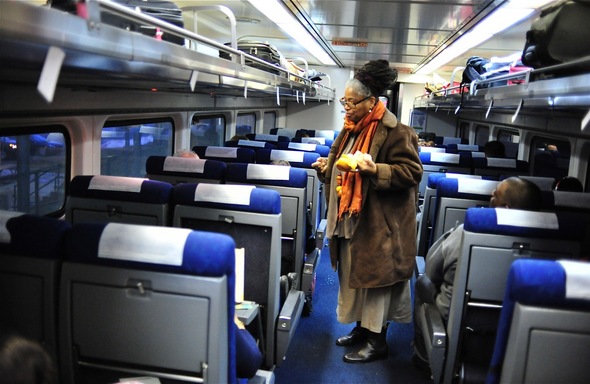 Ryan J. Stanton | AnnArbor.com
As many wait for officials to deliver on the promise of a
true commuter rail service between Ann Arbor and Detroit
, a handful of people already are making it work.
Living proof that it's possible right now to commute by train between the two Southeast Michigan cities — albeit with a few limitations — is Detroit resident Chinyere Neale.
Neale has been boarding passenger trains at the Amtrak station in Detroit each morning for nearly a decade to get to her job at the University of Michigan in Ann Arbor.
"There are several others who get on in Royal Oak, Detroit and Dearborn to work in Ann Arbor and the university," said Neale, who lives only a few minutes from the Detroit station. "We have endured the delays, suffered the cancellations, and mostly enjoyed great service."
Neale said she and others have grown tired of waiting for commuter trains, which have been promised year after year by officials working on the project.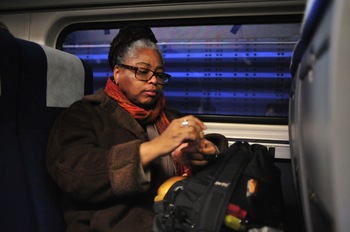 Ryan J. Stanton | AnnArbor.com
Carmine Palombo
, director of transportation programs at the
Southeast Michigan Council of Governments
, said progress continues on many aspects of the proposed commuter service, but there still are a few hurdles to clear.
He said SEMCOG and the Michigan Department of Transportation are working daily — along with the Federal Railroad Administration, Federal Transit Administration, Amtrak and various contractors — and demonstration trains could be up and running later this year.
Neale said she's heard that before, though.
"I've heard so many different plans, and when people tell me about the latest plan, I always tell them I won't hold my breath," she said. "They said by 2009 they were going to have this train."
Neale, who works in U-M's School of Public Health, said she welcomes the prospect of a true Ann Arbor-Detroit commuter rail service — hopefully with more frequent trips, better hours, more stops, and cheaper fares — but for now she's grateful for Amtrak's regular passenger train service, which she said gets her to her job usually without any problems.
Riding the rails
Amtrak sends three passenger trains from Detroit to Ann Arbor each day — at 6:48 a.m., 11:23 a.m. and 6:18 p.m.
Neale can be found on the early train most days.
As for getting home after work, Neale has a couple of options. Amtrak sends trains from Ann Arbor to Detroit each day at 1:04 p.m., 5:45 p.m. and 11:32 p.m.
Neale usually takes the 5:45 p.m. train. But if she wants to stay later, which she did the other night when she went to a classical concert after work, she'll hop aboard at 11:32 p.m.
The trip is a little less than an hour each way, and Neale said she has no trouble passing the time. Instead of gripping the wheel of her car and worrying about traffic or road conditions, she'll kick back and enjoy a light snack, crack open a book or sometimes nap.
"Most days I read," she said. "It's just nice to be able to relax and not worry about somebody rear-ending me, or the weather. The train is reliable pretty much regardless of the weather."
On a recent morning trip from Detroit to Ann Arbor, AnnArbor.com found a number of other Southeast Michigan residents who regularly commute by train to work or school.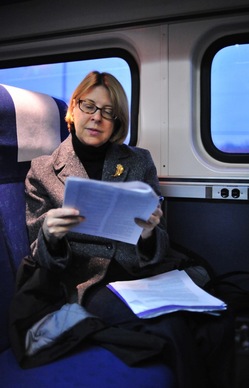 Ryan J. Stanton | AnnArbor.com
That includes Detroit resident
Cassandra Watts
, who uses the train to get to her classes at Eastern Michigan University. Because there currently isn't a stop in Ypsilanti, she gets off in Ann Arbor and then takes the bus out to EMU.
"It does have pluses and minuses, but it has more pluses for me," she said. "I am not in a rush to be anywhere because my first class doesn't start until 45 minutes after I even get there."
Westland resident Dwight Scales, who works at U-M's Kellogg Eye Center, said he's been using the train to get to his job in Ann Arbor for about a year.
He doesn't own a car, nor does he want one with the way gas prices are going. So he finds his way to the Amtrak station in Dearborn each morning, often taking the bus to get there.
"It's the only way I can make a commute from the Detroit suburbs into Ann Arbor," he said. "There's no other way. I don't own a car."
Added Scales: "I like the idea of commuting by train anyway."
Even those who own a car said the choice to commute using Amtrak is easy: It's either an hour spent behind the wheel in traffic or an hour spent relaxing on a train. Some prefer to multi-task.
"Usually I'm working on the train, actually, which is another reason I will add to my list of why I prefer to take the train," said Warren resident Kathleen Bergen, a research faculty member in U-M's School of Natural Resources who regularly boards at the station in Royal Oak.
Bergen spent a recent morning commute reading a professional paper sent to her by a colleague who wants to collaborate on a grant proposal.
"Sometimes I'm grading papers," she said. "I'm actually on my way to teach. I teach on Tuesday and Thursday mornings and very often I'm reviewing my presentation to my class."
Bergen packed a morning snack and brought a mocha along for her trip. She said she's been commuting by train to Ann Arbor for eight or nine years.
Jason Ulsh, who lives on Detroit's east side, said he takes the train to get to his job at the University of Michigan just about every morning.
"It's about the same as driving, but it's a little less convenient because the times are fixed and there aren't many trains," he said. "And if there are a lot of people riding to Chicago, it's obnoxiously slow, especially coming back. It's not all good, it's not all bad."
Ulsh said he owns a car, but he prefers the train, and he doesn't think he's spending that much more money given the price of gas.
"I'm only spending like a couple bucks more a day to do this and it's way less stressful," he said. "Plus my wife needs the car during the week and it works out better that way."
A makeshift commute
As far as commuting goes, the current Amtrak schedules work out much better for those who want to go from Detroit to Ann Arbor — not the other way around.
For those who live in Ann Arbor and work in Detroit, the timing doesn't work so well, with the earliest train to Detroit departing at 1:04 p.m. and the last train coming back at 6:18 p.m.
"I know lots of people in Ann Arbor who either work in Detroit or would like to work in Detroit who kind of envy me," Neale said.
Until a true commuter rail service is established, it's the Detroit-to-Ann Arbor crowd that's able to take advantage of the current schedule and enjoy riding the rails to work.
Neale said she started taking the train to work in Ann Arbor back in 2002. Ironically, she said, it was right after she purchased a new vehicle.
"The initial plan was to take the train a couple days a week, take the weight off my car, but man, I got addicted quick," she said. "Just being in a situation where I didn't have to drive — I could relax. Like last night after the concert, I could nap for an hour on the train."
Neale said she had ridden the train from Detroit to Ann Arbor before, but it was discovering Amtrak's multi-ride pass that opened her mind to regularly commuting by rail.
"I read up online and I stumbled upon something about a multi-ride pass, and I got so excited I literally went to the station right then and bought one," she said.
Neale is referring to the 10-ride pass Amtrak sells for $114. That's enough to cover two trips each day — one to get to work, one to get home — for a full five-day work week.
Ryan J. Stanton | AnnArbor.com
When she first started buying the passes, they were $84, but they've gradually gone up to $114. That means Neale is spending $22.80 each day to get to and from work.
By comparison, with gas prices above $3.50 a gallon, someone with a car that gets 25 mpg might spend $14 or more driving between Detroit and Ann Arbor each day. And that's not counting wear and tear on the car.
"It's pretty pricey, but I think in the long-term it's worth it," Neale said of taking the train. "When I first was going to Ann Arbor, I was putting 100 miles a day on my car, plus gas. And now I'm putting two miles a day on my car and buying a lot less gas. But more importantly, I'm able to relax."
Neale and others who take the train don't seem to have a strong opinion on whether the station in Ann Arbor stays on Depot Street or moves to Fuller Road, which is what city officials have proposed. Some commuters said they like the current location for its convenience — it's just a short walk to downtown and the U-M campus, and the Ann Arbor Transportation Authority regularly sends buses past the station to drop off and pick up passengers.
After getting off at the Depot Street station in Ann Arbor, Neale takes an AATA bus to her final destination each morning.
"If the train gets in a few minutes early, which it has been, I can run upstairs and catch a bus just as it's pulling in," she said. "If the train comes in on schedule, which I think is 7:48 a.m., the No. 17, a shuttle between Depot and Blake, is at 7:53 a.m. and it's usually right on time."
Added Neale: "It takes five minutes. Can't get much faster than that."
Room for improvement
On Thursday morning, Neale rode on a train with five 68-seat coaches, for a total capacity of 340 seats, but there were only 130 passengers when the train reached Ann Arbor.
And only six got off in Ann Arbor.
That means there's plenty room for others to hop on board and try rail commuting for themselves, if they're willing to deal with the limited schedules and occasional delays.
Marc Magliari, a Chicago-based spokesman for Amtrak, said the early morning train Neale rides to get to work in Ann Arbor is on time 63 percent of the time.
That's measuring the route's on-time performance all the way from Pontiac to Chicago, and many riders said it's usually on schedule from Detroit to Ann Arbor.
The train starts in Pontiac and stops in Birmingham, Royal Oak, Detroit, Dearborn and Ann Arbor before continuing west toward Chicago.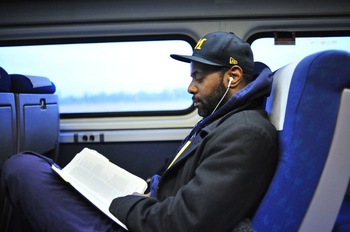 Ryan J. Stanton | AnnArbor.com
It appears the train ride back to Detroit is where delays are most often seen. The 5:45 p.m. train out of Ann Arbor to Detroit is on time less than a quarter of the time.
Again, that's measuring the route's performance all the way from Chicago to Pontiac. Magliari said a train is considered on time if it arrives within 15 minutes of schedule.
Magliari said Amtrak welcomes the business of anyone who wants to use its passenger rail service to commute to work, but it's not necessarily set up for that.
In addition to the existing Amtrak stations in Ann Arbor, Dearborn and Detroit, two new stations in Ypsilanti and at Detroit Metro Airport are planned as part of the commuter service.
SEMCOG and MDOT have been working closely with the host communities on the design of those stations, Palombo said, noting preliminary designs are complete, funding has been identified, and work can begin once environmental clearance is obtained.
The Great Lakes Central Railroad has completed refurbishment of all nine passenger cars for the Ann Arbor-Detroit service, and they have successfully completed inspections for things like brake systems and door function. Grand Rapid-based American Seating produced seats for all nine cars and the seats have been delivered and installed.
The last step prior to being cleared for use in service, Palombo said, requires hooking the cars to an Amtrak locomotive and undergoing another set of mechanical and safety tests. He said that work is being scheduled and commissioning is expected soon.
Once commissioning is complete, demonstration trains are expected to run in service to special events sometime in 2012, Palombo said.
Another piece of the puzzle is construction of the West Detroit Connection Track, which Palombo said should happen this year and shave 10 minutes off the travel time for the Ann Arbor-Detroit commute. An environmental assessment is required to clear the project for construction, Palombo said, but the FTA has agreed to expedite the process.
The federal government has earmarked literally hundreds of millions of dollars for high-speed rail improvements from Detroit to Chicago. Many of the planned track upgrades for high-speed rail are expected to help make Ann Arbor-Detroit commuter rail possible.
Neale welcomes the possibilities.
"One of the things they talk about with the commuter rail — the real commuter rail — is having trains that go late at night, because there are a lot of kids at the university who would come to Detroit for ball games and other entertainment stuff," she said. "It would be convenient because the train station is one mile from the cultural center. It's two miles from downtown. It would be easy to use that to participate in more of the cultural life in Detroit."
And Ann Arborites could take the train to work in Detroit.
Ryan J. Stanton covers government and politics for AnnArbor.com. Reach him at ryanstanton@annarbor.com or 734-623-2529. You also can follow him on Twitter or subscribe to AnnArbor.com's email newsletters.