Posted on
Fri, Jan 13, 2012 : 7:56 a.m.
U-M student critically injured after fall from Cancer Center building
By Lee Higgins
A University of Michigan student remains in critical condition this afternoon after he climbed down from a roof this morning at the U-M Comprehensive Cancer Center, dropped 10 to 15 feet onto a glass overhang, slipped and struck his head.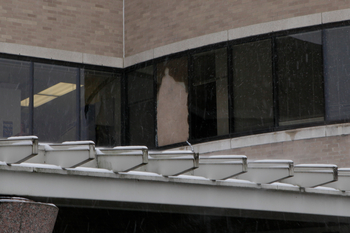 Chris Asadian | AnnArbor.com
The 20-year-old student, who is from St. Clair Shores, clung to the second-floor roof and let his feet dangle as he dropped onto the overhang at 1:15 a.m., university police spokeswoman Diane Brown said.
When he landed, he slipped and struck his head on the overhang, Brown said, sustaining head trauma. Ann Arbor fire officials said the student wasn't conscious when he was taken to the emergency room.
Acting Battalion Chief Amy Brow said a window was broken out at the center to bring the student inside the building from the overhang.
It's unclear why the student was climbing down the outside of the building, police said. He was not a patient and was alone.
Police said he attended an off-campus party prior to the accident, but declined to say whether he had been drinking. Officers responded to the center after a health system staff member saw the student on a roof, trying to get down, Brown said. By the time officers arrived, the student was on the overhang. Brown said she does not believe the staff member had an opportunity to talk to the student.
The student appears to have accessed the exterior of the building from an adjacent parking structure, she said. He accessed the second-floor roof from the third-floor roof and was on at least one level higher, Brown said.
It does not appear he entered the building on East Medical Center Drive, she said, but police are reviewing surveillance footage. She said she didn't know what time he left the party or what distance the party was from the center.
The student's name has not been released.