Posted on
Wed, Jul 13, 2011 : 5:59 a.m.
Man sentenced to probation for Thompson Block arson in Ypsilanti
By Heidi Fenton
This story has been updated with additional information from the Washtenaw County Prosecutor's office.
Jacob Popiolek was sentenced Tuesday to 5 years of probation for setting fire to the historic Thompson Block building in Ypsilanti.
Judge Donald Shelton told Popiolek, 21, he has a choice to take his future on a positive or a negative path, depending on whether he refrains from criminal activity after being spared from prison.
"This is a serious offense. Arson is a serious offense," he said.
Police arrested Popiolek several weeks after the Sept. 23, 2009, fire that caused significant damage to the vacant building located in Depot Town. No one was injured.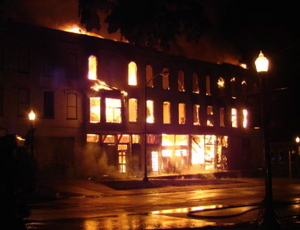 Popiolek was among several people trespassing in the building just before the fire started, police said.
He was the only one charged in the case and could have faced up to 10 years in prison for the arson charges.
Instead, Popiolek was allowed to serve probation only. He also must participate in a bootcamp program through the Michigan Department of Corrections and will be required to obtain his high school GED or an equivalent, and provide proof of full-time employment after obtaining the degree. He must pay court costs, restitution and attorney fees totaling just more than $140,000. Popiolek will remain in the county jail until he is transferred for participation in boot camp.
At Tuesday's sentencing, Developer Stewart Beal, whose company Historic Equities Fund 1 LLC owns the building, told the court of troubles he has faced since the fire. He recommended Shelton not sentence Popiolek to prison, but instead require him to complete several hours of community service.
He said repairs made to the building to bring it back to its former condition came at a cost of nearly $1.2 million.
"This was the most psychologically and emotionally damaging experience of my life," he said.
Popiolek asked he be given a second chance to make amends for his mistakes.
"I just want to apologize to anyone and everyone I set back," he said. "I want to make things right."
Shelton gave two reasons for issuing an "extended" probationary period: Popiolek's lack of a criminal record, and to show "I'm serious about the restitution order."
"This was fortunate for everyone, that it was not a building that was occupied at the time," he said.
Heidi Fenton covers police and courts for AnnArbor.com. Reach her at heidifenton@annarbor.com or 734-623-4673. You also can follow her on Twitter or subscribe to AnnArbor.com's e-mail newsletters.