Posted on
Wed, Apr 28, 2010 : 8:53 p.m.
Washtenaw County prosecutors charge man with arson in Thompson Block fire
By Tom Perkins
A man long suspected of setting fire to the Thompson Block in Ypsilanti's Depot Town last fall was charged with arson, authorities revealed today.
Before today, officials hadn't even labeled the fire - which gutted much of the historic building - arson. They long said the early morning blaze on Sept. 23 was suspicious, but remained under investigation.
Ypsilanti Fire Marshal Jon Ichesco said tonight that a warrant for Jacob Robert-Andrew Popiolek was issued by the Washtenaw County Prosecutor's Office late last week. As of tonight, authorities hadn't been able to locate him.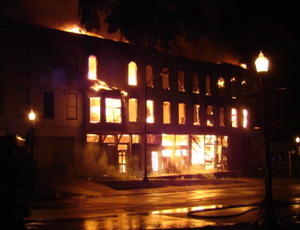 Ichesco said Popiolek was considered a "person of interest" and was interviewed early in the investigation. He said investigators also had several witnesses who identified Peopiolek.
Ichesco said the motive isn't known.
"It was pretty good cop work," Ichesco said. "They followed every lead, and there were a lot of them, and it kept coming back to the same person."
Ypsilanti Police Chief Amy Walker could not be reached for comment tonight.
"The fire at the Thompson Block building was the single most mentally traumatic event of my life, so I do hope whoever is responsible is convicted and justice is served on the matter," said developer Stewart Beal, whose Historic Equities Fund 1 LLC owns the building.
Since the fire, Beal and the city have been entangled in a legal battle over shoring in the street that's supporting the structure. Beal has pledged to renovate the building.
No further details on Popiolek or the investigation were available tonight.
Anyone with information on Popiolek's whereabouts is asked to call Ypsilanti police at 734-483-9510.