Posted on
Wed, Jun 6, 2012 : 5:56 a.m.
Maple Cove apartments project goes to Ann Arbor City Council for final approval
By Ryan J. Stanton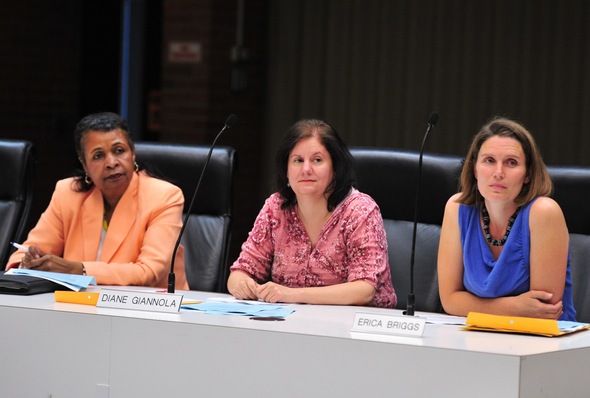 Ryan J. Stanton | AnnArbor.com
Ann Arbor planning commissioners expressed regret Tuesday night that they had little choice but to approve the
controversial Maple Cove apartments
project.
"I'm disappointed we have to approve this project tonight," said Commissioner Erica Briggs. "I think there are a lot of problems with it, but I don't see a way around it."
Before voting 6-0 to forward the project to the Ann Arbor City Council for final consideration, multiple commissioners voiced concerns that the project falls short of their expectations and expressed disappointment in the developer for not being more cooperative.
As they had done at previous meetings, commissioners continued to voice concerns about potential safety risks posed by a lack of sidewalks, which some fear could force children to walk in the street, and having two driveways close together on Maple Road.
"This project is not all it could have been," said Commission Chairman Eric Mahler, suggesting the developer failed to address issues like some safety concerns.
Ryan J. Stanton | AnnArbor.com
According to Planning Manager
Wendy Rampson
, the developer doesn't have to address those issues and the project meets city code as it stands now.
Property owner Muayad Kasham, who owns Superior Lawn Care & Snow Removal in Ann Arbor, wants to demolish an existing home and construct two 18-unit, three-story apartment buildings and seven single-family homes, as well as a 64-space parking lot. Site plans for the apartment buildings include 12 one-bedroom units and 24 two-bedroom units.
Rampson said if in the future the proximity of the two driveways causes a conflict with vehicles moving in and out, or with the intersection, the city's traffic engineer could then make a decision on closing one of the drives based on that situation.
"But it cannot be pre-assumed that it is going to be a problem," she said.
Several residents have spoken against the project, voicing concerns it doesn't fit the character of the neighborhood and it might increase traffic and exacerbate stormwater runoff issues. Only two residents spoke out at Tuesday's final meeting, though.
Immediately following the vote, one of the residents followed Jamie Gorenflo of Midwestern Consulting, a representative of the developer, through the hallway, shouting and cursing at him as Senior Assistant City Attorney Kevin McDonald tried to intervene.
Commissioners Bonnie Bona, Evan Pratt and Kirk Westphal were absent.
Minda Hart, who lives on Calvin Street near the project, said she doesn't think the city or the developer did enough to consult residents on the project.
Hart said she has lived on the street for 18 years and some of her neighbors have lived there for as many as 47 years.
"We are not a transient street," she said, later adding: "This is way too many homes for this amount of area."
Briggs said she doesn't expect larger issues like density to be addressed, but she sees no reason why the developer can't work out some of the smaller issues. She said it's unfortunate the project will go forward with animosity in the neighborhood.
She and Commissioner Wendy Woods encouraged the developer to show some willingness to compromise and move forward in good faith.
Despite the project's shortcomings, Commissioner Tony Derezinski said the site where the development will occur could use some improvement.
The commission on March 20 held a public hearing and voted 6-2 in favor of the Maple Cove project, but city officials forgot to send required notices of the meeting to some residents. The project came back to the commission last month but a final vote was postponed then.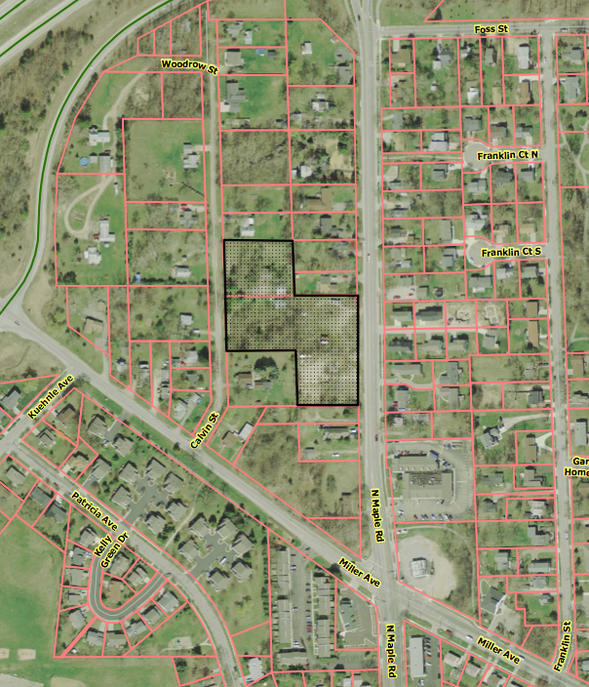 Courtesy of City of Ann Arbor
Ryan J. Stanton covers government and politics for AnnArbor.com. Reach him at ryanstanton@annarbor.com or 734-623-2529. You also can follow him on Twitter or subscribe to AnnArbor.com's email newsletters.