Posted on
Fri, Mar 16, 2012 : 3:38 p.m.
Rep. Mark Ouimet on scene of Dexter tornado since Thursday: 'I haven't been to bed yet'
By Ryan J. Stanton
State Rep. Mark Ouimet says he hasn't slept since a tornado touched down in the heart of his district in Dexter Thursday night.
"I arrived at about 9 o'clock last evening and I haven't been to bed yet," said Ouimet, R-Scio Township, while still on the scene shortly before 3 p.m Friday.
"I stayed up through the night with the first responders, thanking them for all the great work they're doing, and got them food and water," he said. "This morning, at day break, I had an opportunity to walk the subdivision and take a look at it firsthand.
"It's pretty devastating. It's probably about 100 homes that have been seriously damaged or demolished."
Gov. Rick Snyder met with residents and cleanup crews in the Huron Farms subdivision early Friday afternoon. Ouimet said he'd been in contact with the governor's office.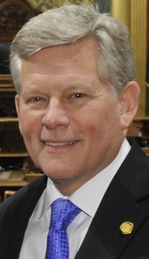 "I've talked to the governor's office numerous times and the legal team is working on what they can do," Ouimet said. "As far as what state government can do, we need a proclamation from the county and the local government before we can get started on anything."
In the meantime, Ouimet said, many are pitching in.
"The local municipalities, the village and the township, state police, sheriff's department, seven fire departments are all working to get things done. And I think once all that initial effort is concluded, then they're looking at what the state legally can do," he said.
"The first responders and Red Cross and the United Way and Dexter Schools and the community have really done an excellent job coming together," he added. "This is something to marvel at, how people have helped their neighbors."
Ouimet said he believes many of the homes — some of them valued at hundreds of thousands of dollars — were fully insured.
Ouimet said he'll continue to do whatever he can to assist the first responders as cleanup and restoration work continues. As he spoke Friday afternoon, he said crews were putting tarps over roofs and boarding up windows as cranes lifted debris from the damaged homes into construction dumpsters.
He said he's spent the last several hours hearing "one believable story after another," such as residents who helped ensure the safety of a neighbor in a wheelchair, and people being pulled out of the rubble literally without a scratch.
"There was nobody killed and nobody injured and that's amazing when you stand there and look at what was done," he said. "That speaks well of the first responders.
"People are just thankful they got out with their lives," added Ouimet. "Their homes are completely flattened, so if you were in the basement you were OK. But if this had been at 2 o'clock in the morning and they were in bed, they wouldn't have made it."
U.S. Rep. John Dingell, D-Dearborn, said his thoughts and prayers are with the families and businesses hit by Thursday's storms.
"My staff and I are working closely with local government to keep apprised of the recovery efforts to ensure that the communities impacted have the resources they need to provide effective disaster relief," Dingell said in a statement on Friday. "I will do all I can to make sure that those affected by disasters are on a pathway to recovery."
U.S. Rep. Tim Walberg, who represents the district that includes Dexter, said he's thankful there are no serious injuries reported. He also said he's been in contact with the governor's office and planned on visiting the site of the disaster on Friday.
"My office stands ready to assist state and local teams with any recovery efforts," Walberg said in a statement directing residents affected by the disaster to contact the local chapter of the American Red Cross.
Ryan J. Stanton covers government and politics for AnnArbor.com. Reach him at ryanstanton@annarbor.com or 734-623-2529. You also can follow him on Twitter or subscribe to AnnArbor.com's email newsletters.