Posted on
Fri, Jan 27, 2012 : 12:49 p.m.
AATA meeting on financial details of countywide transit expansion postponed
By Ryan J. Stanton
A meeting scheduled for today on the countywide expansion of public transit services — which would have targeted financial recommendations — has been cancelled.
Mary Stasiak, spokeswoman for the Ann Arbor Transportation Authority, said the planned meeting of the AATA's countywide financial task force has been postponed due to task force members' concerns about having enough time to digest the large volume of information being provided by a sub-group that's making financial recommendations.
"The issue of transit funding is too important to make decisions without the benefit of a careful review of the sub-group's work," Stasiak said, adding the meeting will be rescheduled.
AATA officials were planning to brief media representatives and review the sub-group recommendations prior to the full task force meeting.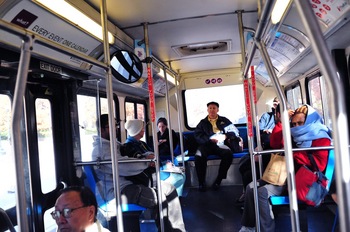 Ryan J. Stanton | AnnArbor.com
Many members of the community, including members of the
Ann Arbor City Council
, have been anxiously waiting to hear the recommendations for how a countywide expansion of the AATA will be financed. AnnArbor.com requested a copy of the sub-group's recommendations today but was told by Stasiak they haven't been finalized yet.
"That was expected to occur at the meeting today," she said.
The AATA countywide push comes at the same time big talks are happening at the state level around expanding public transit services throughout Southeast Michigan and increasing funding for roads and bridges in Michigan by $1.4 billion annually.
State Rep. Rick Olson, R-York Township, said the package of transportation bills in the House range in number from 5298 through 5314 and other bills have been introduced in the Senate.
According to Lansing news agency MIRS, there are 30 bills in all that cover a vehicle registration fee hike, a gas tax at the wholesale level that equates to about a 9-cent increase, a regional transit authority for Southeast Michigan and a new commercial corridor fund.
Thirteen bills in the House have an identical companion in the Senate. The final four House bills do not, but it's expected that more bills are coming.
The gas tax increase is spelled out in HB 5298 and SB 918, while an increase in vehicle registration fees is found in HB 5300 and SB 919.
The bill calling for creation of the commercial corridor fund is HB 5303 and the regional transit authority legislation is HB 5309 and SB 909.
Other proposals in the package include letting counties vote to raise vehicle registration fees locally and putting that revenue toward local road repairs (SB 910) and creating an optional county registration fee to benefit public transit (HB 5312 and SB 0910).
There also are proposals allowing dedication of a lane for public transit in state rights-of-way on state roads and modifying conditions to receive funds from the state transportation fund.
Gov. Rick Snyder has made it clear he wants transportation to be a top priority on the state's legislative agenda in 2012 and bipartisan support is building around his ideas.
Ryan J. Stanton covers government and politics for AnnArbor.com. Reach him at ryanstanton@annarbor.com or 734-623-2529. You also can follow him on Twitter or subscribe to AnnArbor.com's email newsletters.