Posted on
Tue, Feb 8, 2011 : 5:20 p.m.
Michigan Board of Education raises proficiency scores for MEAP and MME
By Kyle Feldscher
Don't be surprised if a surprising number of Michigan school districts fall short of proficient scoring after next year's round of standardized state testing.
The Michigan Board of Education approved higher cut scores, or scores that mark proficiency, for both the Michigan Educational Assessment Program (MEAP) and Michigan Merit Exam (MME) tests at a board meeting Tuesday. According to experts, the new standards will be more honest about how well students are doing on the tests.
"It's going to make a real difference in the share of kids who are being labeled proficient and in the share of schools passing AYP (Adequate Yearly Progress)," said Susan Dynarski, associate professor of economics, education and public policy at the University of Michigan. "Michigan has been Lake Woebegone — right now 95 percent of our third graders are labeled as proficient in math and under the new standards, it would become 34 percent."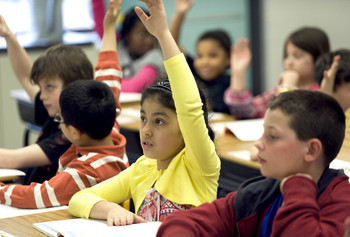 The higher cut scores would bring Michigan into a more comparable standing with states across the country and will improve upon college readiness, Dynarski said.
The new standards will have a definite effect on the amount of students and schools able to meet proficient standards, Dynarski said. She said estimates show about 86 percent of schools in Michigan are meeting AYP standards currently, but that number would drop to about 34 percent under the new standards.
"The new policy lets us be more honest about how much kids are learning," she said. "It's unfair to tell students and parents they're proficient when they're not."
Officials in Ann Arbor schools said the new standards have been anticipated and adjustments have already been made for the cut scores.
Interim deputy superintendent for instructional services Lee Ann Dickinson-Kelley said the district has been anticipating the higher cut score and has a plan ready to adjust.
Dickinson-Kelly said the district will enact its plan for next year and move forward based on the results.
"Fortunately in Ann Arbor we have already engaged in similar conversation which is reflected prominently in our strategic planning," she said. "Once we know the cut score and subsequent impact we will work with staff to address the increased rigor and accountability."
Joseph Martineau, state director of the Office of Educational Assessment and Accountability, said proficiency standards for schools will now be calculated according to the following formula: 50 percent will be based on the student scores, 25 percent on year-to-year improvement and 25 percent on how large the gap in achievement is between any two subgroups, such as between black and white students.
"The benefits are that it creates a sharp focus on achievement gaps and a more simple inclusion of subgroups," he said.
State superintendent Mike Flanagan said the new standards will make districts more honest with how their students are progressing.
He said he knows of districts in the state with no schools meeting the AYP standard at it is currently set, but they still have a high graduation rate. He said districts with situations such as that may graduate students but simply do not prepare them for college.
Board member Nancy Danhof, R-East Lansing, said the new test standards will ultimately make students more prepared for college and will save students college tuition money by not having to take remedial classes.
"From a funding standpoint, there's an increased ability to use the funding mechanisms we have for post-secondary education by ensuring students are ready to hit the ground running," she said.
The new standards have also created a stir among some school districts who could have their accreditation affected by the new test scores. The school districts in Lansing, Kalamazoo and Ferndale joined the Middle Cities Education Association in filing suit Monday to block implementation of the new standards.
They claim the standards are illegal because they are being implemented without the consent of the State Legislature, something Flanagan denied Tuesday.
Ann Arbor Public Schools spokeswoman Liz Margolis said she spoke with Kelley and director of student accounting and administrative support Jane Landefeld about the new standards. Margolis said district officials expect a smaller number of students to be named proficient but a plan is in place to raise test scores over time.
Kyle Feldscher covers K-12 education for AnnArbor.com. He can be reached at kylefeldscher@annarbor.com.