Posted on
Wed, Mar 7, 2012 : 9:58 a.m.
Free tuition for Michigan teens? Higher education experts say $1.8B program unlikely to gain support
By Kellie Woodhouse
In January Michigan senate Democrats unveiled a proposal that would send all Michigan-educated high schoolers to a state university for free.
Have you heard of it?
Probably not.
The proposal —dubbed Michigan 2020— has had a rather limp reception.
Why?
Because with a difficult economic climate and Republican-controlled Legislature, the likelihood of such a measure passing is slim, experts say. Even House Democrats, normally allied with their counterparts in the Senate, have shied away from the proposal, saying the $1.8 billion price tag is too steep in the current economic environment.
"It's a political, partisan thing. It's simply a tactic to say 'Look, Republicans didn't want to fund public education," said House Republican Rick Olson, R-York Township. Olson said most Republicans in Lansing weren't taking the proposal seriously.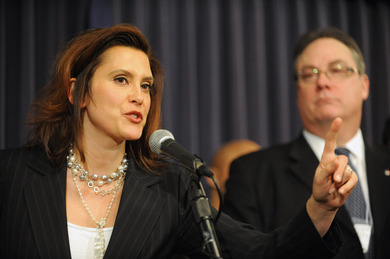 Angela J. Cesere | AnnArbor.com
Senate Democratic leader Gretchen Whitmer said in an interview the proposal "isn't a Democratic plan or Republican plan. It's a genuine plan for trying to move the state forward."
Senate Democrats are proposing closing numerous tax loopholes and ending certain tax credits to pay for the program. The Michigan 2020 proposal claims that loopholes credits cost the state an annual $35 billion and that eliminating 10 percent of the exemptions would free up enough money to fund a statewide tuition allowance.
"My colleagues across the aisle gave away $1.8 billion last year," she offered. "To look at that $52 billion state budget and say we can't find savings there- it's hard to imagine they could do that."
Yet to higher education funding expert Jennifer Delaney, a scholar at the University of Illinois, such an objection isn't so far-fetched.
"The difficulty really is about affording it," she said of the proposal, which would offer up to $9,575 for tuition per student each year. That's the median tuition rate at Michigan's 15 public universities. "Michigan isn't a top spender on higher ed and also isn't looking terribly good in other economic measures."
Michigan currently ranks 38th among the 50 U.S. states in higher education funding. Public universities in 2011-2012 received a 15 percent decrease in state funding. University of Michigan in 2011-2012 absorbed a $47.5 million cut.
The state allotted $1.36 billion for higher education in 2011-2012 and is expected to set aside $1.4 billion for higher education in 2012-2013.
"It is conceivable in some context that a state could do something like this, but I don't know if that's necessarily true in the legislative context of Michigan," Delaney continued.
A similar tuition-coverage plan already exists in Michigan, but on a much smaller scale. Kalamazoo offers the "Kalamazoo Promise," a four-year scholarship covering the cost of tuition awarded to students who attend and graduate from a Kalamazoo public high school.
Whitmer noted that since the scholarship began, the economy in Kalamazoo has been on the rise, property values of rebounded and more students are opting for college.
Yet the Kalamazoo Promise and the 2020 plan are drastically different in one significant way.
The Kalamazoo Promise is funded entirely by anonymous donors— not taxpayer dollars.
"The issue is —and I don't know that we've really had any good discussion about this— what is the appropriate sharing of the cost of education?" Olson said.
"To what extent should the public share and to what extent should the person who would benefit from that education most share?" he continued. "Should the person that's making $30,000 as a janitor share"
Leigh Greden, head of government relations for Eastern Michigan University, agreed that the state's budget difficulties pose significant challenges to the Michigan 2020 proposal.
"Eastern supports initiatives to make higher education more affordable and we have a strong commitment to doing so —we're the statewide leader in holding the line on tuition and have dramatically increased financial aid— but we also understand the financial challenges facing the State," he said.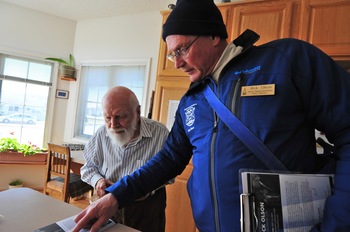 "I expect this proposal will be evaluated in that light."
Education funding expert Nate Daun-Barnett, a former Lansing policy analyst and professor at the University of Buffalo, said the proposal, with its large price tag, "would be difficult to achieve with the cuts Michigan has experienced over the past eight years." He said the proposal is likely an effort by Democrats to promote discussion of higher education funding reform in Michigan.
"They're trying to create a conversation," he surmised. "If you start small you're going to end up with something even smaller. You might as well make it an audacious goal."
Over the last decade, lawmakers have cut more than $1 billion in inflation-adjusted dollars from higher education, according to the Michigan Presidents Council. Additionally in 2009 the legislature eliminated the Michigan Promise scholarship, which provided up to $4,000 to high school graduates who completed two years of postsecondary education.
"The elimination of the promise scholarship was a problem, it was the signature scholarship from the state," Daun-Barnett said. "Its elimination makes college seem even less affordable, so I think they're trying to come up with a solution to that and figure out how you fill that gap."
Yet the sheer size, breadth and cost of the Michigan 2020 proposal could have a polarizing effect on the two political parties, making large and wide scale reform even more difficult.
"Lots of details need to be worked out, including whether there's any hope in generating bipartisan support," said Michigan Presidents Council Director Michael A. Boulus.
Kellie Woodhouse covers higher education for AnnArbor.com. Reach her at kelliewoodhouse@annarbor.com or 734-623-4602 and follow her on twitter.