Posted on
Fri, Mar 19, 2010 : 4:15 p.m.
Washtenaw County residents among those sickened in bacterial outbreak; state investigates suspected link to raw milk
By Tina Reed
Michigan health officials are warning residents not to consume raw dairy products after an outbreak of campylobacter infections - including four in Washtenaw County.
The alert says eight people have been sickened since March after consuming raw milk products from the Family Farms Cooperative in Vandalia, Mich. The cooperative has a cow share program in which members own part of a cow and receive raw dairy product.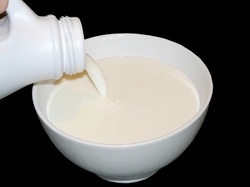 The people who were sickened were in Washtenaw, Macomb and Wayne counties. There have been no hospitalizations, and the majority who were sickened were under the age of 4.
"Raw or unpasteurized milk and dairy products may carry many types of disease-causing germs such as campylobacter, salmonella and E. Coli," Gregory Holzman, chief medical executive for the Michigan Department of Community Health, said in a statement. "People need to be aware that raw milk and raw dairy products have not been heat treated or pasteurized to kill germs."
The products are not sold at retail stores and are not regulated by the state.
According to a statement, campylobacter is a bacterial illness causing diarrhea, fever and abdominal cramps for two to five days after exposure. Campylobacter is generally regarded as the most common bacterial cause of gastroenteritis worldwide, according to the World Health Organization.
The raw milk for the share program comes from a dairy farm in Indiana and was shipped in plastic containers. The containers have the following information on a green and white cap that says: "Forest Grove Dairy, Middlebury Indiana; Raw Cow's Milk, Warning-Not Pasterized, 128 FL OZ."
However, the Family Farms Cooperative says it does not believe the bacterial infections were caused by the raw milk.
"We're working with the health department to sort this out," said Steve Bemis, an attorney and a member of the cooperative. "We discontinued our deliveries on March 12 and March 15. We immediately began testing our milk and the water supplies to our milking parlor. All of these tests were negative for campylobacter."
Bemis said he's personally drank milk from the cooperative for five years with no problems. 
"The business of any cow, whether raw or pasteurized is to keep everything clean. And this farmer keeps things cleaner than I've ever seen," he said.
Tina Reed covers health and the environment for AnnArbor.com. You can reach her at tinareed@annarbor.com, call her at 734-623-2535 or find her on Twitter @TreedinAA.