Posted on
Wed, Sep 28, 2011 : 5:11 p.m.
Michigan House approves high-speed rail funding, including $2.8M for Ann Arbor train station
By Ryan J. Stanton
Ann Arbor is one step closer to getting a new passenger rail station to help accommodate high-speed rail service under legislation approved today in the Michigan House.
Local officials are praising the passage of Senate Bill 237, which, in part, allows the state to spend $2.8 million in federal funding for a new train station on Fuller Road in Ann Arbor to eventually accommodate 110-mph trains running between Detroit and Chicago.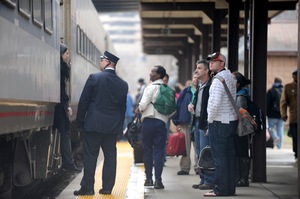 Angela J. Cesere | AnnArbor.com
"High-speed rail represents the future of passenger service in the United States, and it's only fitting that Ann Arbor become a hub for this groundbreaking mode of transportation," state Rep.
Mark Ouimet
, R-Scio Township, said in a statement.
"It could usher in an economic boon as well," Ouimet added. "High-speed rail would give local residents easier access to places like Chicago, but it also gives millions of people in Chicago easier access to Ann Arbor."
SB 237, which also had strong support from state Rep. Jeff Irwin, D-Ann Arbor, enables the state to collect $358.9 million in competitive federal grants for rail improvements. Taking into account local, state and private dollars, the approved appropriations bill includes nearly $400 million in rail-related spending.
Much of that money will go toward purchase and rehabilitation of 135.7 miles of track owned by Norfolk Southern between Kalamazoo and Dearborn.
"I'm thrilled that there was such overwhelming support from the House and the Senate for this investment in our rail infrastructure," Irwin said. "I just think that goes to show that when the Republicans and the governor put something on the table that produces jobs and opportunity and economic development for our state, that's an opportunity for a lot of agreement and a lot of bipartisan action, so I'm proud of what we did today."
The $2.8 million awarded to Ann Arbor is expected to pay for the environmental and preliminary engineering phases of Fuller Road Station. The total project could cost more than $120 million, according to estimates provided by the city.
SB 237 now awaits the governor's signature.
Previous coverage: Ann Arbor to benefit as Michigan moves to purchase and rehab Norfolk Southern rail line
Ryan J. Stanton covers government and politics for AnnArbor.com. Reach him at ryanstanton@annarbor.com or 734-623-2529. You also can follow him on Twitter or subscribe to AnnArbor.com's e-mail newsletters.