Posted on
Thu, Mar 31, 2011 : 4:40 p.m.
Michigan Islamic Academy officials make case for new Pittsfield Township school
By Tom Perkins
Staff and leaders from an Ann Arbor-based Muslim school are making their case for a proposal to build a new school in Pittsfield Township.
The Michigan Islamic Academy is hoping to open a new 25,000-square-foot facility at the intersection of Golfside and Ellsworth roads. Residents concerned about the project were invited to a meeting at the current school to ask questions and meet with staff this morning.

The Pittsfield Township planning commission voted unanimously in January to direct the township planning staff to draft a resolution recommending that the township Board of Trustees deny the request.
A new vote on the issue was scheduled for the commission's April 7 meeting, but that has now been delayed while the township gathers more information on the plan.
Much of the concern so far centers around potential traffic issues, which some neighboring residents contend will significantly increase if the school is built. Nearby Fortis Academy on Golfside already causes congestion at the start and end of the school day.
School leaders at the Islamic Academy say they commissioned a traffic study with a firm recommended by the planning commission, and the study found there would be little impact on traffic in the area. They added that Fortis is a much larger school with an enrollment over 750. The new Islamic Academy would see around 225 students in its first year and be built to accommodate around 350. The traffic study sought to determine the impact of a school with 350 students.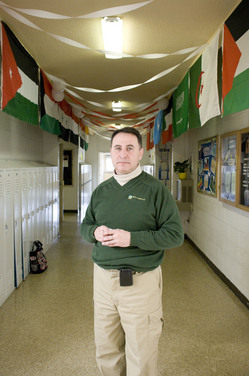 Tom Perkins | For AnnArbor.com
Plans also include building a community center. Tarek Nahlawi, a Michigan Islamic Academy board member, said that project is likely at least seven years off. He said a separate traffic study would be conducted to determine the center's impact before it is built.
The school is planned on a 26-acre parcel on the north side of Ellsworth, where Golfside dead-ends. Nahlawi said traffic issues are addressed in the property's design and constraints on the school's size.
The main entrance would be located west of Golfside on the north side of Ellsworth. Cars would exit via a new, short street that would create a four-way intersection where Golfside dead ends into Ellsworth.
A traffic island would be placed in the new street, preventing traffic from traveling north to south, or vice versa, through the new intersection. That would help address residents' concerns with traffic congestion on Golfside, Nahlawi said. Cars could also turn right into the new street from Ellsworth.
The driveway running in front of the school is designed to accommodate 70 cars and runs diagonally from Ellsworth to the new street.

Nahlawi said the current school has nearly 200 students enrolled. Many families carpool and the school also has two buses and vans, Nahlawi said, so there wouldn't be a situation where the traffic is backed up out to Ellsworth.
The bulk of the complaints have come from resident in the Roundtree Apartments complex on Ellsworth and the Silverleaf subdivision located just to the property's west. The property was zoned as part of Silverleaf subdivision and homeowners have said they bought their homes expecting the adjacent property to stay residential. The property was foreclosed and went back to the lender, and would have to be rezoned.
The school has been at its current 2.8-acre Plymouth Road location in Ann Arbor since 1986. A new addition was built in 1996, but school staff and leaders say they have outgrown that 13-classroom building. The private school costs $4,500 annually to attend and has a religious curriculum. Staff there said average scores for the MEAP and ACT are above neighboring public schools and national averages.
But the 8,000-square-foot building doesn't have a gym or library and many of the classrooms are cramped.

Several years ago, the school nearly moved to Ypsilanti's former Ardis Elementary School, but that deal fell apart, Nahlawi said.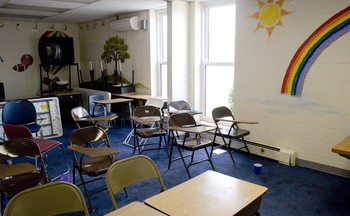 Tom Perkins | For AnnArbor.com
"We have very limited resources here, we're next to the mosque, and we've been searching for a place to expand to be in a school that would fit the 21st century," Nahlawi said. The old building would likely be used for an expanded Sunday school, he added.
Nahlawi and several other private investors bought the land at Golfside and Ellsworth several years ago. Prior to purchasing the land, he told Pittsfield Supervisor Mandy Grewal and Treasurer Patricia Tupacz Scribner of his plans. He said he was told as long as the proposal fit the planning guidelines, there shouldn't be any problems.
Township officials and neighbors raised a number of concerns, primarily over traffic, when plans were presented, but Nahlawi said the school has addressed those and gone beyond what was asked in some cases.
Nahlawi said an engineer is working with the Silverleaf Homeowner Association to develop a six-foot-tall evergreen screen with more trees between the school property and the subdivision abutting it.
Nahlawi said new concerns have been raised over the proposed community center, which would include a swimming pool, basketball court and computer room. Use of that building would be spread throughout the day and not increase traffic much, Nahlawi said.
Addressing concerns from one of the attendees on Thursday, Nahlawi said there are at least four other Islamic community centers in the area and every Muslim in the region wouldn't suddenly be recreating at that one.
Addressing rumors he has heard, Nahlawi said there are no plans to build a large mosque, no kids will be walking or driving to the school and no one will be using Silverleaf's roads to get into the school. He added that there will not be a call to prayer over loudspeakers.
Tom Perkins | For AnnArbor.com
Nahlawi said the group continues to hear new concerns every time one concern is addressed. He said it is a similar pattern to what he has experienced before, and he is growing frustrated with what he believes boils down to a fear of Muslims from some of those opposed.
"We have done everything that has been asked, so now there has to be something else," he said. "Is it fear of the unknown because we're Muslims? I want to open my school, my community center, but I want to have a dialogue.
"All we are trying to do is have a better education for our children."
Nahlawi said he was disappointed only two residents attended Thursday's event and he is scheduling a second meeting for Tuesday evening, though those details have yet to be determined. A woman who attended from Roundtree Apartments, but declined to give her name, said she had no problem with the it being a Muslims school, but said she was more concerned about the addition to the neighborhood.
She said a Wal-Mart opened down the road and Fortis already has over 750 students. That would mean nearly 1,000 students in the neighborhood, which she said was too many for a residential zone.
She said she previously understood that there would be more than 350 students and said the meeting was helpful in addressing some concerns. She said no one in the neighborhood has a problem with a small school, but there were no guarantees that the school would stay small. She pointed to Fortis, which she said was originally intended to be a small school.
"We've seen that movie before," she said.
Nahlawi said most Muslims wouldn't chose the school because of its religious curriculum and because it's too expensive. He said the estimate of 350 students is on the high end, but he is willing "to sign a piece of paper" stating that the school wouldn't expand beyond that.
Mary Eicher, who is on the Silverleaf Homeowner's Association board, also attended the meeting. She underscored that she was not there representing the board or its position on the issue.
She said she most of concern among residents of the subdivision center around traffic congestion, though she didn't share those concerns. She said the Washtenaw County Road Commission recommended adjusting the timing of traffic lights between Carpenter and Hewitt, which would help speed up traffic.
She said she thought there was a "fear of the new" with some people, but said the Michigan Islamic Academy is being open, and has gone out of its way to address concerns.
"It may be a matter of time. You may still not get some people to be OK with this until they deal with their own fears," she said. "I think that's part of it. That takes time."