Posted on
Mon, Apr 2, 2012 : 1:22 p.m.
Michigan Rising group targets Rick Snyder in 2nd recall effort
By Julie Baker
The group Michigan Rising filed new recall petition language against Rick Snyder last week in Washtenaw County, accusing the governor of "abusing" children with cuts to food aid and school funds.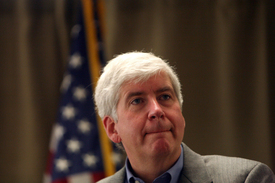 AP photo
"Governor Snyder is bad for Michigan. Our citizens cannot afford to wait another two years to get rid of this corporate monster; the recall will chop off its head. Snyder and his cronies are destroying our cherished democratic institutions and democracy itself," Jan BenDor, election specialist for Michigan Rising, said in a news release.
"Governor Snyder has abused the children of Michigan. He cut thousands of children off food aid. He robbed $400 million from the School Aid Fund, and then slashed school payments. This forced children into crowded classes. Then he signed more laws that privatize services, attack teachers and blame unions," she said.
A clarity hearing will be held in Washtenaw County on April 9 at 1:45 p.m. If the petition language is approved, Snyder will have 10 days to appeal the decision.
Michigan Rising is aiming to collect up to 1.2 million signatures to get the recall onto the November ballot. The group needs at least 800,000. A previous recall attempt yielded 500,000 signatures.
The group is planning a May 5 rally in Lansing to kick off the campaign.