Posted on
Mon, Feb 6, 2012 : 8:07 p.m.
Michigan Treasury Department adviser: Emergency managers are 'kinder, gentler' alternative to bankruptcy
By Nathan Bomey
A Michigan Department of Treasury adviser who helped author the state's controversial emergency manager legislation Monday offered a defense of the law, arguing at an event in Ann Arbor that it's imperative to prevent governmental entities from slipping into bankruptcy.
Howard Ryan, director of legislative affairs for the Treasury Department, said the state has a responsibility to help financially distressed cities and school districts return to financial sustainability.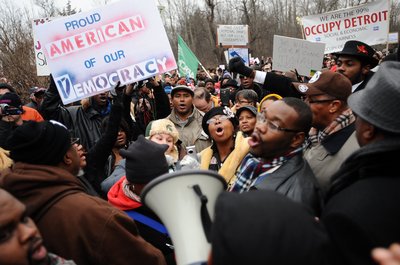 Melanie Maxwell | AnnArbor.com
Bankruptcy, he said, is not an option. He said an emergency manager is a "kinder, gentler" way of helping governmental entities address their problems.
"That bankruptcy process is completely eviscerating in terms of the democratic process," Ryan said. "You have a federal judge who may or may not care about anything about your community, and it's just a drastic, drastic process."
Ryan delivered his comments before a crowd of at least 100 University of Michigan students at an event organized by the U-M Undergraduate Political Science Association to discuss the emergency manager law.
Ryan, addressing a generally skeptical crowd, acknowledged that he was "the bad guy" in the room but said the law was nonetheless necessary.
"Despite a lot of the rhetoric, the intent of this law is to get at that cost driver that has many of our cities out of whack," Ryan said. "The biggest problem that we face with our cities is the cost structure."
In March 2011, Republican lawmakers passed legislation giving emergency managers additional power to stabilize financially distressed cities and school districts. The bill, championed by Republican Gov. Rick Snyder, included controversial powers such as the right to slash union contracts, replace elected officials and sell off assets in an effort to return governmental entities to financial sustainability.
Republicans have described the legislation — Public Act No. 4 — as a way for the state government to help struggling cities and school districts avert financial disasters. Democrats have slammed the law, saying it undermines the democratic process.
Dayne Walling, mayor of the city of Flint, which is currently being run by an emergency manager, cited a "number of legal issues with this law" but stopped short of offering a full condemnation.
"Our manager has actually worked in a pretty cooperative way," said Walling, a Democrat. "We've actually worked pretty closely together in a lot of things, and I want to acknowledge that."
State Rep. Jeff Irwin, D-Ann Arbor, decried the "supreme autocratic control" afforded to emergency managers, who are appointed by the governor after a series of financial benchmarks have been triggered.
Irwin said the state deserves much of the blame for driving cities and school districts into financial emergencies.
"There are situations in which I think everybody agrees the state needs to step in and help a city that's insolvent," Irwin said. But "we've been taking away revenue, we've been breaking promises of the past and we've been making it more difficult for these communities to get by."
Washtenaw County Board of Commissioners Chairman Conan Smith, who drew fire with an early defense of the emergency manager law in 2011, Monday questioned the policy of replacing elected officials with an emergency manager appointed by the governor.
"I'm not a giant proponent of sending an (emergency manager) in," Smith said. "Maybe there are situations where it's inevitable. But when we rely on each other, we actually make better, smarter decisions than when we put that power in the hands of a single individual."
But Smith also said the state has a responsibility to ensure financial solvency among cities and school districts.
"The question is, does the state have an obligation, a duty to the residents to step in and take some kind of action for the residents? My answer is yes," Smith said. "It's not a law that is being used as a hammer on communities. It really is being implemented as a tool for communities to help themselves improve."
Looming over the debate about Michigan's emergency manager law is a petition drive organized by a nonprofit called Michigan Forward, which has said it's close to delivering enough petitions to immediately suspend the law and place it on the ballot for voters to decide in November.
Leaders already are debating how the petition drive would affect the law, but Irwin acknowledged that Republicans already are quietly discussing the prospect of passing alternative legislation to replace Public Act No. 4 if it's subjected to a vote in November.
Meanwhile, Snyder is considering whether to install an emergency manager in the city of Detroit. Snyder has described the law as necessary to help Michigan cities and schools get back on track.
Contact AnnArbor.com's Nathan Bomey at (734) 623-2587 or nathanbomey@annarbor.com. You can also follow him on Twitter or subscribe to AnnArbor.com's newsletters.