Posted on
Sat, Feb 25, 2012 : 3:59 p.m.
Mike Gould: Computer whiz, photographer and laser lightshow artist
By Kyle Poplin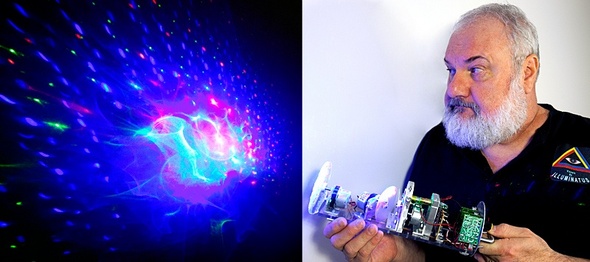 Photo courtesy of Mike Gould
Mike Gould
says he was born a few years too early. "If I'd had a Mac when I was growing up, I'd be Pink Floyd right now," he claims.
Then again, that would have deprived Ann Arbor of its very own guitar-playing, website-building, computer-consulting, laser-building, photo-taking, arts-loving, column-writing polymath.
Gould, 62, spent most of his professional career in computers. He's an early adopter of Macs and has been working with them and on them since 1986. But that's just a starting point in his story.
The best way to summarize his varied interests is to, well, let him do it. "I work at the intersection of art and technology," he says. "How did it come to be? I grew up in Ann Arbor, where there is constant activity in those realms."
He attended Angell Elementary, Tappan Junior High (before it was a middle school) and Ann Arbor High School (before it was Pioneer). His mother and father, a psychiatrist, were heavily involved in the Ann Arbor Civic Theater, and Mike exhibited what he calls his "artistic tendencies" early on. He worked at the theater growing up, mostly backstage and with special effects. (More about those special effects later.)
After a number of failed piano lessons in his youth, he taught himself to play the guitar. He had his own group, Mike Gould and the Gene Pool Band, and he also played with The Martian Entropy Band. He co-produced two "Cruisin' Ann Arbor" compilation albums, and still has recording gear in his basement.
These days, he musical tastes run toward WEMU, WCBN and Limbik Frequencies, an Internet radio station that plays ambient music.
He and his wife, Salli, love attending musical and theatrical events around town. "Ann Arbor's educational and entertainment opportunities were and continue to be vast," he says. "We have a small town with an international smorgasbord of culture."
Gould went to Kalamazoo College intent on becoming a biologist. He earned his biology degree and actually worked in the field for a couple of years after graduating, but jobs were hard to come by. He eventually landed a gig at Ann Arbor-based Inacomp where he repaired strange new machines called computers. He says he worked on both Macs and PC's and "figured it out. Macs are cool."
He eventually got a job working on Macs at the University of Michigan Hospitals. He worked at U-M for 20 years in various departments, ending up at in the School of Education, where he was also the staff photographer, yet another self-taught skill.
He's officially retired now. Unless you count his Mac computer consulting business, the articles he writes for local publications, the websites he builds for clients, his commercial photography or his true passion: laser lightshows.
Gould saw his first lightshow at a concert when he was in college. He's been in love with the art and science of lasers ever since - perhaps because it incorporates all his varied skills. He designs the lasers, fabricates the aluminum parts, works out the optics and electronic components and organizes the lightshow itself.
"It's a pretty involved and evolved kind of a thing," he understates.
But don't be deceived; lasers are not just an elaborate, expensive hobby. He thinks there's money to be made in laser lightshows, as he makes clear when he offers to define the difference between tools and toys. "A tool is a toy you can make money with," he says. "For me, my toys have all turned into tools." He hopes to add lasers to his list of tools that currently includes cameras, scanners, computers, recording and audio equipment.
Gould co-founded his own laser lightshow, Illuminatus, which covers everything from legal concerns to graphics. They're currently working on something that excites Gould, but not enough to talk about it publicly. All he'll say for the record is, "We're working on some major new projects, still very much in development. Watch the skies."
All we can say for sure is, it will be interesting.
Kyle Poplin is publisher of The Ann magazine, which is inserted monthly in many copies of the Sunday print edition of AnnArbor.com. He's also searching, through this column, for the most interesting person in Ann Arbor. If you have anyone in mind, email your idea to theannmag@gmail.com.