Posted on
Sun, Oct 10, 2010 : 12:33 p.m.
University of Michigan student halfway through 'year without waste'
By James Dickson
University of Michigan student Darshan Karwat is on a year-long mission to minimize entropy.
Since March 29, Karwat, a student in the Aerospace Engineering Ph.D. program, has altered his lifestyle to produce zero waste, or as close to zero as possible.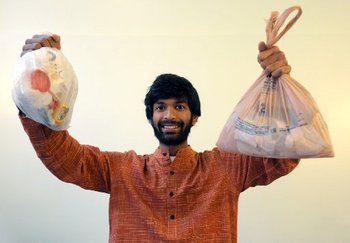 Lon Horwedel | AnnArbor.com
Refusal the key
The average American produces 4.5 pounds of trash a day. Even environmentally conscious Ann Arbor residents produce an average of more than 3 pounds of it a day.
Contrast that to Karwat, who when AnnArbor.com interviewed him on the six-month anniversary of Minimizing Entropy, had only amassed a pound or two of waste between trash and recyclables, which he counts as part of the problem. It's not zero, but it's a lot closer than Karwat would've gotten without being mindful about reducing waste.
As kids, we are taught the three R's: Reduce, Reuse, Recycle, Karwat said, but the most important step is left out of the equation: Refuse.
"This gets into the fundamental question of, what makes us happy? Do we really need the newest Blackberry, and then the newest iPhone to replace it? Do we really need all this stuff?"
Karwat, born in New Jersey, hailing from Mumbai, India, and calling Ann Arbor home for the last seven years, said that he had two choices upon coming to America: He could ignore the environmental implications of shopping at Indian food stores and attempt to recreate the delicacies of home, or he could do as Ann Arborites do, focusing more on locally-grown flavors and 'closing the loop' between the farm and the dinner table.
He chose the second path, which has made his Minimizing Entropy project a bit easier to pull off. 
"I was never big on buying new things. I mostly shop at second-hand stores, so there was little waste on that front," Karwat said. "Then I realized that the bulk of my waste came from food packaging."
Changing this required changing his habits. When Karwat goes to restaurants he has to ask the waiter to not bring him napkins, straws or moist towelettes. Otherwise, he buys and prepares food as needed, shopping at places like the People's Food Co-Op rather than big box grocers. When he has to transport food, it travels in a reusable container. Karwat is also a life-long vegetarian, which also cuts down on food packaging.
Karwat said he chose trash because it's so visible. "Trash is all around us. You see it. You smell it. No one wants to live around it, and yet it's a multi-billion dollar business. How we justify trash formation says a lot about our ethics."
Recycling, too. While any self-styled environmentalist in town would make sure to recycle, Karwat sees it as another form of waste. Better than not recycling, sure, but not nearly as good as a mindful effort to consume less.
"Recycling," Karwat said, "is something people do to feel good about consumption. Rather than simply buy less or use what you have, you can feel that you're doing your part when you recycle.
"When push comes to shove, what are people really willing to sacrifice and go without?"
No turning back
Karwat went no-waste on March 29, 2010. He would've started on April 1, but for the encouragement of a friend who told him he couldn't look at the project like it's a New Years Resolution, a promise that's easier to make than keep.
"(My friend) told me that if it was important for me to live differently, I should start immediately. And he was right," Karwat said.
Karwat thinks fast but speaks slowly, which gives his words gravitas. A Michigan alum now in his third year in the aerospace engineering Ph.D. program, Karwat is studying alternative fuels and their impact on the environment. He interned at GE's Aviation division, but said that he's not really interested in private industry when his studies conclude in 2012.
Whether academia or community-level work, Karwat would prefer either over joining industries and companies he sees as part of the problem.
Karwat chronicles his efforts on his blog, which reaches a small but committed audience. The response hasn't been overwhelming — Karwat doesn't talk much about it, and, if he hadn't been interviewing about his efforts, wouldn't normally carry around his amassed refuse — but Karwat said his idea is spreading in web-like fashion, as friends tell family members tell co-workers, and so on.
He would be open to writing a book if there's an interest, but that would require, as he explained it, "another year, at least, for research, reflection and soul-searching." Not to mention writing and promotion.
One thing that's not in doubt is whether and how Karwat's habits will change when the year is up. 
"I'm not going back to the way I lived before — I can't. What would it say about my beliefs if this experience didn't produce a lasting change?"
AnnArbor.com will follow-up with Karwat at the conclusion of Minimizing Entropy to see what he learned and what the community might learn from his efforts. James David Dickson can be reached at JamesDickson@AnnArbor.com.