Posted on
Mon, Apr 2, 2012 : 5:58 a.m.
Mitchell-Scarlett partnership with U-M sees more engaged students, praise from teachers
By Danielle Arndt
About 10 minutes after the bell rings at Mitchell Elementary School, University of Michigan student-intern Nicole Willey tells her fifth-graders to finish the exercise they are working on and to join her on the carpet.
The morning greeting is about to begin.
Today's greeting involves students standing in a circle, passing a ball to one another.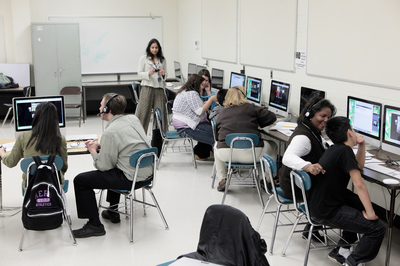 Chris Asadian I AnnArbor.com
The keeper of the ball must select one student to pass it to by saying, "Good morning" and the classmate's name. The classmate catches the ball and says "Good morning" back, and passes it on to the next recipient — also greeting them by name.
"When you've had the ball, put your thumb up so we can find somebody else," Willey said. "And what would be the appropriate response if someone doesn't catch the ball?"
On that note, Cathy Reischl, coordinator of the Mitchell-Scarlett Middle School partnership with U-M's School of Education, starts whispering excitedly into a slim red handheld voice recorder.
"I call it my golf commentary," she said.
That particular day, she was joined in her observations by first-year Mitchell principal Kevin Karr, who picked up the recorder a few minutes later to add his own play-by-play. Audio and video recordings of class time are the norm at the teaching and learning collaborative.
"The point of the morning greeting is everyone gets welcomed," Reischl said. "What seems so simple and like common sense is so important. Teachers must take control and responsibility for teaching kids how to self-regulate and how to be part of a community of learners."
Diverse testing ground
But at Mitchell, where 30 percent of the student body speaks a language other than English at home, the initial task and morning greeting means so much more.
Both ethnically and socioeconomically, Mitchell has one of the most diverse student populations in all of Ann Arbor Public Schools. In 2010, 18.5 percent of students identified as multi-ethnic, 23.9 percent as Hispanic, 24.6 percent as African American, 23.1 percent as Caucasian and 7.3 percent as Asian.
"A lot of these kids, we can't imagine what their home life is like," Karr said. "But they get to come to school and are immediately welcomed, and get to start off the day by participating in a series of tasks where they can feel like 'I did something right' … where there is a sense of unity."
Not even a year in to the Mitchell-Scarlett Teaching and Learning Collaborative and faculty and staff at each of the Ann Arbor schools and the University of Michigan feel like they did something right, too. The flutter of enthusiasm as Reischl and Karr observed interns last week was contagious.
"It was cool to see how much she's grown," Karr said of Willey, speaking directly to Reischl. "She was more successful with some of those kids than I am. Some of them give me a rough time."
"It was heartening to hear her be so direct with the kids and use the methods of responsive classroom," Reischl said. "She had all of them engaged. They were so attentive."
Willey outlined what was expected of students as she moved on to the math lesson. She clearly articulated, "This is what you do when you are quiet," Reischl said, rather than, "You shouldn't do this or don't do that."
"You are going to go back to your desks, get your math books and rejoin me on the carpet," Willey said. "When you sit down, I want your math books on the floor in front of you, pencils on top of your books and hands quiet, shoulders facing me."
"Responsive classroom" is an approach to classroom management that has been a focus of the partnership for the 2011-12 school year. It was an initiative that grew out of a desire to build more of a K-8 continuity between Mitchell and Scarlett, Reischl said. Regular training sessions were scheduled throughout the school year and additional training will be enacted in 2012-13.
This year, six student interns worked full-time with Mitchell teachers, while at Scarlett, 17 teachers opened their classrooms to U-M. In addition, Michigan's School of Education is conducting course instruction out of both schools to give even more students an opportunity to be hands-on involved in the partnership.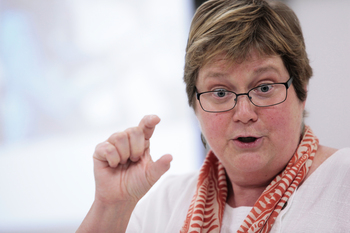 Reischl said the interns essentially are treated like faculty. They attend all staff meetings, co-plan lessons with their classroom teachers and have their input solicited in school improvement efforts.
And the Ann Arbor school teachers are learning just as much from their student interns as their interns are learning from them.
"We are all learning together," Reischl said, adding the concept was modeled after U-M's dental or medical school residency programs.
New models
It was an idea, fifth-grade teacher Matt Krigbaum admitted, that didn't necessarily appeal to him at first.
"I was one of those teachers that was stuck in my ways years ago," said Krigbaum, who has been teaching for 25 years. "Once I got over that — the idea of giving up my space, my classroom — I had the recognition, the feeling that this was what we needed to do to help students here at Mitchell."
Krigbaum now says something other teachers "might not want to say," but his abilities as a teacher have been "strengthened" by the partnership.
"The community has been strengthened," he added, highlighting some of the advantages to their situation. "Just the number of people, the number of bodies in a classroom. We are able to work in smaller, more intimate groups. Students now have more, caring adults in their lives."
Fifth-year teacher Erica Hatt said the exchange of ideas and professional conversations about teaching that are taking place in the buildings even outside the realm of staff development are refreshing and enlightening.
Although she hasn't been out of school for that long, Hatt said she wanted to participate in the U-M intern program so she can be abreast of the best teaching strategies and practices available.
"I want to make sure I know just as much as the new teachers coming in," she said.
A key component to the responsive classroom approach to management is mastering how to talk to students and how to use language to further social and emotional learning. Hatt said having an intern in her classroom has helped her become more aware of how she speaks to students.
"He is able to point out if I say something I'm trying to work on not saying, that I maybe don't notice because I'm up in front of the class teaching," Hatt said.
"And she does the same for me," added Coert Ambrosino, Hatt's U-M intern.
At Scarlett, U-M faculty and interns worked with Scarlett social studies teachers and students on carefully reading social studies texts to find the "big ideas" and to incorporate them into larger units of curriculum within their classrooms, Reischl said.
Ambrosino did a similar activity with his fourth-graders at Mitchell. He read aloud to them "Grandfather's Journey" by Allen Say. The book tells the somewhat autobiographical tale of Say's family and how they moved back and forth between the United States and Japan.
Ambrosino, aware of his students' culture backgrounds, chose the book acknowledging how his students may feel connected to two different cultures, just like the Say family. He asked them to share their stories and to identify "push and pull factors" that may have led to the Say family's desire to continue migrating from one country to the other, as well as push and pull factors in their own lives.
"This process is good to get kids to infer what might be going on behind the story," Reischl said, making verbal notes into her tape recorder. "He asks them to point to specific words that would lead to the inference."
A focus on extended days
Increased cultural awareness and active learning, using every possible minute to engage students and to make greater life and academic connections, have also been areas of focus at Mitchell and Scarlett this year.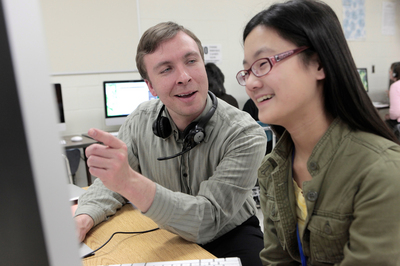 Chris Asadian I AnnArbor.com
Reischl described a program called "Digital Dialogues," an eight-week after-school session for third-graders led by Mitchell teacher
Beth McCready
. It allowed students to explore multicultural communication by using online tools to speak with students at a primary school in
Hamilton
,
New Zealand
.
Another program, an after-school story-time for kindergarteners and their parents, offers parents an opportunity to informally interact with their children around text, Reischl said. Teachers and U-M interns read aloud in both English and Spanish to these students.
The "Extended Day" programs at both Mitchell and Scarlett received extra attention from the partnership.
"We're working on using that time creatively and to our benefit as staff to write better curriculum and to increase learning opportunities for kids," Reischl said, explaining that in previous years, Extended Day had been used only for homework help or specific content help.
In November and December, 42 Extended Day students participated in a project using a software called Photovoice, where they took digital pictures and recorded verbal commentary to illustrate to staff how they viewed their educational experience at Scarlett. The students were asked to take pictures and talk about the places on Scarlett's campus where they felt the most comfortable, where they felt the least comfortable and a teacher who made their learning experience that much better.
The project recently was repeated with English language learners (ELLs).
"We've been trying to find a way to engage (ELLs) and this proved to be the perfect model," Reischl said.
While using classroom time more creatively and finding more minutes for learning opportunities has been central to the U-M partnership, Reischl said the most important thing remains the quality of instruction.
"Nobody is a natural teacher. The good teachers are the ones that have learned the practices and continuing learning the practices," Reischl said.
A balanced calendar concept that would extend the school year and minimize long breaks, such as the "unproductive" summer months, was part of the original plan for the Mitchell-Scarlett partnership. But after attracting criticism from the community, AAPS postponed the balanced calendar discussion.
The Ann Arbor Board of Education is scheduled to hear the district's evaluation of the proposed concept April 18.
"There has been more focus (on the calendar) than was ever intended," Reischl said. "What we are finding is, the more we do to emphasize ... the taking advantage of those 'other' moments — that is more important than the calendar itself."
Staff reporter Danielle Arndt covers K-12 education for AnnArbor.com. Follow her on Twitter @DanielleArndt or email her at daniellearndt@annarbor.com.