Posted on
Thu, Feb 16, 2012 : 3:17 p.m.
Mitt Romney, Rick Santorum battle for votes in Michigan
By Cindy Heflin
As the GOP primary campaign heats up in Michigan, Mitt Romney and Rick Santorum both wooed voters Thursday in Metro Detroit.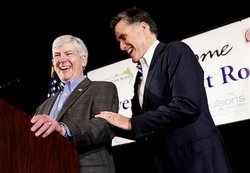 MLive photos
Romney appeared with Gov. Rick Snyder in Farmington Hills
, where he picked up the governor's endorsement in the race, MLive reported. Snyder called Romney, whose father is former Michigan Gov. George Romney, "a native Michigander." He said Romney "understands our state. He's one of us."
Romney responded: "If we can do in Washington what your governor has done here, we'd be in quite a position."
Romney also sat down for a question-and-answer session with MLive staff Wednesday in Grand Rapids .
Meanwhile, Santorum spoke to the Detroit Economic Club, criticizing both Romney and President Barack Obama and even former President George Bush, MLive reported.
Referencing a recent controversial editorial from Romney in which he defended his controversial "Let Detroit Go Bankrupt" op ed, Santorum said that if he had been in the Senate at the time he would not have supported bailing out the auto industry.
Check MLive for more coverage throughout the day.