Posted on
Sat, Apr 10, 2010 : 6 a.m.
Moravian development partner seeks seat of Ann Arbor council member who opposed project
By Ryan J. Stanton
Newcombe Clark, one of the development partners behind the recently defeated Moravian project, has pulled nominating petitions to seek a seat on the Ann Arbor City Council.
Clark's frustration with the city bubbled to the surface this week as the City Council responded to the cries of neighborhood activists and voted down the Moravian, a 62-unit apartment complex proposed for development at 201 E. Madison St.
"I spent five years of my life, a lot of money, and a lot of time, and put up with a lot of intimidation trying to do what I thought could help," Clark said. "What I realized is that after doing everything we were asked, and filling a room, it still didn't seem to resonate enough for people to put aside a prepared statement and listen."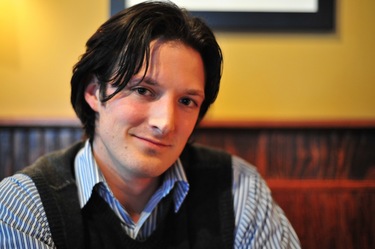 Ryan J. Stanton | AnnArbor.com
The seat Clark is seeking belongs to Carsten Hohnke, D-5th Ward, a vocal opponent of the Moravian. Hohnke was traveling outside of the country Monday during the vote but relayed a statement of opposition that was read at the meeting.
Clark said he realized after the meeting he couldn't ask Hohnke and other council members to demonstrate courage of leadership and not be willing to do the same himself.
"I don't want to be a council member — I've got my own life — but I also believe you're either in it or you're not, and I can't criticize if I'm not willing to sacrifice," he said. "I asked people for courage of leadership and realized it was very hypocritical for me to chastise people without putting myself out there in a similar way."
Clark has until May 11 to collect 100 signatures and file to run if he wants to challenge Hohnke in the Aug. 3 primary.
Hohnke said he welcomes the competition if Clark files to run against him. Clark pulled both Democratic and independent nominating petitions on Friday and could file either.
"I always welcome a healthy discussion on all of the issues," Hohnke said. "It appears I've got two opponents who are focused on development. One with an extreme position of no development and one with an extreme position of unlimited development, and I welcome that conversation and look forward to it."
Hohnke is referring to his other likely challenger in the August primary, Lou Glorie, who has opposed the Moravian but says she's in favor of smart growth. Hohnke faces two other potential challengers, including Republican John Floyd and Allen Licari, who has pulled both Democratic and independent petitions.
Clark, a 29-year-old commercial real estate broker, also is affiliated with the City Place project, now known as Heritage Row. That's another near-downtown apartment development that has been opposed by neighborhood activists and Hohnke.
Clark, who has lived in and around downtown Ann Arbor most of his life, is working on his MBA at the University of Michigan. He is past president of the Main Street Area Association and currently serves on the board of the Downtown Development Authority, in addition to a long list of other civic involvement.
He grew up on North Ashley Street with his mother. After graduating from Pioneer High School in 1999, he entered U-M's School of Engineering. In 2004, he graduated with degrees in mechanical engineering and Japanese language and culture.

In 2005, he formed Bluestone Realty Advisors, a local commercial real estate brokerage and consulting firm. In 2006, he was recognized as one of the "20 in their 20s" inaugural class by Crain's Detroit Business for his professional and philanthropic contributions.
In 2008, Clark became the founding publisher of Concentrate Magazine. Exiting in 2009, he took on a part-time consulting position at Ghostly International, an Ann Arbor-based music and design firm with offices in New York, Los Angeles and Berlin.
"I've made a decision to continue a conversation that I think turned in an interesting direction on Monday," Clark said of his decision to seek a seat on council. "I was troubled much more than the outcome on Monday by what led up to it and what came after it, so I think this is a step to open up the conversation and see what people think."
Clark said he realizes he couldn't vote for the Moravian even if he was elected to council — and it's not about that.
"This is about much more than a project. The project will go where it goes," Clark said. "The reason I tried to do the Moravian and will continue our efforts to bring that type of product to town was because I thought it would help — not because I was going to make a lot of money, because I won't. But there are a lot of functional things wrong in this city. I think some of the nuanced natures of the process don't allow for things to happen. The Moravian was screwed up from day one and not that the project was screwed up, but the process that we ask developers to go through, that we ask of people trying to bring their businesses here.
"I'm likely to never develop in this city ever again," Clark added. "And not because I don't believe in this city. I mean, I'd be a pretty poor real estate professional if I told people not to invest in this community. But I believe that the process that we've gone through and the process I see so many people go through — be it in setting up a business, opening up a restaurant or, hell, anything — is so fundamentally flawed because of the way we run our elections where we only pander to such a small number of voters and you don't have time to work on the other stuff."
Ryan J. Stanton covers government for AnnArbor.com. Reach him at ryanstanton@annarbor.com or 734-623-2529.