Posted on
Mon, Jan 23, 2012 : 5:58 a.m.
Hundreds of UMHS employees hunt for parking spots after opening of new Mott hospital
By Kellie Woodhouse
In Ann Arbor, parking has long been considered a nuisance.
The aversion to city parking experienced by those working and visiting downtown is shared by employees of the University of Michigan Health System, who often arrive at work 45 minutes to an hour early in order to find a spot within walking distance of the hospitals.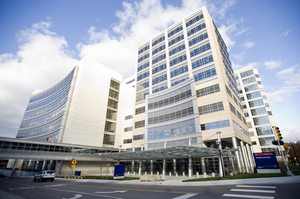 Joseph Tobianski | AnnArbor.com
Since the December opening of the new C.S. Mott Children's Hospital and Von Voigtlander Women's Hospital, about 290 employee parking spaces located at the Mott parking structure have been turned into visitor parking.
Because of the switch, 290 additional employees have joined the more than 1,000 UMHS employees who park at satellite lots near Fuller Foad and the Pfizer complex at North Campus and the Michigan Stadium lots at South Campus.
Those employees take a 10 to 15 minute bus ride to the hospital. Buses run on a 10-minute cycle.
"Obviously with the new hospital opening we had to anticipate the additional growth with patients coming there," said Stephen Dolen, executive director of U-M Parking and Transportation Services.
"There's still capacity in our system (for every employee to park), it's just not as close to the Hill where they used to park," he continued. "The capacity that's available is more out on the fringes."
With the December parking reorganization parking has become so tight that even employees with permits that allow them to park near the hospital have to hunt for parking.
"We've called it a hunting license for years," said Katie Oppenheim, president of the U-M Professional Nurse Council. "Nobody is guaranteed a spot."
The university gives four types of passes to employees: Gold, Blue, Yellow and Orange. Gold permits run $1,531 per year and allow employees to park on the lower floor of structures adjacent to the hospital. Those permits are in short supply and high demand. Blue permits, at a cost of $648 per year, also allow employees to park at nearby structures. Yellow permits, for lots within walking distance of the hospital, cost $149 per year. Parking for the fringe lots is $73 per year.
Oppenheim said nurses with blue permits have begun arriving 45 minutes early to their 7 a.m. shifts to ensure parking near the hospital.
"If you work at 7 a.m. you shouldn't have to be at your parking spot at 6:10 or 6:15 a.m. in order to get a spot and be at work on time," she said. "It used to be that if you weren't there by 6:30 you might not find a spot, now it's much earlier than that."
Also in December, UMHS changed a long-standing policy of allowing night shift staff to park in visitor lots as long as they paid visitor rates. Those staff are no longer allowed to park in visitor lots, even if no spaces are available in nearby employee lots.
"That's a problem with people who have to come in urgently at night who have always been given permission to park in visitor parking," Oppenheim said. "Now you can't park there no matter what."
When Mott first opened in early December, Dolen and his parking crew were helping direct staff to parking. The first few days, employee parking near the medical center was chaotic but affected employees soon adjusted to the new routine, Dolen said.
"It was a big change and there was a little bit of confusion," he said.
"Some have been really good about it," he continued. "Others ... parking is an emotional thing and some folks have not appreciated it, definitely."
Kellie Woodhouse covers higher education for AnnArbor.com. Reach her at kelliewoodhouse@annarbor.com or 734-623-4602 and follow her on twitter.