Posted on
Wed, May 18, 2011 : 6:05 p.m.
University of Michigan negotiating deal to provide 'forensic services' to Wayne County's morgue
By Juliana Keeping
The University of Michigan Medical School could provide forensic medical services for the Wayne County Medical Examiner's Office - one of the busiest in the U.S. - if an ongoing contract negotiation between the two entities pans out.
Just what that means - like whether it involves U-M taking over autopsy functions in Detroit - isn't clear, and officials wouldn't provide details on the talks.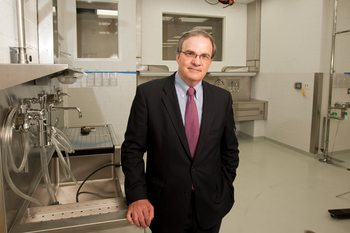 UMHS photo
The Wayne County morgue performs more than 2,000 autopsies a year.
The partnership would save Wayne County millions and provide training opportunities for "the next generation of medical examiners," according to joint statement issued today from Wayne County Medical Examiner Carl Schmidt and Dr. Jeffrey Jentzen, the director of U-M's Autopsy and Forensic Services.
Not everyone is thrilled about the pending arrangement. Anonymous letters have been circulating for several weeks to the media and organizations like the NAACP; the most recent alleges U-M hospital wants more flesh to entice researchers and bring research dollars to the institution, and that U-M is "parading money to the Detroit politicians to entice the sell out of the morgue."
Jentzen and Schmidt deny the alliance has "nefarious intentions" outlined in the letter received by AnnArbor.com today.
"We want to say emphatically that nothing can be further from the truth," their statement reads.
The statement points out any contract needs approval of the Wayne County Commission, and that an arrangement would be similar to U-M's contract to provide forensic services to Washtenaw County.
The Wayne County Medical Examiner's Office already provides opportunities for training in forensic medicine to medical residents and students from the Detroit Medical Center, William Beaumont Hospital, Henry Ford Hospital and Wayne State University. Those training opportunities should continue under any potential agreement, according to the statement.
Wayne County Medical Examiner's Office is located at 1300 E. Warren St. in Detroit. The 50,000-square-foot facility has a budget of just over $6 million and employs 36 people, said Dennis Niemiec, spokesperson for the medical examiner's office.
Niemic and U-M declined to provide further details on any pending agreement between U-M and Wayne County. Jentzen and Schmidt could not immediately be reached for comment.
The county, in general, is in the midst of pay cuts and layoffs and faces a budget shortfall, Niemic said. But demand for services at the medical examiner's office remains steady. The medical examiner's officer's office handles about 13,000 death calls a year, though not all are investigated, he said.
Juliana Keeping covers general assignment and health and the environment for AnnArbor.com. Reach her at julianakeeping@annarbor.com or 734-623-2528. Follow Juliana Keeping on Twitter