Posted on
Fri, Feb 17, 2012 : 12:57 p.m.
This week's most popular news stories on AnnArbor.com
By Elizabeth Edwards
Here's a roundup of this week's most-viewed news and business stories on AnnArbor.com, from Sunday to Friday afternoon.
These stories have spurred some interesting discussions. Check them out and add your opinion.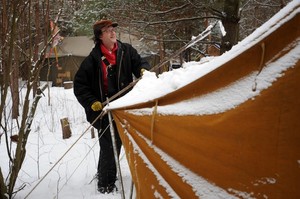 1.
Federal child porn charges prompt county to dismiss case against ex-U-M resident physician Stephen Jenson
: State child pornography charges against former University of Michigan resident physician Stephen Jenson were dismissed Thursday morning on a motion by Washtenaw County prosecutors in favor of federal prosecution.
2. WITH GALLERY: 'It's been a mild winter' for 2 dozen homeless living in tent city near Ann Arbor: The 25 people living in Camp Take Notice showed a sunny disposition Tuesday, despite the dipping temperatures and snow covering the village.
3. Ann Arbor tops Kiplinger's list of 10 best cities for singles: Ann Arbor has been ranked among the best places to raise a family, the best cities to retire and as the smartest city in the country. It's also the best city in America for singles, Kiplinger says.
4. Ann Arbor mayor: Take precautions after recent wave of break-ins: Ann Arbor city officials are concerned about an increase in break-ins throughout the city during the past three weeks, according to a crime alert sent out Wednesday.
5. DETROIT NEWS: Mitt Romney defends 2008 'Let Detroit Go Bankrupt' editorial in New York Times: Republican presidential candidate Mitt Romney today defended the controversial New York Times op-ed he wrote in 2008 — titled "Let Detroit Go Bankrupt" — by saying President Barack Obama inappropriately protected unions during the bailout of General Motors and Chrysler.