Posted on
Sat, Mar 24, 2012 : 3:37 p.m.
MTV's Real World auditions in Ann Arbor: 'You meet some very interesting characters here'
By Lisa Carolin
Lisa Carolin | For AnnArbor.com
Hundreds of prospective reality show stars ages 20-24 showed up Saturday at Bar Louie in downtown Ann Arbor, seeking a chance to be cast in MTV's "Real World."
Ann Arbor is one of the cities throughout the U.S. that the show's casting directors is visiting as it works on another season of the long-lasting show.
"There's something special about a Midwestern college town like Ann Arbor," said casting director Woody Woodbeck. "You meet some very interesting characters here."
Among Saturday's hundreds of applicants was Julie Hemphill, 20 from Birmingham. She's a long time fan of "Real World."
"The show gives kids a good insight into life," she said.
For Ann Arbor resident Kyle Jordan, 24, who spent some time in the music industry in Hollywood, the show may offer a way into acting.
"I've watched the show for 10 years and like seeing the drama and watching people from different walks of life learn to blend," said Jordan.
"I want the chance to do something different and have a life-changing experience," said 24-year-old Nick Armhein, a photographer from Toledo.
His friend Kerri Tippin, 24, also from Toledo, agreed.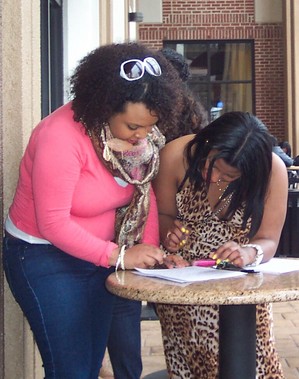 Lisa Carolin | For AnnArbor.com
"I'm a nanny during the day and a bartender at night," she said. "I would put my life in Toledo on hold for this once in a lifetime experience."
Ana Dereje, 20, a Michigan State University student originally from Ethiopia, and her friend Eden Kahssai, 21, originally from Eritrea, are more politically motivated.
"Our goal is to get rid of African stereotypes and be positive role models," said Dereje.
Applicants were taken in groups of 10 to sit with casting directors and talk about themselves. Woodbeck says that the information on the applications and what's talked about in the interviews is confidential. He says that the group interviews are helpful in observing how the applicants interact with each other.
"We look for honest, open people to tell their stories," said Woodbeck. "When you're auditioning for our show, we want you to just be yourself. We celebrate diversity and want to tell real stories about real people."
Woodbeck says that Saturday's auditions are for season 28 of Real World, but he can't say when that season will run or where it will take place.
He says that out of the thousands of people interviewed, eight will be chosen.