Posted on
Sun, Jul 4, 2010 : 6:02 a.m.
Washtenaw County municipalities begin exploring medical marijuana regulations
By Tom Perkins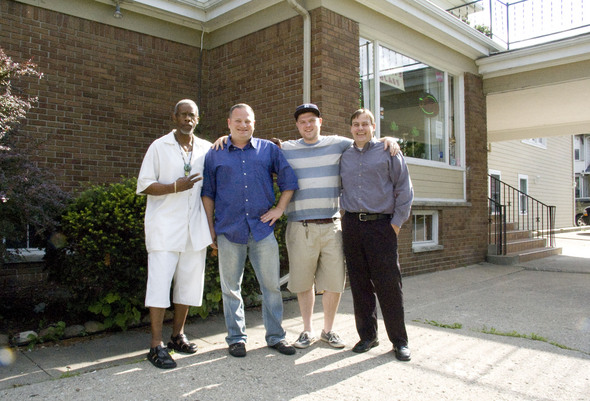 Tom Perkins | For AnnArbor.com
Ypsilanti's 3rd Coast Compassion Center hummed with activity on a recent Tuesday, a stark difference from its quiet beginnings when it opened in a former funeral parlor in December.
In that way, 3rd Coast - the state's first medical marijuana dispensary - is representative of the industry as a whole in Michigan. Medical marijuana is enjoying rapid growth, arguably more so than any other industry in the state.
But two years after voters approved the Michigan Medical Marijuana Act, parties on all sides of the issue are forced to make their own interpretations because of what many say is a vaguely written law. The result has been differing views on the law's intent and the details shaping the industry.
Some municipalities would prefer the burgeoning industry avoid their communities altogether and have taken measures to zone out or heavily regulate activity.
Most municipalities are taking one of three different approaches: embrace the legislation, ban medical marijuana possession and use outright, or find a middle ground through zoning ordinances.
"It's complex," Matt Abel, a Detroit-based attorney nicknamed "The Cannabis Counselor" said of the state law, adding "it was unfortunately written to pass the vote at election time not written to be clear and workable."
The law is problematic in part because marijuana is still illegal on the federal level, though the Obama administration announced in October federal authorities would not arrest anyone complying with state medical marijuana laws.
Despite that, Saline recently opted to prohibit medical marijuana all together, citing its status under federal law. Saline Mayor Gretchen Driskell said she voted for medical marijuana's legalization, but feels the law is too vague.
The Saline City Council passed a zoning ordinance in June prohibiting the sale or possession of medical marijuana, or anything else that's illegal under federal, state or local law.
"Because the regulations around medical marijuana and dispensing are not very clear, there's a lot of room for interpretation," she said. "It makes it a little difficult for a local government to get involved at this point."
Jamie Lowell, a partner at 3rd Coast, argued Saline doesn't have the authority to impose such restrictions.
"Local municipalities have no ability to enforce federal laws," he said. "The feds are not interested in enforcing federal law over small amounts of cannabis being used legally under state law."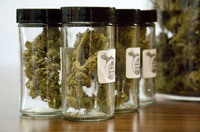 Tom Perkins | For AnnArbor.com
The law is more specific in certain areas. A patient must obtain written documentation from a licensed physician stating he or she has a debilitating illness and could benefit from the use of medical marijuana. The patient then takes the documentation to the Michigan Department of Community Health, which issues a patient's card, if approved.
Patients designate a primary caregiver from whom they obtain medical marijuana. A caregiver's card is also issued by the state Department of Community Health.
A caregiver can grow up to 12 plants - or 2.5 ounces - for up to "five qualifying patients," and an additional 12 if he or she is a patient.
But Abel and others contend the law does not say a patient can't obtain marijuana from other patients, or that a caregiver can't sell to qualified patients outside of the five with whom they are registered.
"Anything that's illegal is specified, but it doesn't say you can't sell to someone else," Abel said.
The law states "qualifying patients" shall not be punished for the "medical use" of marijuana. The law's definition of medical use includes the words "acquisition, transport, delivery and transfer" of the medicine.
Ann Arbor officials have yet to determine how they will approach the question of regulating dispensaries. Already, several have set up shop in the city.
City Attorney Stephen Postema told AnnArbor.com in early June that the law clearly states caregivers can only grow plants for their designated patients and that "the law doesn't contemplate that there would be a group of plants that could just go to anyone."
Ann Arbor Mayor John Hieftje said the city is gathering more information before forming an opinion one way or another.
"I remain very supportive of the concept and we're trying to sort through the legalities," he said.
In Milan, the City Council discussed placing a moratorium on allowing medical marijuana dispensaries during a work session Monday. The measure was tabled.
Grand Rapids has taken a position that the law is silent on dispensaries, therefore dispensaries aren't allowed.
Lowell said restrictions on patients obtaining medical marijuana run contrary to "the spirit and intent of the law," which he says is to provide people who use medical marijuana as a legitimate form of health care with uninterrupted access to it.
3rd Coast and other dispensaries operate by allowing member caregivers and patients to bring their excess cannabis to the club, which is then made available to other patients. No marijuana is grown on the premises, and Lowell said all transactions are small and well within the parameters of the law.
Importantly, the law states the actual cannabis cannot be sold, but a patient or caregiver can be compensated for services.
Lowell and partner Darrell Stavros regularly meet with municipalities statewide that are in the process of developing zoning ordinances. He said a conservative estimate puts the number of dispensaries in Michigan at 15, with that figure rapidly growing. Abel estimated as many as 50 will operate by the year's end.
Abel said there needs to be a provision in the law addressing dispensaries.
"There's a need for dispensaries, and they're going to be there one way or another, so the state might as well get on board," he said.
In the case of nurseries, caregivers' 72 plants must be in a secure, locked room, but the definition of "secure and locked" remains unclear. Abel has already taken on a court case in which prosecutors challenged what a grower considered secure. That case was thrown out.
In addition, municipalities have to decide what happens if, for example, 20 caregivers want to form a large nursery and grow their plants - 1,440 maximum - under one roof, but in separate "locked and secure" rooms.
"In our system, all the gray areas end up in court, so you're going to have a court giving an opinion on these questions," said Dennis Hayes, an Ann Arbor-based attorney long involved with the medical marijuana industry.
Ypsilanti Township has sought to limit the size of nurseries by allowing only 72 plants - or one caregiver - per nursery. The ordinance also requires nurseries to remain 1,000 feet from one another in light industrial zones and 1,000 feet from a residential zone, precluding caregivers from growing in their homes.
Consumption is also prohibited in the township's nurseries and dispensaries.
At 3rd Coast in the city, one of its functions is to provide a place for patients to medicate when their living situation makes doing so uncomfortable, Lowell said.
The Ypsilanti City Council may discuss a medical marijuana zoning ordinance by September. Council Member Brian Robb has been gathering information on the issues, and he and city planner Teresa Gillotti have been in communication with 3rd Coast.
Robb said grow operations should be open to inspection to address any safety concerns, but he sees no problem with allowing a nursery or dispensary to be treated like a retail operation. He also said 3rd Coast should be allowed to operate in the central business district.
"I think this is pretty simple and straightforward, but my biggest concern is the inspection of the grow operation," he said.
Officials in Dexter and Chelsea both said they have yet to deeply explore how to proceed, though both are aware of the issues. Dexter Council Member Jim Carson said a zoning ordinance is on that village planning commission's July 6 agenda.
The state has nearly 20,000 registered patients and 8,500 caregivers, according to the Department of Community Health. Lowell said the need for easy, alternative access to cannabis will continue to grow as more patients register, and he believes education on the subject will help eliminate "irrational fears" about dispensaries.
Lowell also highlighted the positive economic impact 3rd Coast has had in Ypsilanti by bringing in residents of other communities who use the city's other businesses. He also pointed out the dispensary now occupies a previously abandoned building.
"This should be an inspiration and it should tell people, 'Hey, You can do this,' so patients can always have safe access to their medicine," he said. "The economic development part comes incidentally, but this is a win-win industry."
Tom Perkins is a freelance writer for AnnArbor.com. Reach the news desk at news@annarbor.com or 734-623-2530.