Posted on
Fri, Mar 16, 2012 : 12:03 p.m.
Weather service map pinpoints Southeast Michigan tornado, hail, funnel cloud sightings
By Cindy Heflin
A National Weather Service map shows the path of the tornado that ravaged Dexter and severe thunderstorms that raked Washtenaw County on Thursday.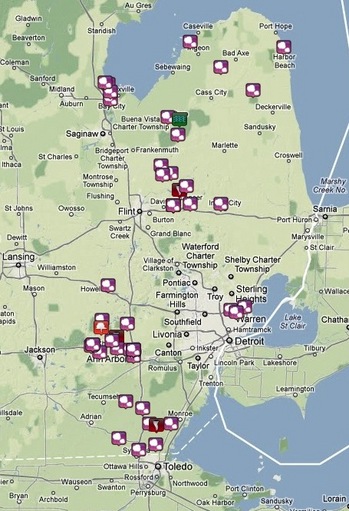 The map pinpoints locations where weather spotters saw the tornado, sighted funnel clouds and observed hail.
An accompanying chart helps track the path of the storm across the county. The first tornado confirmation was at 5:40 p.m. 2 miles northeast of Dexter, according to the chart. As the storm moved southeast, another tornado sighting was reported near Ida in Monroe County at 6:50 p.m. Another tornado was reported at 6:53 p.m. in Lapeer County.
Spotters first observed hail an inch in diameter in the Pinckney area just north of Washtenaw County at 5:07 p.m. Large hail up to 2 inches in diameter was observed throughout the county during the storm.
Spotters reported flooding in Ann Arbor at 6:30 p.m. with several roads covered with 3 to 4 feet of water.