Posted on
Wed, Mar 21, 2012 : 5:58 a.m.
Neighbors of proposed Maple Cove apartments wonder: Will project bring more crime to Ann Arbor?
By Ryan J. Stanton
Ryan J. Stanton | AnnArbor.com
A discussion about a
proposed housing development on Ann Arbor's west side
Tuesday night turned into a debate about crime in relation to nearby apartment complexes.
The Ann Arbor Planning Commission voted 6-2 to recommend approval of the Maple Cove Apartments & Village project proposed for a mostly vacant 3-acre site near Maple Road and Miller Avenue, sending the project on to the City Council for final consideration.
Stephanie Raupp, who lives with her husband directly across from the proposed development on Maple Road, addressed the commission during a brief public hearing, saying she was speaking on behalf of more than 30 neighbors who oppose the project.
Raupp said there are many apartment complexes already along Maple Road, many with vacancies, and crime has been an issue at those locations. She argued apartment buildings in close proximity to freeway on- and off-ramps are natural hot spots for drug trafficking.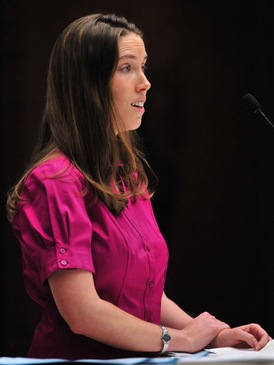 Ryan J. Stanton | AnnArbor.com
"We are right there at on-ramps to two major freeways and we're concerned," she said. "It's a neighborhood full of families and kids. We're not opposed to the single-family usage by any means, but the apartment just seems completely out of place in this neighborhood."
Property owner Muayad Kasham, who owns Superior Lawn Care & Snow Removal in Ann Arbor, wants to demolish an existing home and construct two 18-unit, three-story apartment buildings and seven single-family homes, as well as a 64-space parking lot. Site plans for the apartment buildings include 12 one-bedroom units and 24 two-bedroom units.
Some planning commissioners were sympathetic to Raupp's concerns about the potential for Maple Cove to bring more crime to the area.
Commissioner Bonnie Bona, who voted against the project with Commission Chairman Eric Mahler, pushed for a postponement so the commission could further study the issue and seek information from the police department about crime at nearby apartments.
"I was interested in finding out from the police department what the calls have been on apartments close to this intersection," Bona said. "I've heard similar things to what this homeowner mentioned and it would be helpful to know from the police department what they think the source of those problems are, if they even exist."
Commissioner Diane Giannola urged commissioners to think about the precedent they might be setting by evaluating crime statistics in relation to a proposed project.
"It worries me that by getting the information that Commissioner Bona is requesting that we're going to go on the assumption that an apartment building near an expressway automatically is going to bring crime," Giannola said. "Even if there are a couple of apartment complexes there that have crime, it does not mean the new one will, and I think it's a big jump to say that statistics that are already there are going to apply to anything that is built."
Commissioner Tony Derezinski, who also serves on the City Council, agreed it's a slippery slope if the commission starts to equate apartments with crime.
"We have a lot of complexes going up, and if we were to use that criteria every time, I think it would be sort of suspect," Derezinski said.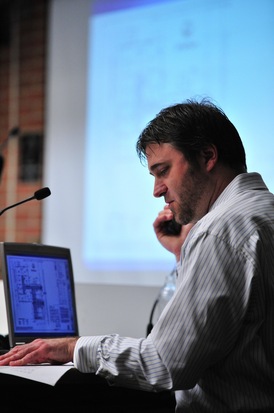 Ryan J. Stanton | AnnArbor.com
The property, located one mile south of Skyline High School, has on and off been a target of development since 2005.
Raupp, who has lived in her house for about six years, said crime is only one concern that neighbors have about the project.
"The main concern that everyone stated is we do have water runoff issues in this area," she said. "Our sump pump runs pretty much continuously, more so this time of year. A lot of the neighbors have similar issues, the neighbors surrounding that area. If you add an apartment complex and a huge parking lot on top of that, it's just only going to get worse."
Traffic is another concern for neighbors.
"This is a school area," Raupp said. "There are high-schoolers, middle-schoolers and even elementary-schoolers walking down this street every day in the morning and after school. It's a main pedestrian area and we are very concerned with traffic."
Another concern is the scale of the project.
"The height of the building is a big concern," Raupp said. "It's three stories tall. There's nothing near it that's three stories tall — nothing in the whole area — so that seems just excessive and we're very concerned about that just being inappropriate in our neighborhood."
City Planner Matt Kowalski gave a report on the Maple Cove project and noted the zoning for the property allows up to a four-story building capped at 55 feet, but the developer is proposing only three stories or 44 feet of vertical development.
Raupp stressed that neighbors are opposed only to the apartment portion of the proposal. She said they welcome the addition of single-family homes.
During other points of the 90-minute discussion, Commissioner Erica Briggs raised concerns about a lack of open space and pedestrian connectivity.
"There are some significant concerns in the neighborhood. There are some concerns that have been raised around the table right now," she said. "I think there are ways to improve this process and improve the development to make sure that it works better for the community."
Kowalski said although a rooftop patio area is available for residents of the new units, the city's parks staff has expressed concern over the lack of open space, too. The city requested a parks contribution payment of $26,660 but the petitioner has declined to pay that.
More than one planning commissioner suggested the developer could do a better job of working with the city and surrounding neighbors.
"If you want to have projects that receive more acceptance from the surrounding neighborhoods, it's important to listen to the concerns of the people who are going to be the neighbors there as well," said Commissioner Wendy Woods.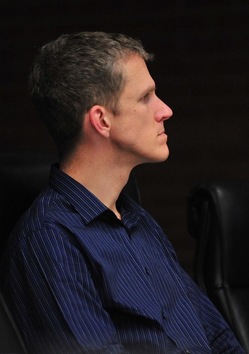 Ryan J. Stanton | AnnArbor.com
Woods also brought up concerns shared by the planning staff, which requested placement of sidewalks along the street leading to the single-family development. While the sidewalks aren't required by code, city staff believes they would increase safety and accessibility to Maple Road.
The developer was represented Tuesday night by local architect Brad Moore and an employee from Midwestern Consulting LLC.
Woods asked Moore if children living in the single-family homes would have to walk in the street to get to Maple Road to catch a bus to school. Moore noted it's a private drive, not a public street, and said they could either brave whatever light traffic might be on the private drive or walk in the grass.
That answer didn't seem to satisfy Woods, though, and she wondered how that situation might play out in the winter when the grounds are covered in ice and snow.
Raupp submitted petitions to the city's planning staff at Tuesday's meeting and said they were signed by more than 30 residents who want to stop the apartments from being built.
Though she voted against the project, Bona said she thinks the location is a good place for building more housing and she prefers not to see the land stay vacant.
"I think this is a great location for multi-family. I do have a couple of concerns, though," she said, again mentioning anecdotal accounts of crime at nearby apartments.
"It's the proximity to the highway and that easy access on and off," Raupp said of the problem. "Down toward the other apartment areas, we have had more graffiti in that area."
In other action, the commission voted 8-0 to approve a site plan to allow the city to construct a new three-story pump station (two floors below grade) totaling 5,114 square feet at 919 Sunset Ave. The station is proposed for the eastern side of an existing administration building. No natural features are proposed to be disturbed on the 10.5-acre site.
Commissioner Evan Pratt was absent.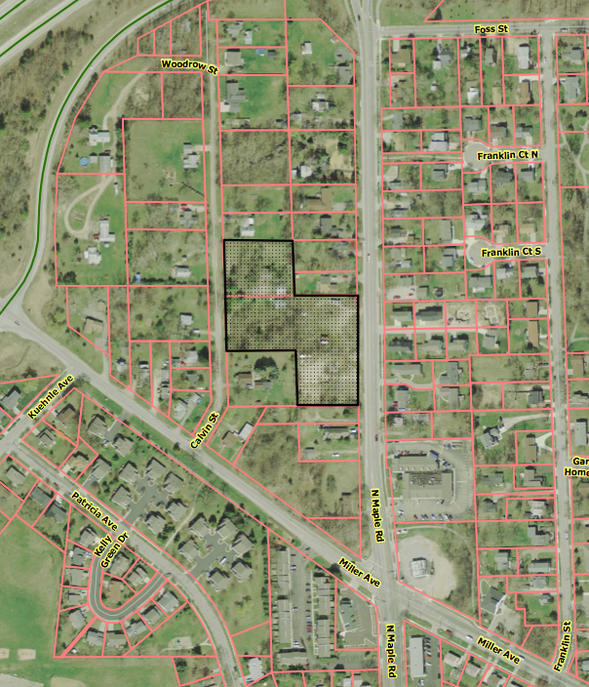 Courtesy of City of Ann Arbor
Ryan J. Stanton covers government and politics for AnnArbor.com. Reach him at ryanstanton@annarbor.com or 734-623-2529. You also can follow him on Twitter or subscribe to AnnArbor.com's email newsletters.