Posted on
Fri, Aug 13, 2010 : 2:03 p.m.
New Ann Arbor non-profit fundraising to buy tools to fix bicycles for free
By Heather Lockwood
Molly Kleinman says Ann Arbor was overdue for a group like Common Cycle.
The non-profit, which launched in February, aims to provide education and tools to area cyclists so broken brakes or flat tires won't keep people from biking any longer.
"The goal is to fill what we see as sort of a gap in the cycling infrastructure in Ann Arbor," said Kleinman, an Ann Arbor resident and Common Cycle board member. "There's not really a place where people can go to learn about their bikes, how to repair a bike."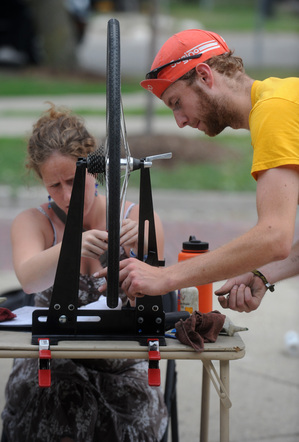 Melanie Maxwell I AnnArbor.com
Kleinman said the city is in particular need of a "place where people can use tools and have access to space" to repair their broken bikes.
"I know so many people who say, 'Oh, I love riding my bike, but there's something wrong with my brakes so I stopped riding it,'" she said.
The plan is to find a permanent space by this winter. Until then, Kleinman said, the group uses a mobile repair stand to reach out to cyclists in need.
"The bike repair shop that can be set up anywhere" can be spotted at community events and on Sundays at the Artisan Market.
Kleinman said volunteers, including several experienced bicycle mechanics, take turns at the stand and use their own or borrowed tools to do repairs for anyone who stops by - and it's free. Kleinman said the goal is to not just fix people's bikes, but also to teach them how to do it so they'll know what to do the next time.
The group is conducting a fundraising effort through Kickstarter.com and hopes to raise $5,000 to buy new tools. But there's a catch. If Common Cycle doesn't meet its goal of $5,000 by its Aug. 31 deadline, it won't get any of the money. Kleinman said that's just how Kickstarter works.
"(We have raised) $3,292 as of this minute, but the number has been going up every minute," Kleinman said Wednesday.
Kleinman, who says she's been riding a bike recreationally since she was 8 and for transportation since she moved to Ann Arbor in 2005, said bike transportation has not only environmental benefits, but social benefits, too.
"I think it's good for the community. It's easier to stop and say 'hi' to a neighbor," she said.
Donate here.