Posted on
Thu, Aug 25, 2011 : 5:05 a.m.
New report contemplates tax increase to fund expansion of AATA transit services in Washtenaw County
By Ryan J. Stanton
The Ann Arbor Transportation Authority's governing board voted 5-0 on Wednesday to accept a new report detailing possible funding strategies for a countywide transit expansion.
The 61-page report will be given to a special Finance Task Force responsible for analyzing the funding options and recommending a course of action to pay for the service improvements AATA has outlined in its 30-year transit master plan.
"The transit master plan offers a very clear vision for meeting our county's transit needs over the next 30 years," said AATA CEO Michael Ford. "The funding options included in this report provide us with the next steps toward making that vision a reality."
The report shows current funding levels are sufficient for existing transit services in Washtenaw County and may even offer opportunity for limited improvements, but additional funding is needed to realize the services envisioned in the transit master plan.
Funding options detailed in the newly released report include public-private partnerships, tax-increment financing, local sales taxes, payroll taxes, parking fees, property millages, and increases in the state gas tax and vehicle licensing fees.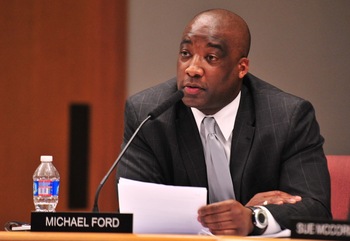 Ryan J. Stanton | AnnArbor.com
The report shows a total of $598.8 million in planned service improvements throughout the county over the next 30 years. That includes about $76.9 million in capital expenses in years 1-5, $379.4 million in years 6-15 and $142.5 million in years 16-30.
Meanwhile, the report shows the AATA's operating costs growing from $25.1 million in 2010 to $40 million by 2015, $66.3 million by 2025 and $85.8 million by 2040.
Hypothetical revenue sources include a 1-mill countywide tax eventually growing to 1.5 mills, layered on top of the 2 mills already levied in Ann Arbor. The report also suggests a local sales tax or equivalent payroll tax levied on salaries paid by local employers could generate about half the authority's revenue by 2040, eliminating the need for property millages.
"Reliance on a property tax for transit funding is relatively unusual," the report states, going on to note that in 2009 about 67 percent of the dedicated operating revenues for transit agencies across the country derived from sales taxes and just 6 percent came from property taxes.
The report concludes that sales taxes are perhaps a more progressive solution than property taxes, as contributions are drawn from all beneficiaries of the transit system, including people working in and visiting the area, rather than just local residents.
But to be sure, the report takes a look at what additional revenue a countywide tax could raise if laid over Ann Arbor's existing 2-mill transit levy, which brings in about $9.5 million annually. An additional 1-mill countywide tax would bring in $14.5 million, including $4.6 million from Ann Arbor; at 1.5 mills, a countywide transit levy would net $21.7 million ($6.9 from Ann Arbor); and at 2 mills, a county transit levy would net $29 million ($9.2 million from Ann Arbor).
The report notes Michigan could raise an additional $350 million annually if it increased the state gas tax from 19 to 23 cents per gallon for unleaded fuel, followed by a further increase to 27 cents within three years. Similar increases in the tax on diesel to 27 cents per gallon could raise another $92 million, the report states.
Based on the fact that Washtenaw County represents about 3.3 percent of Michigan's total population, the report estimates the county could see a $14.7 million boost in transportation funding. Those yields are assumed elements of the report's hypothetical budget, which also estimates a local parking tax could raise $3.2 million annually in later years of the plan.
The report also suggests the new countywide transit authority could create a special tax-increment financing district to capture local taxes to fund capital costs and operations.
A hypothetical funding strategy outlined in the report also involves using federal funds in two ways: 1) a pay-as-you-go approach that spends grant money on projects as that money flows into the region, and 2) a debt-financed component where loans are taken out to pay upfront costs of certain projects and then are repaid later using federal grants.
AATA officials noted some options, such as increases to the state gas tax and a local sales tax, would require action by the state Legislature or a voter-approved constitutional amendment before becoming available as a funding opportunity.
Board Chairman Jesse Bernstein said it's difficult to predict what funding tools may be available over the long-term, but the report does a good job of examining what has worked in other parts of the country as well as funding options that can be leveraged here now.
Asked what level of millage it would take to fund the first five years of AATA's transit master plan vision, Bernstein said: "I don't know and I don't care."
Ryan J. Stanton | AnnArbor.com
"Because that's not the only option, and that's the whole point of the funding report," Bernstein said. "And we're not going to need all of the money we've discussed upfront — and some of it's going to be capital, some of it's operating, so it'll be a plan we come up with down the road based on utilizing as many options as we can."
Bernstein said a mere increase in the gas tax isn't going to fund all of the AATA's needs. He described it as a Catch 22 — as more people move away from cars and use public transit, or even switch to greener vehicles, that leaves less gas tax revenue for public transit.
"The state has the same issue in terms of raising funds for roads," he said. "So we all need to look at that down the road and what impact we're going to have on that. We've got to look at other ways to fund roads and transit."
The plan makes note of existing sources of transit funding in Washtenaw County, including federal and state operating assistance, passenger fares and third-party fares from institutions such universities that pay for all or part of the fares of their students and employees.
Also providing revenue to AATA are purchase-of-service agreements with municipalities outside Ann Arbor and the levy paid by Ann Arbor property owners. The city of Ypsilanti also has a dedicated 1-mill transit levy, passed last November, that pays for AATA services.
The Finance Task Force is expected to hold its first meeting in September and issue its funding recommendations in January to an unincorporated Act 196 transit authority, a body of representatives from throughout Washtenaw County that will be charged with developing the governance, service, and funding framework for a countywide transit system.
It will be up to the unincorporated board and the eventual countywide transit authority to act on the task force's recommendations.
The Finance Task Force is being co-chaired by McKinley CEO Albert Berriz and former Washtenaw County Administrator Bob Guenzel. Additional members, including representatives from the business and civic community, are to be announced later.
AATA spokeswoman Mary Stasiak said the plan is to go back into the community now and find out what services people want to see implemented in the first five years of the plan. She said that will help define exactly how much money is needed in the short term.
"We're not endorsing a millage as a way to fund this, although right now from a short-term standpoint that may be the only way," Stasiak acknowledged. "But it's really going to be up to this task force to determine what the options are going to be."
A digital copy of the funding report is expected to be posted here eventually. It was made available only in hard-copy format tonight.
Ryan J. Stanton covers government and politics for AnnArbor.com. Reach him at ryanstanton@annarbor.com or 734-623-2529. You also can follow him on Twitter or subscribe to AnnArbor.com's e-mail newsletters.