Posted on
Thu, Feb 23, 2012 : 5:59 a.m.
Ready for the snow: Road Commission mounts a systematic attack in a winter storm
By Lisa Allmendinger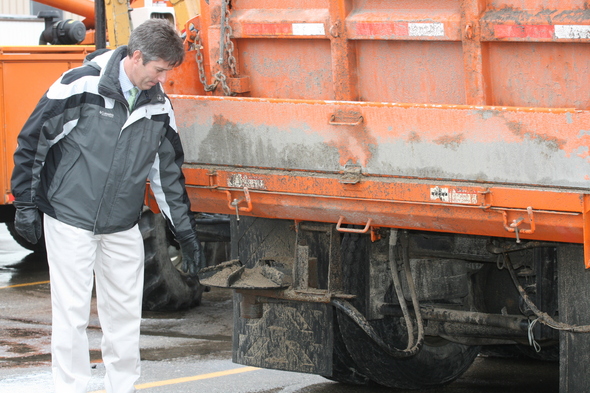 Lisa Allmendinger | AnnArbor.com
When the snow starts to fall Thursday evening, the Washtenaw County Road Commission will be ready to do battle.
For a big storm, the road commission can deploy 46 heavy trucks, 11 motor graders and eight 1-ton trucks. The National Weather Service has issued a winter storm watch for Thursday night and Friday morning and is predicting a storm total of 6 inches of snow or more. Road Commission officials will be monitoring the forecast and deciding exactly how to attack it as it moves closer.
But preparation doesn't just start in the hours before a storm moves in. The county starts getting ready weeks or months before the first flake of the season. In the fall, crews make sure all equipment is in good working order and drivers make dry runs of the routes they'll run when the snow comes.
"A lot of planning and thought goes into winter maintenance," said Jim Harmon, director of operations.
With any threat of a storm, Road Commission officials begin monitoring several different weather forecasts to get a handle on what to expect, said Aaron Berkholz, superintendent of maintenance for the Road Commission.
"Communication is the key to winter maintenance," Berkholz said. "A winter storm is like a child with stomach flu. You worry about it. You're up all night because of it, and then you have to clean up after it." County officials want to make sure they deploy resources wisely because salting and plowing gets expensive fast.
A full crew deployment can cost up to $8,500 per hour, Harmon said. Removing a season's worth of snow and ice can use up to a quarter of the Road Commission's annual operating budget of about $16 million.
Harmon knows the public is not always satisfied with how quickly roads are cleared during a storm and said several factors influence that. He's also aware that motorists are quick to compare roads in Washtenaw County with those in other nearby communities.
"Winter maintenance is a high priority for all road agencies in our area," he said. "Items that may contribute to differences in road conditions between jurisdictions at a point in time may include agency winter maintenance guidelines and priorities, weather and traffic conditions, available equipment, human resources and material."
The Road Commission has been challenged over the past decade to plow and salt a growing number of road miles without a growing fleet, Harmon said.
For instance, Jackson Road was converted from two lanes to a four-lane boulevard in Scio Township, Harmon said, and lanes have been added to Michigan Avenue, State Road and Moon Road. In Pittsfield Township, numerous miles of subdivision roads were added into the county road system.
He also noted significant differences in funding and staffing levels in adjacent counties. Washtenaw County received $16,237,372.68 from the Michigan Transportation Fund for the 2010 fiscal year, Harmon said. Wayne County got $57,189,072.13. Wayne County deploys 148 trucks for winter maintenance, Harmon said, which Washtenaw County deploys 46.
Road mileage comparisons between the two counties for 2010 stood at 590 primary road centerline (or lane) miles, 1,059 local road centerline miles and 580 state trunk-line lane miles for Washtenaw County; and 728 primary road centerline miles, 853 local road centerline miles and 1,840 state trunkl-ine lane miles for Wayne County.
Tackling the routes
The road system across the county is divided up into routes for the drivers. "They try to avoid left turns, make a logical progression and make the flow as efficient as possible," Harmon said.
Lisa Allmendinger | AnnArbor.com
Eight crews are assigned to six districts, including a state trunk-line crew that's funded by the state to handle the first-priority roads, which include I-94, US-23, US-12 BR, M-17, M-153 and M-52. The Michigan Department of Transportation contracts with the Washtenaw County Road Commission for maintenance of these roads.
Second-priority roads include highly traveled hard-surface roads; third comes hard-surface roads with medium traffic volumes. Once these roads are "generally bare or cleared to wet pavement," crews move onto subdivision streets and finally, to gravel roads.
However, the Road Commission does not plow or maintain roads inside any of the cities or villages in Washtenaw County, and each handles a storm differently.
In Ann Arbor, for instance, city crews use chemical de-icing agents on major streets when there is light snow or ice and will sand trouble spots on residential streets. Crews start plowing operations when there is a snowfall of 4 inches or more. Visit the city's snow removal web page for more information.
If a snowstorm brings less than 4 inches of snow, the Road Commission is not authorized to pay driver overtime to clean it up on lower priority roads.
"For at least 12 years, it used to be a 3-inch accumulation, but two years ago the board changed the policy to 4 inches," Harmon said.
Other counties have different policies regarding snow removal, Harmon said. Some have a 6-inch snowfall rule before subdivision roads are plowed; others use more expensive materials to deice the roads. You can find polices for Jackson County, Livingston County and Wayne County on their websites. When a really big snow comes, the Road Commission mounts the big plows, which weigh about 3,000 with attachments, on the front of vehicles. That generally happens about three to four times a year, said Berkholz. For most storms, blades located under the trucks can handle the snow removal job.
Both the front plows and scraping blades can be angled to direct the snow to the side of the road.
To salt or not?
How the roads are treated depends on the temperature of the road, which is read with an infrared thermometer, the air temperature and the wind chill. If the temperature is between 20 and 32 degrees, a deicing material of rock salt that's presoaked with salt brine is generally used.
Wetting the salt helps keep it from bouncing off the road, Berkholz said, and it "helps kick start the melting then the cars crush it and turn it into slush that can be scraped off the road."
If temperatures are below 20 degrees, salt becomes less effective and sand is used.
Typically, between 100 and 250 pounds of salt is used per lane mile, Berkholz said, and there is a computerized system to disperse the material. Each large truck can carry 12-15 tons of salt.
"We don't salt gravel roads; we scrape and sand the steep hills, the intersections and the curves. The sand then becomes integrated into the road surface," Berkholz said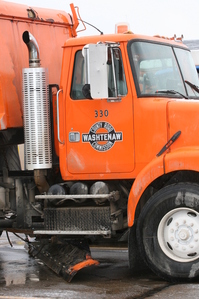 Lisa Allmendinger | AnnArbor.com
A costly process
Costs for fuel, equipment, labor, and materials have inflated significantly over the last 10 years.
In fact, one good storm can cost up to $400,000, while a minor one can cost about $60,000.
A large chunk of winter maintenance expenses goes for salt. It accounts for between $500,000 and $1 million of annual winter costs. On Jan. 19, during one of this year's notable storms, the Road Commission applied 540 tons of salt countywide. On unpaved roads, drivers used 47 tons of sand for an estimated cost of $30,000. When labor and other costs are added in, the total cost of that small storm was $60,000 for a light snowfall with ice conditions.
For other storms, the greatest expense may be in plowing or scraping roads and the amount of overtime needed to perform those tasks.
Despite the mild temperatures so far this winter, 26 days had been spent cleaning up storms through Jan. 27, Harmon said. The total cost for those cleanups: $1.018 million. Last year, for the same time period, 32 days were spent on winter storms for a total cost of $1.947 million.
The five-year average is 36 days spent on winter storms with a total cost of $1.862 million.
Last year, through Jan. 31, about $502,000 was spent on salt and 11.063 tons of it was used. For the same period this year, salt costs stood at about $318,000 and 6,516 tons had been used.
Staying safe
During a storm, the best advice to drivers is slow down and give plows plenty of room, Berkholz said.
And although there are no state laws that prohibit passing a snowplow, it can be dangerous. "Pressure from the blade of a truck can take you out," Berkholz said.
He said it can disrupt steering and drivers should give plows plenty of room to work. Plus, snowplows may be equipped with wing plow blades that can extend anywhere between 2 and 10 feet beyond the width of the truck and sometimes because of the snow, the plows aren't seen by drivers.
Road Commission officials also ask for patience from residents. Depending on the severity of the storm, it could take up to four days before the Road Commission gets to subdivision roads, they said.
"Cleanup takes longer than a lot of people would like and we know it's an inconvenience, but there is a lot of professional decision-making going on behind the scenes to get the roads safe for the motoring public," Harmon said.
Lisa Allmendinger is a regional reporter for AnnArbor.com who covers the Road Commission. She can be reached at lisaallmendinger@annarbor.com.