Posted on
Sat, Jul 21, 2012 : 10:30 a.m.
News Quiz: Test your news knowledge
By Ann Dwyer
Finish this recent AnnArbor.com headline: Scio Township business rocked by ...
A) suspicious fire
B) Ann Arbor Art Fairs
C) theft of 16 boulders
D) hurricane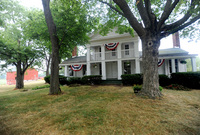 Was it incompetence or bad luck? Two cars remain with their own owners because thieves broke the windows but were unable to steal them for what reason?
A) They couldn't get them started
B) Tires were flat
C) They were out of gas
D) They drove them into ditches

Here's a gimme: Need rain? What is sure to bring it?
A) A weatherman saying it will be hot and dry
B) A rain dance
C) Praying
D) The Ann Arbor Art Fairs

The house and land, pictured above, have been purchased and will be turned into what?
A) A historical museum
B) Condos
C) An expansion of the Zingerman's Roadhouse farm
D) An emergency shelter

Answers: 1-C, 2-A, 3-D, 4-C