Posted on
Sun, Jan 29, 2012 : 12:09 p.m.
Who's living in Liberty Plaza? Camper says he's not with Occupy Ann Arbor
By Danny Shaw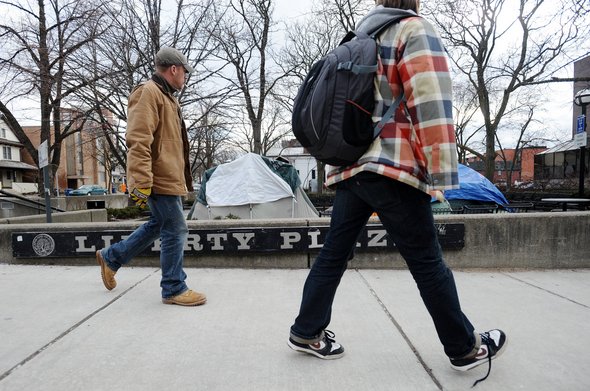 Melanie Maxwell I AnnArbor.com
Three months after Occupy Ann Arbor activists began using Liberty Plaza to protest the disparity of wealth in America, two tents and a man no longer affiliated with the movement's organizers are all that remain. And it looks like they won't be going anywhere anytime soon.
An Occupy Ann Arbor representative confirmed the movement, spawned last October by similar protests in New York, Seattle and other cities, is not affiliated with anyone at Liberty Plaza and is no longer using the downtown park for its activities.
Orian Zakai, a graduate student at the University of Michigan and Occupy Ann Arbor organizer, said David Sincere, the man camping in the plaza, might be an active protester for the movement but does not represent the Ann Arbor chapter. She has been coordinating Occupy Ann Arbor with city officials during the last few months.
"As far as I'm concerned he is not part of this organization," Zakai said. "He can identify with the cause, but isn't in contact with us."
Zakai said Sincere, also known as Sincere Nobleman, was difficult to work with.
Sincere said he used to coordinate with Occupy Ann Arbor, but said Wednesday he is no longer involved, despite the movement's name on his tent.
He has been camping in the square since Oct. 12, when the protesting first began. He said others join him from time to time, spending anywhere from one night to several days.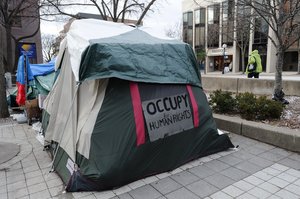 Melanie Maxwell I AnnArbor.com
According to Occupy Ann Arbor's website, the group's last meeting involving Liberty Plaza was Dec. 4 and no additional protests or meetings are planned as of yet. Meetings and protests have been scheduled for
other area Occupy groups
throughout December and January.
Steve Powers, city administrator, said the city's official stance to allow Sincere and the other occasional campers to remain in the park will stand as long as their legal behavior continues.
"It has not reached the point where removal has become an administration issue," he said.
Powers said the Ann Arbor Police Department surveys the area to monitor the activity of the campers and there are no current plans to evict them at this time, which is what officials said in October.
There have not been any complaints filed against the squatters of the square, according to Ann Arbor Police Department Lt. Renee Bush.
"They've been very compliant; we have a great open relationship and there are no problems," Bush said.
Collin Smith, Parks and Recreation manager, said Liberty Plaza hasn't required any additional maintenance or cleaning due to the park's lodgers and there haven't been any park permits requested within the last three months.
Catherine Mueller, administrator at the University of Michigan's Center for the Education of Women, said the tents and its occupants have not been disruptive. The CEW is the square's closest neighbor.
"As far as I know, they've been very peaceful and we haven't had issues," she said.
Sincere said he is the sole day-to-day resident and many others come and go.
"Not everyone that comes by is part of the movement," Sincere said. "Other homeless come here and I let them stay; I keep them warm; I watch over them."
Sincere said the surrounding businesses have been helpful over the last four months. He said some give him hot water for tea and soup, and others give him food and clothing and he doesn't have any plans to leave the site right now.
"The city is more than buildings and roads — we're people," he said. "This is as human as it gets."
Contact reporter Danny Shaw at 734-623-2544 or dannyshaw@annarbor.com.