Posted on
Thu, Dec 15, 2011 : 3:51 p.m.
Occupy protesters deliver group complaint at University of Michigan regents meeting
By Kellie Woodhouse
The University of Michigan Board of Regents meeting got an unusual start on Thursday afternoon when at least 30 Occupy Ann Arbor and Occupy U-M protesters chided the regents in unison.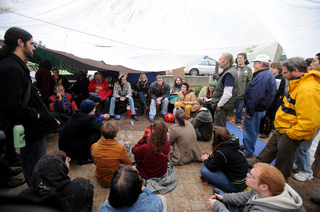 After the five-minute denunciation from protesters, U-M President Mary Sue Coleman offered no comment and began the meeting by reminding regents about Sunday's commencement ceremony.
The regents also offered no reply.
Here are a few complaints from the group, which they spoke to the regents in unison:
"Regents we are here to say that you are elected officials, you are accountable to the public, you are privileged to serve... You have failed in this service. There was once affordable public education, today there is only an expensive commodity. You sell this commodity to wealthy students, to the rest of us you offer a more ominous exchange, an education for a lifetime of student debt."
"You tell us state defunding creates difficult challenges, we agree. But you have responded to this challenge by stripping benefits from workers, raising tuition and decreasing tenure track positions."
"You have demonstrated your inability to stand for public education. Your agenda represents what you do stand for. You value funding start-ups over students and you value billions in construction over accessible education. We are demonstrating what we value. We the students, the staff and the faculty, we who teach and participate in class, we who clean the campus."
"We are here to reclaim the university for the public who makes it run…. We have another vision, job security and intellectual freedom of faculty and staff… a student body without student debt."
"Regents we know that your failure is shared. The state legislature shares it. Student loan sharks share it. The governor shares it. The U.S. congress shares it. The president shares it. When we address you we address them, too. We address you as representatives of a bankrupt system."
Kellie Woodhouse covers higher education for AnnArbor.com. Reach her at kelliewoodhouse@annarbor.com or 734-623-4602 and follow her on twitter.