Posted on
Sun, Feb 19, 2012 : 12:59 p.m.
Off-duty officer follows hit & run driver to home - and $8K marijuana bust
By Paula Gardner
A fender-bender in Pittsfield Township on Saturday turned into a marijuana bust a short time later after an off-duty police officer followed the hit & run driver to his home.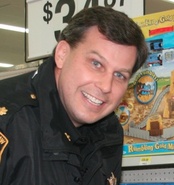 From WCSD
The situation began at about 3:30 p.m. Saturday when a 29-year-old township resident was in a minor traffic collision near Michigan Avenue and Platt Road.
That driver left the scene of the crash, heading westbound on Michigan Avenue.
As dispatchers broadcast reports from other drivers at the scene about the driver leaving, Commander Dieter Heren of the Washtenaw County Sheriff's Department heard the information.
"(The driver) didn't stick around," said Deputy Chief Gordy Schick of Pittsfield. Within moments, "Heren observed the vehicle passing him."
Heren followed the vehicle to Saline Meadows manufactured home community, where he identified himself as police and detained him, Schick said.
When Pittsfield officers arrived, police learned the man was an unlicensed driver - and, after further questioning, they searched his home.
That search led to the seizure of about $2,000 in cash, Schick said, along with five pounds of marijuana the police believe was going to be distributed.
"It was packaged," Schick said. "... It looks like he was a mid-size dealer."
The estimated street value of the haul was $8,000, he added.
The Michigan State Police crime lab needs to confirm that the substance was marijuana before formal charges on possession with intent to deliver will be filed. Schick said.
Information on the original crash wasn't available Sunday, but Schick said it was minor enough that the other driver was neither injured nor filing a police report.
Paula Gardner is News Director of AnnArbor.com. She can be reached by email or followed on Twitter.