Posted on
Mon, Aug 30, 2010 : 3:43 p.m.
Pittsfield Township man sentenced to 11 months in jail for starving puppy
By Cindy Heflin
A Pittsfield Township man was ordered to spend 11 months in jail for severely neglecting a pit bull puppy that was found starving in a crate. In a separate case, an Ann Arbor man was convicted of animal cruelty after his pit bull was found with a chain imbedded in its neck and leg.
Brian Christopher Adams was sentenced Thursday on one count of animal cruelty, said Steve Hiller, county chief deputy assistant prosecutor.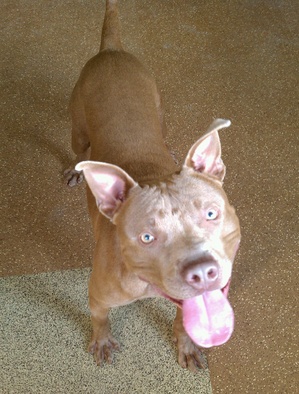 Photo courtesy of the Humane Society of Huron Valley
Adams owned a pit bull puppy that was taken by Humane Society of Huron Valley cruelty investigators in February after being discovered abandoned in a crate. The dog was extremely emaciated and was lying in a pool of his own blood, just barely alive, a press release said.
"This is the severest of neglect," Humane Society Executive Director Tanya Hilgendorf said. "This man knew this animal was in this crate in this condition and tried to say he did nothing wrong."
Adams was charged with animal cruelty and later pleaded no contest. A no contest plea is not an admission of guilt, but is treated as such for sentencing purposes.
The case is the first the humane society has prosecuted in which animal cruelty charges alone resulted in jail time, Hilgendorf said. "It's really not very common. As strong of an outcry as there is about animal cruelty in the general public, the penalties usually end up being quite light," she said.
Hilgendorf said animal cruelty is often connected to other violent crimes, and taking a stand against it benefits the entire community.
Adams was given credit for six months served. He was also sentenced to two years of probation and 300 hours of community service, He was ordered to pay $8,502 in fines and costs and $4,764 in restitution to the Humane Society.
The puppy, named Hercules, has spent many months under Humane Society care and is now fully recovered medically, the Humane Society said. He is still under behavioral treatment and is expected to be up for adoption soon.
In the second case, Eddie Kennedy, 44, of Ann Arbor, was convicted on one count of animal cruelty, Hiller said. His sentencing is set for Oct. 14.
Hilgendorf said the young, brindle pit bull in Kennedy's care was emaciated and suffering infections when it was brought it to the Humane Society with the chain imbedded in its neck. The dog had to be euthanized, Hilgendorf said.