Posted on
Thu, Apr 12, 2012 : 6:43 a.m.
A matter of principles: Keeping the new Joe McCarthys at bay by learning the lessons of our past
By Robert Faber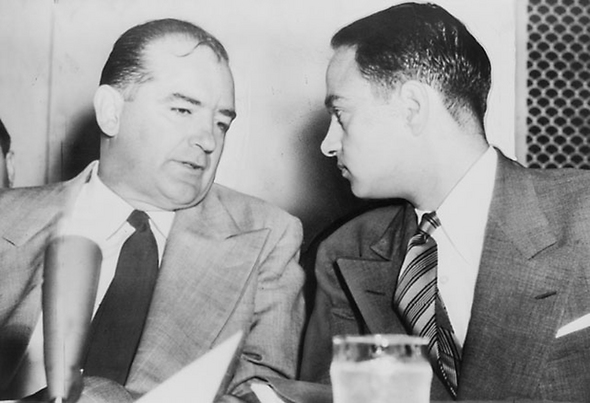 Photo courtesy of the Library of Congress
Editor's note: Robert Faber writes occasional columns for AnnArbor.com about aging, politics and other issues.
One of the intellectual benefits of aging is the ability to draw on experiences that had gone well or badly during our periods of growth, then to interpret our conclusions as universal truths. Such contrived insights are not a natural by-product of memories recorded and reexamined, but can effectively serve as a valuable guide for the future. And if judgments gained from those unsealed memories pass as wisdom, that may not be too far off the mark.
During the height of the Cold War, for example, the late Senator Joe McCarthy, whose reign was an embarrassment to our Constitution, to our traditions and to the high moral code we like to believe is inherently ours, had become the icon of irresponsible representation. His politically-inspired charges of conspiracy, treachery and disloyalty destroyed reputations, careers and lives and went uncurbed for several years.
McCarthy was not effectively challenged until lawyer Joseph Welch, during hearings conducted by the Army to investigate some of the senator's more outrageous charges, asked, "At long last, sir, have you no sense of decency?"
Joe McCarthy was a bad man, "a sleazy bully" in the words of famed columnist Richard Rovere, obsessed with power, disinterested in truth and dangerously destructive to our nation. But as a threat he was hardly unique to our system. Nor will he be the last.
Of serious concern is that so few of our legislators seem to have learned from that experience — or have failed to properly monitor the performance of fellow members. We shall always have our fools and ideologues in positions of power, but our system of laws and logic, of checks and balances, is designed to guard against the abuses of legislative power, to protect the weakest from the more powerful and the most powerful from the mob.
If the elected guardians of our democracy, for reasons of greed or power or cowardice, fail in that task, that is the more troubling threat. It was Joe McCarthy's colleagues, even more than the culprit himself, who let us down, by failing in their obligation to uphold the spirit and intent and integrity of our democratic system.
And that is one of the disconcerting problems of aging — we may have learned from the past, but are unable to extend its lessons to our leaders. It is now a half-century later, and those same legislators, under different names and following different drummers, are still pursuing votes and self-interests at the expense of national honor or personal integrity, still subverting the principles of the Constitution in favor of political party loyalty and reelection.
Effective legislative voices from both the left and the right are necessary to maintain a workable balance in our system, but this requires manipulating the levers of power honestly and honorably. We need our system of competing political parties — of liberal and conservative voices — to effectively debate the issues. We need spokespeople representing conflicting views to deal with the present and shape the future, but those voices, above all else, must be principled.
Adherence to established principles, pursued with integrity, free of obligation to political party or patron, must be the standard for the gift of our vote. Anything less is a perversion of our system. The billions being spent by drug companies and financial institutions and military supply contractors to bribe ("lobby") our legislators, however well clothed in clichés of nobility or manipulated by tortured logic, seriously weakens the health of our nation.
And that is one of the lessons of aging. Those insights we have gained along the way are not evidence of wisdom, but some of those bits of information that we may have absorbed could prove invaluable in effectively resolving our nation's affairs.
By now we should have a reasonably clear view of our political and cultural environment and should use that knowledge to protect our society. As seniors we may have seen this pattern of consuming self-interest before, but we like to believe it belongs to a different culture, perhaps to those smaller nations in today's headlines that are controlled by autocrats with no sense of responsibility for those they rule. But as seniors we have also seen enough changes during our lifetimes to give us pause in our inherent confidence in the inviolable virtue in our own system.
In our earliest days there was a perhaps naive confidence in the power of principles to guide our legislative decisions, of a reliance on the ethical implications of our Constitution. That earlier assumption, whether or not deserved, is no longer applicable. A representative of the people who is torn between his duty to his nation or the lure of his political ambitions or the material rewards of compliance — and who succumbs to those temptations — is dishonest with his constituency and a danger to his nation.
And for those insights we really don't need the wisdom of the ages or their aged advocates. We simply must select our goals reasonably and fairly, then pursue them with honor and principle — remembering that it is our grandchildren who will inherit the fruit or the folly of our actions.
Bob Faber has been a resident of Ann Arbor since 1954. He and his wife, Eunice, owned a fabric store and later a travel agency. He served a couple of terms on the Ann Arbor City Council. He may be reached at rgfaber@comcast.net.