Posted on
Mon, Apr 2, 2012 : 11:51 a.m.
As Detroit plays 'Let's Make A Deal,' which door will it choose?
By Tom Watkins
Decision day looms for Detroit. By law, the governor must pull the trigger no later than April 5 on the future of the state's largest city. The city leaders must choose or be forced to accept one of 3 options: consent agreement, emergency manager or bankruptcy.
If you don't pay your bills, there are consequences.
This thought crossed my mind as I was paying my own bills at the end of the month and listening to the whining about Detroit's fiscal crisis.
The "crisis" is a result of failed leadership. It goes back decades at both the state and local levels. You cannot pretend to fix problems and borrow your way to solvency.
Not managing your finances well has painful consequences.
Car Payment. If you don't make your payments, the "repo" man will take your car away.
House Payment. If you don't pay your mortgage, foreclosure knocks.
Utilities. If not paid, they are cut off.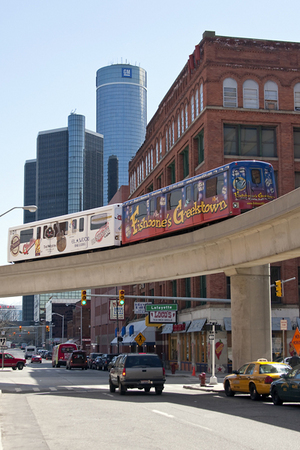 Steve Pepple photo | AnnArbor.com
Credit Cards. Yep, the credit card companies want their money too. Paying Visa with your American Express card ultimately catches up with you and the interest payments are oppressive.
The bottom line? Manage your finances or pay painful consequences.
Gov. Rick Snyder campaigned for office on the promise to reinvent the state. He spent his first year in office getting the state budget in order. He understands the days of pretending and spending need to end.
He is now being cast by some in Detroit as the "repo" man. Gov. Snyder is doing the job we elected him to do. He should not flinch.
We elected him to get Michigan working again. Michigan can't work with a dysfunctional Detroit.
Thursday, April 5th, is decision day. Perhaps it is more like the old game show, "Let's Make A Deal."
Mayor Dave Bing and the Detroit City Council have one of three doors to choose from:
Door Number 1: Consent Agreement. The Consent Agreement must be fiscally sound and have powerful consequence triggers if the city leaders fail to act in implementing the plan.
Door Number 2: Emergency Manager. Both sides agree this option is not desirable.
Door Number 3: Bankruptcy. An option that has dire consequences for us all.
Note, there is no door marked, "same ole, same ole" or "status quo."
All three doors require real change. They also open the door for the true rebirth of Detroit.
Gov. Snyder is no "Dirty Harry." Yet, he has been clear he will fulfill his legal, fiduciary responsibility.
As the mayor and City Council decide which door they will choose, they should be thinking, "Do you feel lucky? Well do ya, punk?"
Decision day is near. Because of an historic failure to lead and act, it is a now a choice between death or serious injury. This is no game.
Tom Watkins served as a elected member on the Wayne County charter commission and is a former state superintendent of schools for Michigan. He can be reached at: tdwatkins88@gmail.com.