Posted on
Sun, Feb 5, 2012 : 5:59 a.m.
Don't push the panic button: Ann Arbor's downtown is evolving, not floundering
By Tony Dearing
Worrying about the fate of downtown has a long tradition in Ann Arbor.
In 1938, the introduction of parking meters had some predicting doom for downtown. In 1970, the doubling of parking rates -- from 10 cents an hour to 20 cents -- caused similar consternation.
These days, we're hearing worries again. In an article last weekend, AnnArbor.com business reporter Lizzy Alfs examined the recently high rate of turnover for downtown restaurants, as well as concern in some quarters about aggressive panhandling, parking issues and a perception that foot traffic is down in the central city.
But let's not push the panic button here. While we've lost some well-known downtown establishments over the past year, we see a downtown that remains more vital and viable than those departures suggest.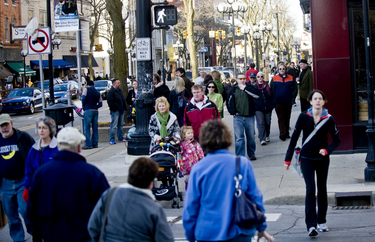 Joseph Tobianski I AnnArbor.com
When we assess the current state of downtown, it reminds us of what Yogi Berra once said about a famed restaurant. "Nobody goes there anymore,'' he said. "It's too crowded.''
We find a similar irony in the complaints from people who say they've stopped going downtown because, according to them, it's too hard to find a parking spot and you have to wait too long for a table at a restaurant. How bad off can downtown be when that's the gripe?
If anything, statistics from the parking system show more people are going downtown, not fewer. Based on use of downtown parking ramps and surface lots and go!pass ridership on buses, there were 700,000 more visits to downtown in the past year than five years ago, according to the Downtown Development Authority.
Yes, it's tough to do business right now, but that's true everywhere, not just downtown. The economy remains sluggish, online shopping poses new competition, and customer preferences have changed over time. Individual businesses, and downtown as a whole, have to change with them.
The Parthenon restaurant has been a fixture in downtown for 40 years, but its owners didn't want to go through another renovation and have made the difficult decision to close. The space won't sit vacant, however. The popular Cafe Habana will move to that location, creating the opportunity for the Blue Tractor brewery to expand into the spot where Cafe Habana is now. That's sounds to us like a downtown that is evolving, not floundering.
Even in a difficult economy, there are opportunities. While the @Burger on East Liberty Street was short-lived, the Five Guys Burgers that opened a few blocks away on South State Street has been well-received, and we're hearing some good buzz about plans for Grand Traverse Pie Co. to open shop in the vacant @Burger space. Again, that suggests there's an underlying vitality to downtown that can support the right concept.
Like many people, we're concerned about the mix of retail and restaurants downtown. The central city needs both, and retail has struggled in particular. Now that the 16 Hands gallery has moved from Main Street to Kerrytown, there's a sign offering its former space for rent, but with a pointed note that says "Non-food/beverage inquiries only.'' We understand that sentiment, and support efforts to keep a good variety of businesses downtown.
We also understand that complaints about parking are perpetual to downtown environments. But compared to major cities, parking in downtown Ann Arbor remains available and affordable. The DDA recently raised parking rates downtown, a move that merchant groups ultimately accepted. We were more concerned about a proposal to extend enforcement of meters into the evening hours. If the DDA brings that idea back up, which we expect it will, it needs to listen to merchants and understand the potential impact on them in this difficult economy.
We've also written recently about aggressive panhandling, which waxes and wanes downtown. At a time when the budget picture is looking better for the city of Ann Arbor, we're glad to hear Mayor John Heiftje talking about hiring additional police officers this year to provide downtown patrols. That should help reinforce a sense of safety downtown.
Still, we resume a call we made last year for Ann Arbor to adopt a "downtown ambassador'' program that's been successful in other cities. These uniformed ambassadors, usually financed through a special assessment district, walk the streets, helping visitors, answering questions and, when necessary, acting as the eyes and ears of police when issues arise involving panhandling or public drunkenness. We think this approach would benefit visitors and merchants alike.
It's not wrong to worry about downtown. We need to pay attention to the central city, and keep it healthy. But we also need to keep our sense of perspective. Ray Detter, chairman of the Downtown Area Citizens Advisory Council, pulled out some old newspaper articles recently that chronicled past warnings of downtown's demise -- all premature.
While many other cities in Michigan suffer with downtowns that are moribund, ours remains a destination for locals and out-of-towners alike. It has weathered past challenges well, and no one should write it off now. Keep coming downtown, people. There's a parking spot for you, and if you have to wait for a table, remember that's a good thing, not a bad thing. A lot of downtowns only wish they had that problem.
(This editorial was published in today's newspaper and reflects the opinion of the Editorial Board at AnnArbor.com.)