Posted on
Thu, Mar 15, 2012 : 7:09 a.m.
Finding the good in people amid the hell of war
By Robert Faber
Editor's note: Robert Faber writes occasional columns for AnnArbor.com about aging, politics and other issues.
Facing me on the wall of my office is the front page of the New York Times from Sunday, March 30, 2003, featuring a photograph of a group of American GIs just standing around — talking, relaxing after a recent military exercise, perhaps preparing for a new one.
The center of the picture, in a space left vacant by the other soldiers, shows an American Marine — middle-aged, balding, overweight — sitting on the ground with a recently orphaned 4-year-old girl cradled in his arms. The expressionless child seems comforted by the support and attention of the sober-faced GI.
They are two more victims of war, separated from the world, but attached to each other — he with anguish about the trauma facing this newly orphaned child and with evident concern about how she will now cope with life. And she, lost in the vacuum of events she cannot understand, seems content with the love and security of this big man who will protect her and care for her.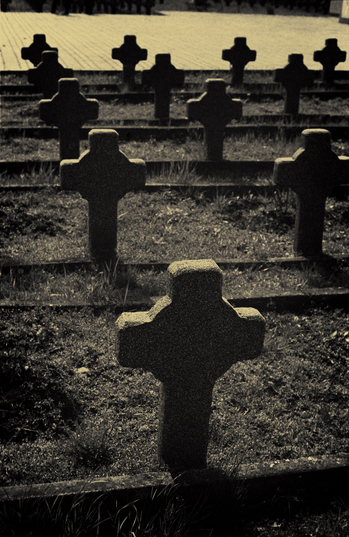 Constantin Opris | Dreamstime.com
And I keep this picture in constant view, because his compassion, his concern for this unknown, unrelated child is largely who we are.
And I remember, too, the picture that appeared in the Times not long afterward of a 2-year-old Iraqi boy dying from a 12-pound tumor, almost the size of the child, bulging from his frail body. The child, named Safa'a, is scared and suffering and confused. After a year of inadequate treatment in Iraq, his tumor has squeezed his liver, kidney and intestines all to the side, leaving him immobile and in uncontrolled pain.
His trembling, tear-stained mother, sitting scared in a medical center in Jordan, cradles him in her arms while his father, in total despair, tells the newsman, "You know, he is my first baby. I used everything I have to rescue my baby. I tried to do something, but I can't." The inadequate medical skills available in Iraq to treat the boy were further impaired by the sectarian violence that strained the environment — the family is Sunni, and the hospital was under the control of a radical Shiite militia.
The picture was taken in Jordan because a liquor distributor in Boston, Mr. Ray Tye, founder of the Ray Tye Medical Aid Foundation, became aware of the tragedy, arranged for the transportation of the child and both parents to the hospital in Jordan, then paid for the five-hour operation that removed the tumor and saved the child's life.
And as the family left the hospital for their return to Iraq, the photographer captured the immense joy of the moment, the child smiling and happy and both parents overwhelmed with tears of joy and gratitude.
And this, too, on a much broader screen, is who we are.
It is a well-known fact that "war is hell" — but that "hell" is not necessarily limited to the battlefield.
In a recent op-ed piece, New York Times columnist Nicholas Kristof talked of a few families he had just interviewed in Sudan, where they are fighting their own kind of war.
"We've had nothing to eat but leaves from trees," said one young mother whose son was chewing on a piece of wood. Kristof viewed that hell as "the mass atrocity of a government starving its people, massacring them, raping them and bombing them." And if he were not writing from Sudan, it could well have been from Bahrain — or Somalia, or Rwanda or, tragically, so many other similarly distressed lands.
But not all the individuals in those assorted hells are Satan's compatriots. Such examples of humanitarian concern and assistance as those who introduced this column are reasonably accurate reflections of who a large part of our population really is.
These acts of blind benevolence help define the character of many of our people, following traditions established by the Founders in their document pledging to "form a more perfect Union ... promote the general Welfare, and secure the Blessings of Liberty." In a world largely defined by the power of its military and the production of its oil and the glory of its leaders, that Preamble is not a bad collection of goals.
Unfortunately, the realities of life are not always kind to our more noble fantasies. The vast sea of violence that colors our front pages and TV news channels overrides the examples of generosity that we like to believe defines us. Nevertheless, those redeeming acts of charity, however infrequently noted, are significant and inspiring and remain a recognized and celebrated part of our profile.
Those people and organizations — the volunteers who bring food and medicine to decimated villages and those who rebuild housing destroyed by natural disasters and those who build schools for the poorest and most needy children of the world — are much the model for how much of the world sees us.
And about much of our population, that recognition of charitable concern and unselfish assistance is properly on target.
Bob Faber has been a resident of Ann Arbor since 1954. He and his wife, Eunice, owned a fabric store and later a travel agency. He served a couple of terms on the Ann Arbor City Council. He may be reached at rgfaber@comcast.net.