Posted on
Sun, Feb 12, 2012 : 9:24 a.m.
Historic District standards help make Ann Arbor a 'cool city'
By Letters to the Editor
The recent multiple articles concerning Louis Breskman's violation of the Old West Side's Historic Preservation Ordinance appear to perpetuate a long-standing misconception about property owner's rights.
Mr. Breskman's decision to move to Ann Arbor "because of its liberal reputation" was fallacious. Ann Arbor has standards, and Ann Arbor is a special, even "cool" city, because of those standards.
The city's historic district ordinance first became law in 1971, thanks to a group of concerned citizens led by attorney John Hathaway. It provides for a group of mayor-appointed commissioners whose job is ENFORCEMENT of the preservation ordinances.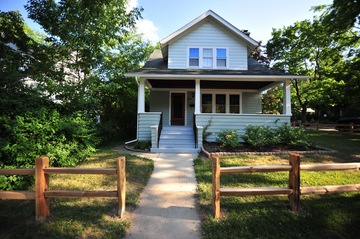 Ryan J. Stanton | AnnArbor.com
The 14 historic districts and their ordinances are all products of the property owners in those districts, so the neighbor who complained to the city was, in fact, performing a civic duty -- one shared by all property owners in the Old West Side Historic District.
They wrote the ordinance, and all of them comply with it! Mr. Breskman violated it by failing to obtain Historic District Commission (HDC) review and approval before putting up the fence. Bottom line? He broke the law.
HDC, its coordinator, and Ann Arbor city attorneys have no choice other than to demand its removal. Breskman's threat to move away is not germane to the issue, and if it were up to this octogenarian townie, I'd call his bluff in a heartbeat.
Mary M. Culver
Ann Arbor
Editor's note: Mary Culver is a retired Ann Arbor preservation coordinator and former long-time member and past chair of Ann Arbor's Historic District Commission.