Posted on
Sun, Oct 3, 2010 : noon
Bank's repeated errors almost caused couple to lose home to foreclosure
By Jen Eyer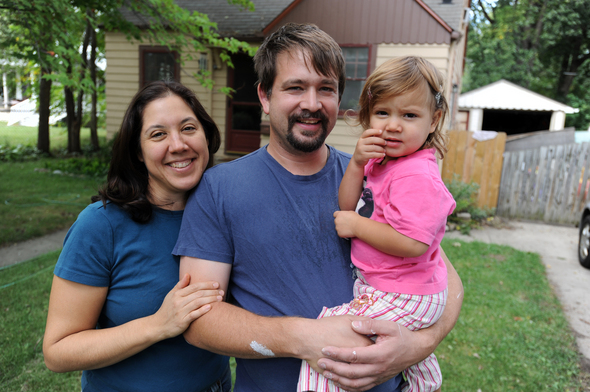 Lon Horwedel | AnnArbor.com
When Tom and Lola Kern applied for a mortgage modification last November, it seemed they were being given a lifeline that would allow them to keep their house.
Eight months later that lifeline was turning into a noose. Because despite doing everything the bank asked, the Kerns still ended up being threatened with foreclosure.
The Kerns' situation had many of the familiar hallmarks of the nationwide mortgage crisis: decreased household income, a home that has lost substantial value, and a hair-pulling loan modification process with no end in sight.
But the Kerns' story also shows that, if you're struggling to pay your mortgage and not getting anywhere with your servicer, don't give up. Escalate.
The Kerns bought their house in Ypsilanti in 2000. Both are self-employed: he's a house painter, she's a professional violinist. For several years they made their $1,400-a-month mortgage payments.
But after the economy tanked in 2007, painting jobs were harder to come by and gigs became more infrequent.
Tom and Lola tried branching out into office jobs — balancing work with staying home with their 2-year-old daughter so they could avoid day care costs. Although they drained their retirement fund, they managed to keep making their house payments until the fall of 2009.
At that point they applied with JPMorgan Chase, their loan servicer, for a modification under the federal Home Affordable Modification Program. They were accepted and given a three-month trial period from January through March, 2010, with payments of $1,200 a month. They were told a permanent modification would bring their payments under $1,000.
The Kerns successfully completed the trial period. In April, Chase requested additional documents, which the Kerns say they promptly returned. A Chase employee told them to keep making the trial payments until a decision was made on permanent modification, Lola said.
Then the process unraveled. Every month from May to August, they received the same letter from Chase requesting the same documents. Each time, the Kerns re-sent their inch-thick packet to Chase, saving the postal receipts. Tom said he called Chase each time to see if the documents had been received, and was assured each time they had.
The next month the entire process would be repeated.
On Aug. 10 Lola arrived home from work to discover a door tag with the message "Please call Chase." Tom called and was told they had been declined for final modification in June, but they could be reinstated if they submitted all of their documents again. They did.
On Aug. 16, they were served a foreclosure notice. Tom said when he called Chase, he was told the foreclosure was triggered because they were more than three payments behind schedule — a direct result of their reduced trial period payments.
The Kerns contacted the Mortgage Foreclosure Intervention Program at Michigan State University Extension. Program coordinator Katherine Grant secured a 90-day stay on foreclosure proceedings, and set up a mediation meeting with Chase lawyers for November. In the meantime, Lola said, they were told to cut all unnecessary spending and record every dime they earned and spent.
Lola also called AnnArbor.com. I met with the couple in mid-September, and they told me their story and showed me the voluminous paperwork.
"If it comes to pass that we lose our home, there are worse things," Lola said, tearing up. "But we have a lot of happy memories here. We've done a lot of growing in this home. My mom and dad gifted us the down payment, and I would hate to see it lost to Chase bank."
After our meeting, I called Chase and asked spokesperson Mary Kay Bean to look into the Kerns' situation. Once she had researched it, I asked her why the Kerns had to repeatedly send the same documents. Are things really that disorganized at Chase?
"It appears there was some confusion," Bean replied. "I'm not going to go any further than that."
I also asked Bean why Chase initiated foreclosure proceedings while the Kerns were still in the modification process. Bean replied that the foreclosure was filed "appropriately after the trial modification period and before the current modification review."
In other words, it was filed during the time that the Kerns were mistakenly dropped from the program due to Chase's "confusion" over documents.
Bean told me the documents were under review, and it could take up to 60 days.
But it seemed wrong that the Kerns were even facing foreclosure and having to go through the mediation process. So I called the U.S. Treasury Department, which oversees HAMP. Spokesperson Andrea Risotto told me that under HAMP guidelines for servicers, Chase was supposed to have notified the Kerns in writing when they were dropped from the program and offered other foreclosure prevention alternatives.
"Our guidelines are clear that [homeowners] get 30 days to appeal or apply for an alternative modification," Risotto said.
Risotto referred the case to their help line — a step that any homeowner can do by calling 888-995-HOPE and asking for "MHA Help."
Then I contacted Fannie Mae, which owns the Kerns' loan, to see if there was anything they could do. Spokesperson Janis Smith immediately put a team of people on the Kerns' case. Four business days later, she called me with the news that permanent modification papers were on their way to the Kerns. The interest was modified from 7 percent to 2 percent, bringing the payment below $1,000.
Help for homeowners
Homeowners who find themselves in loan-modification limbo can take the following actions:
Know your rights. Familiarize yourself with the HAMP guidelines for loan servicers.
Keep detailed records. Make copies of all documents you send. Save postal receipts. Keep a log of conversations with your servicer and note whom you talked to. Save all documents sent to you.
Escalate. If you feel you're not getting anywhere with your loan servicer, ask who owns your loan and contact that company's help line.
Escalate further. If you don't get anywhere with the loan investor, or you're unable to find out who owns the loan, contact the Treasury Department's Hope Now hotline: 888-995-HOPE or www.hopenow.com.
"It really is just about getting people to slow down and call people back and forth and look over documents, put all the pieces together, and figure out whether anything is missing, and if it is, get it," Smith said. "What's going on in this environment is that servicers are processing so many cases, things get bottlenecked."
When I shared the news with Lola, she was shocked for a moment, and then the relief came pouring out.
"I can't believe it — I can't thank you enough," she said, her voice trembling. "I'm speechless. We get to keep our house."
And what was Chase's response? Bean said they were "pleased" with the outcome. I asked her if Chase was taking steps to make sure other homeowners weren't being dropped from the program without notification and referred for foreclosure.
Bean replied: "I have to decline to comment on whether Chase made any mistakes."
I asked Risotto of the Treasury Department whether Chase would face any consequences for apparently violating HAMP guidelines in the Kerns' case. Risotto she couldn't comment on individual cases, but stated that Chase is included in the department's monthly compliance reviews of mortgage files of homeowners who are not offered or denied a HAMP modification, to ensure that servicers' actions are appropriate.
"I would just reiterate that in any instance where a homeowner believes they are not being treated fairly, call the hotline," Risotto said.
Likewise, Smith of Fannie Mae said she couldn't comment on consequences for Chase, but said that any servicer's failure to comply with requirements may constitute a breach of their contractual agreements.
"Errors may cause a servicer direct reputational risk, and for any situations where servicers are out of compliance with Fannie Mae guidelines, they must provide appropriate remedies to the borrowers," Smith said.
That seems to be exactly what happened here.
Jen Eyer is on the Community Team at AnnArbor.com, and she writes a citizen advocacy column. Do you have a problem you'd like to share? Contact Jen at jeneyer@annarbor.com or 623-2577, or fill out the form at www.annarbor.com/citizen-advocate.