Posted on
Sun, Apr 25, 2010 : 7 a.m.
It's my Tea Party, too. It is grass roots, isn't it?
By Guest Column
Lon Horwedel | AnnArbor.com
I attended my second Tea Party in as many years, this time on April 15, Tax Day, in the Diag, at the center of University of Michigan's campus.
With reports of splintering, hijacking and accusations of "astro-turf," I came to see for myself.
I enjoyed several conversations with other protesters, especially one with a young mother holding an "Atlas Would Shrug" sign. We discussed the merits and shortcomings of a flat tax, healthcare reform and the reach of the U.S. military. We referenced a copy of the Constitution that I brought with me. Backpack-laden students stood close to hear us speak. Two remarked on our civility and efforts to find common ground.
What if all political rallies began with a reading from the Constitution? According to Jefferson, democracy depends on an educated people.
Instead, we got far less from this Tea Party.
We got cheerleading and misleading.
And I learned that hypocrisy is a "conservative value."
I'll prove my case.
The common phrase, "we're all entitled to our opinion" is logically weak. An opinion based on fact is superior to one that is not. And once we express an opinion, we are obligated to defend it.
"Facts" don't take sides.
Karen McConnell began the event by telling of her love of history, then told a history of the Star Spangled Banner. After the anthem was sung, McConnell led the crowd in the Pledge of Allegiance. From the crowd, I called for a history of the Pledge. No answer.
"Tell us the history of the Pledge of Allegiance," I repeated. McConnell only stared.
I suspect she knows, or would like to know, that the Pledge was written by a Socialist in 1892, adopted in 1942, and last altered during the McCarthy-era, when "under God" was added in 1954.
"Tell us which Founding Father wrote the Pledge of Allegiance," I yelled, this time mocking Sarah Palin's past remarks.
Next up, a minister led us in a prayer, that we might retake our country, rescue it from the abuse of this administration. The minister failed to mention the gospel of Matthew, where Jesus said we must comfort the sick and the poor.
Then a doctoral student in federally funded cancer research, amplified by the federally funded electrical grid, stood on the federally funded university's steps to speak ill of the federal government. Not hypocritical enough, she took the time to praise individuals and private businesses, though they also receive assistance through our education system, business loans and government-funded infrastructure.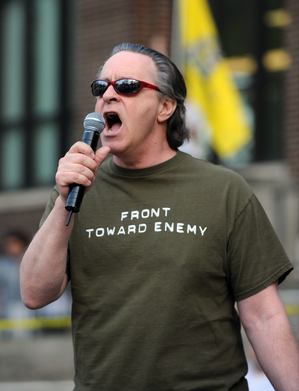 Lon Horwedel | AnnArbor.com
Thayrone X, a local radio personality, spoke next. He confused Hank Paulson's TARP bank rescue with Obama's Stimulus package. He didn't mention the Stimulus's $140 billion tax cuts to the "We're Taxed to Death" audience, nor the hundreds of billions to create jobs in rebuilding a crumbling infrastructure, increase efficiency and advance new technologies.
Thayrone X compared the Revolutionary War-era tax structure to today's, which supports a prosperity-giving infrastructure and far-reaching military.
Thayrone X depicts himself a political Gnostic who "knows the truth," calls for war with Iran, wants to keep America No. 1 by lowering educational and environmental standards and told us that we must vote against "everyone with a D after their name."
Ayn Rand wrote, in order to tear down excellence, one only need to "elevate mediocrity."
Thayrone X complained of corporate taxes.
I yelled, "What about Exxon?"
His quick reply, "Exxon paid $38 billion to foreign governments" (wrong), brought cheers from Tea Partiers.
With $45 billion in profits, inflated because of a trillion-dollar oil war, Exxon paid NO federal tax last year; instead funneling taxes offshore through 20 subsidiaries ... and the "We're Going Bankrupt" Tea Partiers cheered.
A hypocrite cheerleading hypocrites.
This is my protest, too.
I remember Ronald Reagan's tax cuts, inflated military spending, deregulation, two thousand bank failures and bailouts. Reagan was criticized for burdening our children by quadrupling the debt.
I remember George H.W. Bush's unsustainable tax cuts, military spending, bank failures and bailouts that ran the debt higher. Bush was criticized for burdening our grandchildren.
Where was the Tea Party?
I remember the FDIC Improvement Act of '91, signed by Bush, giving the government power to take over failing banks, to conservatively reign them in, to be released when solvent again.
I remember Clinton-era prosperity (with tax increases), based on emerging technologies, a new infrastructure and the Information Age. Clinton left office with a projected surplus of $1.1Trillion.
I remember George W. Bush's campaign for tax cuts, "It's our money."
"It's our debt," was the ignored reply.
Bush's tax cuts (through Senate reconciliation) quickly erased the projected surplus, and with the wars, the debt doubled to nearly $11Trillion. Where was the Tea Party when trillions were borrowed for tax cuts and to kill people? Oh, here they come, just in time to "rescue" us by weakening and delaying Healthcare Reform that would save people from bankruptcy and untimely death.
Off the top of my head, the United States subsidizes coal, oil, transportation, agricultures, timber, communications, nuclear energy, pharmaceuticals, education, healthcare, defense, even tobacco. But, by God, if we don't make money off of sick people, then we're goose-stepping toward Communism.
This is my protest, too.
A Navy vet confronted me and told me to shut up. I pointed to a sign 30 feet away that read, "I Deserve to Be Heard."
I learned that in his 20-year Navy career, he never took the time to read the Constitution, though he swore to defend it every time he re-enlisted. I couldn't help it, I laughed.
When photographers documented our exchange, the Navy vet told them, "Make sure you call him an extremist."
Really? Asking about the Pledge, Jesus, unbalanced tax structure, reading the Constitution and knowing U.S. history, makes me an extremist? Really?
The Constitution is not to be idolized, but read and understood. Right there in the Preamble, we are in this together, across generations.
I challenge my Tea Party to fact-check what they've been told, to hold cheerleaders and misleaders accountable, to educate themselves as a democratic populace must.
Since it's grass roots, it's my Tea Party, and my country, too.
Rick Keith is married, has a 4-year-old daughter and lives in Grass Lake. He is a self-employed contractor, inventor and entrepreneur.