Posted on
Tue, Mar 6, 2012 : 8 a.m.
New York's High Line project should inspire Ann Arbor to create its own urban parks
By Guest Column
On Feb. 2, as many as 1,200 people turned out to hear a presentation at the Michigan Theater about a community development project. This project was not located in Ann Arbor or even anywhere within easy driving distance.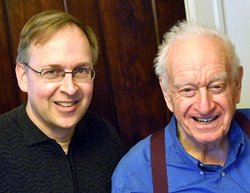 The subject of the talk was an innovative urban park in New York City called the "
High Line
." Built on top of an abandoned, elevated, Manhattan railway, the High Line is a remarkable success story that has generated tremendous support - over 3 million visitors since it opened in 2009. The level of interest here in Ann Arbor was palpable in the near capacity Michigan Theater audience. Ann Arborites were enthusiastic about this story of reclaiming underutilized space for use as an urban public park.
The speaker was Robert Hammond, a founder of the "Friends of the High Line." Hammond's group faced opposition to the idea of a park. At the start, business people wanted to tear down the elevated tracks. Rudolph Giuliani even signed a demolition order - one of his last acts as mayor of New York. Yet the proponents of the High Line kept fighting.
They persuaded business people and government leaders that the new park space would generate revenue and economic development. Through public/private partnerships they created a beautiful, innovative park that has already produced 10 times the initial projections for visitors and a boost in economic development. The impact can be seen in the 30 new adjacent developments under way - including the Whitney Art Museum. The High Line is expected to generate as much as $500 million annually in additional tax revenues.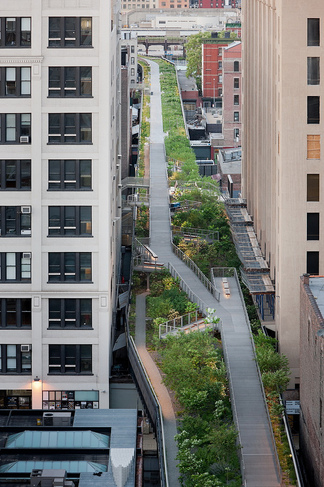 Photo by Philip A. and Lisa Maria Falcone Flyove
This ongoing New York success story does have implications for Ann Arbor. We have two ideas for innovative urban parks, The
Allen Creek Greenway
bordering the western edge of the downtown, and the
Library Green
- a proposal for a park atop the new
underground parking structure
adjacent to the downtown library. The Greenway proposal has languished while awaiting action by the city. The Library Green is at odds with a pro-density mindset that is currently pushing for maximum construction on five publicly owned, downtown parcels.
Some urban park opponents insist that every available downtown building site should have the tallest possible skyscraper. But Ann Arbor doesn't have to choose between a skyline and a High Line. If we think creatively we can have more density without sacrificing our entire downtown to concrete and steel. In the 1990s, we reclaimed thousands of square feet of unused downtown floor space by updating the code to permit loft space conversions in existing buildings. Now those spaces are home to downtown residents and businesses - within the historic architecture that gives Ann Arbor its character.
Another concern raised by opponents is that urban parks present a safety issue. In the case of the High Line, security hasn't been a problem. Despite its location in New York City, there has been no significant crime on the High Line during its first two years of operation. Rather than surrender to the fear of "The Other," Ann Arbor could step up and make all of our parks attractive, lively public spaces - including new ones downtown. The key is to have busy - not empty - public spaces. Through imaginative design and diligent programming, we can have vibrant, appealing public spaces in our downtown.
In New York it took the exit of Mayor Giuliani in order to move away from an outdated, limited vision of economic development. New political leaders grasped the power of the positive creativity represented by the High Line. We have government leaders who have earlier in their careers demonstrated the capacity for visionary thinking about public green space. We shouldn't need to use the blunt instrument of an election to get a change in leadership. Our current leaders could elect to open themselves to new ideas.
Marc Ross is University of Michigan professor of physics emeritus. Will Hathaway is a member of Advocates for a Library Green. They have each been involved in projects to improve Ann Arbor's downtown such as loft space redevelopment, historic preservation and the creation of the Ann Arbor Hands-on Museum.