Posted on
Sun, Mar 25, 2012 : 5:58 a.m.
Offering medical amnesty for underage drinkers could be a life saver
By Tony Dearing
College students don't always make the best decisions about alcohol, and their judgment isn't improved after they've had too much of it.
That's why we find ourselves in support of legislation that would create an amnesty program for any underage person who faces a medical emergency after having too much to drink.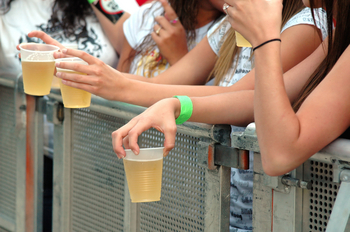 Katseyephoto | Dreamstime.com
The proposed medical amnesty would apply to anyone under the age of 21, but the legislation is
clearly aimed at college students
. It is patterned after programs adopted by a number of colleges across the country, and it has been endorsed by the student government at the University of Michigan, as well as by a student organization representing most other universities across the state.
House Bill 4393, which was approved in the state House earlier this month, allows underage students to seek medical help for intoxication without fear of being arrested under the minor in possession law.
Alcohol poisoning is a serious health issue that can potentially result in brain damage or even death. Young people often underestimate the risks associated with over-consumption of alcohol. Worse yet, a number of studies and survey have shown that college students are reluctant to seek medical help in cases of possible alcohol poisoning because they're afraid of getting in trouble with the law.
Anybody who doesn't think alcohol abuse is a serious problem in college towns obviously wasn't anywhere near Ann Arbor last weekend on St. Patrick's Day. The combination of beautiful weather and an ocean of green beer led to a display of public drunkenness that could only be rivaled on a football Saturday.
Ann Arbor police said they handled 475 calls last Saturday for everything from disorderly persons to drunken driving and minors in possessions. We certainly don't see such wretched excess as anything to celebrate, and those who ended up interacting with police will have to accept the consequences.
Where we would draw the line, however, is in situations where a heavily intoxicated young person in serious need of medical attention doesn't get it because of a fear of being charged as a minor in possession of alcohol. In such cases, medical care has to be the first concern.
A number of other states have approved medical amnesty programs, including New York, New Jersey, Washington and New Mexico. In Michigan, the concept has come to the Legislature before, but died in committee. However, the current version has been improved in ways that make it more likely to become law this time around.
For one thing, it includes a provision that says if a young person under the age of 18 seeks treatment for intoxication, his or her parents would be notified. The current language also makes it a clear that the amnesty applies in the case of someone who presents himself or herself to a health facility or agency for treatment or observation. Past legislation was too vague on the circumstances under which a student could try to claim medical amnesty.
The intent of the law isn't to encourage or condone underage drinking. In most situations, minors who are drinking illegally would face all of the same potential consequences they do now. But when a young person is in medical crisis, then it is time for enforcement to take a back seat to the health and safety of an incapacitated person. Even police agencies agree in that regard. The legislation is supported by the Michigan State Police and the East Lansing Police Department, among others.
In our view, if there's one way the legislation could be improved, it would be in the area of alcohol abuse assessment. When a young person receives a minor in possession, one of the consequences is "wellness check'' meetings that are designed to evaluate that person's use of alcohol. A student who drinks excessively enough to require emergency treatment is a good candidate for such evaluation, and we'd like to see some way that element could be retained.
On the whole, though, we see House Bill 4393 as a sensible approach to a serious problem on college campuses and elsewhere, and the Senate should pass it. Ultimately, this is a case where the safety of students has to come first.
(This editorial was published in today's newspaper and represents the opinion of the Editorial Board at AnnArbor.com.)