Posted on
Sun, Apr 8, 2012 : 5:58 a.m.
Proposed consolidation of Willow Run and Ypsilanti school districts is a smart and logical move
By Tony Dearing
Can something be both obvious and yet unthinkable at the same time? In the case of consolidating local governments or school districts in Michigan, the answer to that question has been "yes'' for far too long.
That is why no one should underestimate the significance of what is now underway in Ypsilanti and Willow Run. Last month, the two school systems announced that at some point in the near future, they will ask voters to allow them to consolidate into a single public school district.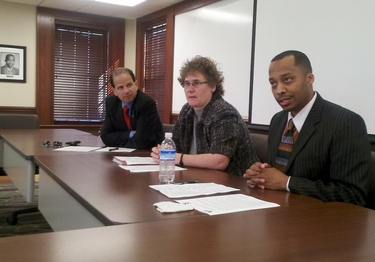 Danielle Arndt I AnnArbor.com
The announcement was not surprising, and yet at the same time, it was stunning. The potential benefits of consolidation seem obvious, but the resistance has always loomed even larger. We are, after all, a state that has 1,240 townships and almost 550 school districts. And people can be fiercely territorial about that tradition.
That's been as true in eastern Washtenaw County as anywhere else. For years, there have been leaders in both Ypsilanti and Willow Run who've quietly suggested that the two districts should merge. But nobody wanted to hit that hornet's nest with a stick. So the status quo remained, even as the districts sunk deeper into debt and student achievement continued to flag.
But that can't continue, and the school boards and superintendents in both districts have been wise enough - and courageous enough - to doing something bold.
By openly pursuing the idea of consolidation, they see the potential to emerge as a new district that is financially solvent and efficient and flexible enough to offer curriculum and programs that boost student performance. More importantly, through a voluntary consolidation, they can pursue these ends in a way that retains local control and input.
In other words, without an emergency financial manager appointed by the state.
That prospect is looming. Since 2009, both Ypsilanti and Willow Run have been on the state's list of districts consistently running a deficit. Willow Run's deficit is currently $1.7 million, while Ypsilanti's total projected deficit tops $9 million. Already, the state has emergency managers running schools districts in Detroit, Highland Park, Benton Harbor and Muskegon Heights.
It's not as if Ypsilanti and Willow Run haven't been cutting their budgets, and looking for ways to save money by consolidating services like busing or back-office functions. But what leaders in both districts have concluded is that nothing short of profound, transformational change will pull them out of their downward financial spiral. Necessity has compelled them to consider something as dramatic as full consolidation.
And they look like good candidates for that. Sitting side by side, with a potential combined enrollment of 5,300, they share the same financial constraints, the same academic challenges and, to considerable degree, the same students.
A recent AnnArbor.com report showed that under schools of choice, more than 700 students who live in the Willow Run district were attending Ypsilanti schools last year, and 172 students from Ypsilanti were attending Willow Run schools. It's not uncommon for students to bounce back and forth between the districts because of changes in their situation at home. A single, consolidated district with the same programs and standards could better serve all students.
We understand that the districts are extremely early in this process. Both school boards have approved resolutions in favor of exploring consolidation, and they'll meet jointly next week to discuss the next steps. Undoubtedly, what officials have ahead of them is a great deal of planning, hard work and attention to community input.
They are also going to need considerable assistance from the state Department of Education and the Legislature. Gov. Rick Snyder has targeted funds in the state budget to support consolidation efforts across Michigan, and the effort being undertaken here would benefit from being able to tap into that money.
But as radical as something like consolidations can seem, it's also logical and perhaps even inevitable. We commend the leaders in Ypsilanti and Willow Run for taking the first steps, and we encourage everyone who has a stake in this process - be it students, staff, parents or community members - to approach this effort constructively and with an open mind. As hard as change can be, not changing is the least viable option for these two districts going forward.
(This editorial was published in today's newspaper and reflects the opinion of the Editorial Board at AnnArbor.com.)