Posted on
Sat, Jan 21, 2012 : 4:02 p.m.
Public Transportation Agreement will benefit all in Washtenaw County
By Guest Column
The Ann Arbor City Council is holding a public hearing at 7 p.m. on Monday to gather input on the proposed process to develop new transit services in Ann Arbor and Washtenaw County. I encourage residents to attend this meeting or contact their council member to voice their opinion.
Nearly two years ago, the Ann Arbor Transportation Authority, also known as TheRide, began leading the development of a countywide transportation plan to help meet our region's long term economic and quality-of-life needs.
The creation of the Transit Master Plan included more than a year of research, planning and public discussion and involved more than 1,200 people and 70 public meetings throughout the county. The goal was to ensure that this plan would take every community's needs into account. Now it is time to decide whether discussions about how to implement the collective vision of the Transit Master Plan should continue.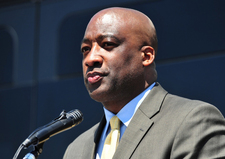 Ann Arbor and Ypsilanti must now consider whether to join Washtenaw County and TheRide in a Public Transportation Agreement that will set a fair, transparent and efficient process for creating a new countywide transit authority. If all provisions of the agreement are met, the new authority would eventually be responsible for serving the transit needs of Ann Arbor, Ypsilanti and all of Washtenaw County. Before each entity votes on the agreement, it's important to understand what it does and does not do.
First, the Public Transportation Agreement protects Ann Arbor and Ypsilanti from losing any existing service if a countywide transit agency is created. Ann Arbor's existing public transportation millage will continue to fund service in Ann Arbor. Ypsilanti's transportation millage will fund service in Ypsilanti. Any additional voter approved funding would be used to enhance existing services while also helping to bring more workers into our region's job centers and expanding mobility for seniors and people with disabilities.
Second, the agreement identifies the conditions that must be met before a countywide authority is incorporated. Most importantly, the new countywide transit authority will not operate or be funded until a funding request is approved by voters and the remaining conditions are met.
Third, if a new countywide transit authority is formed, the agreement ensures Ann Arbor will maintain significant control of the authority. Ann Arbor would have five more board members than the next largest district and six more board members than all other districts.
Finally, the agreement makes clear that all communities have the opportunity to opt out of the countywide transit authority. Opt-out communities would not be required to pay for or receive transit services from the new authority.
Currently, TheRide provides more than 6 million passenger trips each year - mainly in the urban areas of Ann Arbor and Ypsilanti. That equals about 32 people riding a bus for every hour of service provided. While Ann Arbor has adequate service and Ypsilanti has a minimum level of service within their borders, transportation needs are not dictated by political boundaries.
As it stands, about 40 percent of Washtenaw County's population has no access whatsoever to regular public transportation. Our population is aging, transportation preferences are changing, gas prices will continue to increase. If we do not act now to begin meeting these needs, the lack of regional transportation connections will pose a serious challenge to our future success as a county. By joining TheRide in a Public Transportation Agreement, Ann Arbor, Ypsilanti and Washtenaw County will be taking a much needed step towards securing the future economic, social and environmental well being of our region.
To for the most accurate and up to date information about the Public Transportation Agreement, visit www.MovingYouForward.org or call 734.272.9791.
Michael Ford is the chief executive officer of the Ann Arbor Transportation Authority.