Posted on
Sun, Mar 13, 2011 : 5:49 a.m.
Q&A with Jeff Daniels: The actor-musician on his battle to preserve Michigan's film tax credits
By Lucy Ann Lance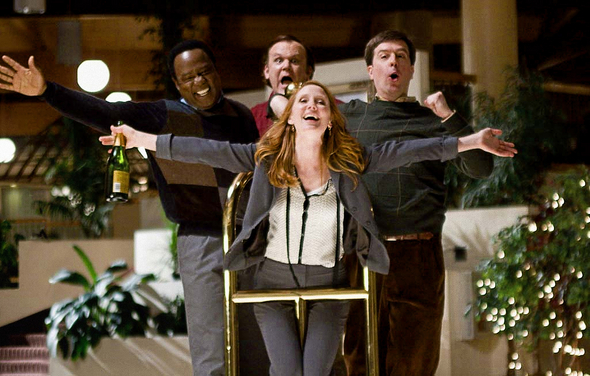 Courtesy photo
"Make no mistake, make it perfectly clear, to get where we're going, we gotta keep it right here."
- From Jeff Daniels' fifth CD, "Keep It Right Here"
Actor/Musician Jeff Daniels could have written that line in support of preserving Michigan's generous film incentive program, but he didn't. I interviewed him recently on 1290 WLBY about his dispute with Michigan Gov. Rick Snyder over plans to eliminate the credits, which refund up to 42 percent of the cost of film production. First, back to that catchy lyric.
Jeff Daniels: It actually originated from that kind of thing that singers do. I heard Sinatra do it on some workshop tapes at Capitol Records. As he's getting up to tempo before his song, it's right, snap, about, snap, here, snap. It's right here. In a world where we are texting and instant messaging and everywhere all at once, it just seems like, why don't we slow down?
Lucy Ann: I love whom you partnered with on your new CD.
Jeff Daniels:
Brad Phillips, mandolin fiddle player out of Saline. Great, great player. Dominic John Davis, upright bass player, who's played with Steppin' In It and Jack White, among others. Great musician.
Lucy Ann: Thanks to Brad Phillips, you recently collaborated with the Saline Fiddlers who performed with you on stage at the Michigan Theater. The kids told me they loved being with you.
Jeff Daniels: We had a great time, and Brad wrote a fiddle arrangement for "Keep It Right Here," which was the finale for that show. Those kids had so much fun, and it just blew the roof off the place when they joined in on that song.
Lucy Ann: You have been very vocal in your support of the film industry incentives here in the state of Michigan. What happened with you and the governor?
Jeff Daniels: It's simple. He requested a meeting with me in December, which I was honored to do. I had heard what he had said in the campaign which indicated that he wanted to kill it. My thing is that I've been shooting movies everywhere except Hollywood since the late-'80s. I've been watching other people, in Vancouver, Winnipeg, Toronto, Louisiana, Connecticut, Texas, and elsewhere - these people get jobs. Hotels, caterers, lumber companies, and on and on. Man, it would be great if it were in Michigan. A Republican bill, actually, made it happen. I'm going, "Oh, my God, finally." And so now you see all of these jobs created, this new industry created. And yes, it costs money. Yes, the taxpayers have to invest in our own people. You're right; it's not free. But I saw all these people put to work. All of these people who were retrained, who were told to reinvent themselves, and did so.
Then for the governor to sit down with me, and he's going to say it's not accurate? Well, wait a minute. The first thing he said to me was, "I don't want to kill it." Now, it's just a proposal. It's not a budget, it's a proposal. In essence that proposal killed it. So, it was accurate. He made no commitments to me. I didn't say he did. We didn't talk numbers. He said, "Do you think we could reduce it? Do you think we could cap it and not kill the industry?" I said I think we could. I think there's a middle ground somewhere. Many people are benefitting -- not George Clooney, not Clint Eastwood -- the Michigan workers are the ones I care about.
Lucy Ann: An Ernst & Young study indicates that for every dollar spent on the movie industry, it generates six dollars in economic activity. What doesn't the governor understand?
Jeff Daniels: Well, from his point of view, he's got a huge deficit. This is his shared sacrifice model. I get that. He's walking into a load of crap on his desk and he's got to deal with it, and that's part of being governor. It costs money, they're looking for things that don't cost anything. My argument is that this creates jobs. Young people are staying here. We're training people, we're reinventing people. Many people, beyond me -- I mean, I haven't invested anything -- many people have invested millions of dollars in that industry.
Lucy Ann: You've invested a great deal in Purple Rose Theater and everything you've been doing just by staying here in Michigan, Jeff.
Jeff Daniels: Well, I care about bouncing back. I care about doing things. I know it's easy to cut. It's a tougher decision, in my opinion, to stay on course and find a middle ground, so that the people who have been put back to work can keep working. The phone guy who comes in and sets up the computers and networking in the production office for each movie. I've talked to guys like that, it saves their business. It saves their business. A Teamster was put out of work, foreclosed his house, marriage on the rocks, lost his car. Movie incentives came in, he's worked steadily for two years as a driver on movie sets. He's got an apartment, marriage back, and bought a car. I said to the governor, let's ask the Ford dealer where the Teamster bought the car what he thinks about the tax incentive. Because he sold one extra car that month the dealer went to the jeweler and bought a ring for his wife. Now, let's ask the jeweler what he thinks about the tax incentive.
The governor knows that, he gets that. That's the guy I sat with, that's the guy that impressed upon me that he understood it, that he got it. I think he did exactly what he said he was going to do. That he was going to balance the budget, and here's who it hurts. (But) that's just a proposal. That's where I call upon the state legislators to find a middle ground. That's what I hope happens. That's the governor I hope they are going to sit down with.
Lucy Ann: Have you talked with the governor since that December meeting?
Jeff Daniels: No. I had my meeting with the governor. That's it. He's going to do what he thinks is best, and I'm going to do what I think is best. I know this: I represent a lot of people, a lot of people. And for me to stay silent was unacceptable.
***
The non-partisan Michigan Senate Fiscal Agency issued a report last fall that shows for each direct full-time job created in the film industry it costs taxpayers $193,000. What about the $6 generated for every $1 spent touted in the Ernst & Young study? In a separate on-air interview, David Zin, the Senate Fiscal Agency's Chief Economist, explained that there's a distinction between the public cost and benefit and the private cost and benefit. "There is a substantial private sector impact - the state is attracting economic activity that would not otherwise occur; but the state spends more in credits than it gets back from the taxes it generates."
Zin also stressed that the money spent on film incentives comes from cuts in other programs. "If it had been spent on education, or Medicaid reimbursements, or a tax reduction somewhere else in the economy, it would have contributed to activity that way also. You have to look at the net of what did you give up and what did you get. A lot of these reports struggle to include that." Download a copy of the Senate Fiscal Agency report at http://Senate.michigan.gov/sfa/.
Presuming the governor has crunched the numbers and weighed the private benefits versus the public costs of Michigan's film incentives, perhaps what he really needs in this debate is a better way to explain the final tally to Michiganders. In the meantime, a lot of my friends getting those film jobs here say the program is priceless to them.
Lucy Ann Lance is co-owner of Lance & Erskine Communications, which produces "The Lucy Ann Lance Business Insider" (M-F, 8 a.m.-11 a.m.) and "The Lucy Ann Lance Show" (Saturdays, 9 a.m.-12 p.m.) on 1290 WLBY. The programs are live streamed at www.1290WLBY.com, and podcast on www.lucyannlance.com. Audio interviews with Jeff Daniels and David Zin are posted in their entirety on her website.