Posted on
Sat, Apr 7, 2012 : 7 a.m.
Think local when it's time to shop for home improvement projects - you might be surprised
By Betsy de Parry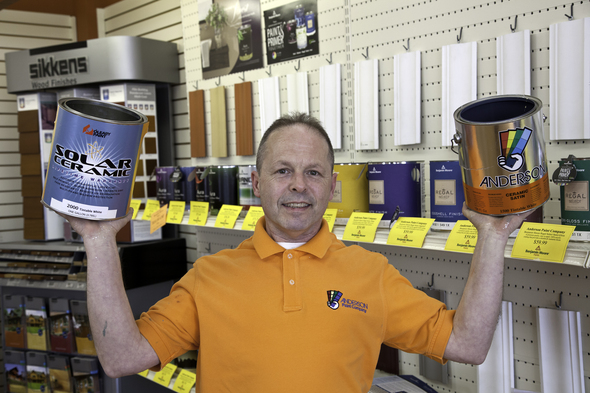 Steve Pepple | AnnArbor.com
Spring has sprung, signaling the start of
home improvement
season. Whether we're sprucing up, repairing or adding on, it's a great time to think about the profound impact of our shopping habits.
And it is profound. Michigan State University examined the recirculation of money in Grand Rapids and concluded that $73 of every $100 spent at locally owned businesses stays in the community, while only $43 of every $100 stays when spent at non-locally owned businesses. Reports from regions around the country have reached similar conclusions.
Locally owned businesses can't begin to compete with the huge marketing budgets of big chains whose advertising would have us believe that they offer the lowest prices around. "But don't assume that the mass merchant really is going be less expensive," says John Fingerle, president of Fingerle Lumber, family owned and operated since 1931.
They weren't, as I discovered when I went shopping for a few hypothetical projects.
Nothing transforms a room like a fresh coat of paint, so I headed to Anderson Paint Co., family owned and operated since 1951. Manager Steve Keith thoroughly explained my choices, which included Anderson's private label paint that is manufactured by the family owned O'Leary Paint Company in Lansing. Wow — a Michigan made paint!
And the cost per gallon? $27.99, comparable to similar paints at big box stores that I later visited where, in contrast to Anderson Paint, no one bothered to ask if I needed help.
A new light fixture can also do wonders for a room, so I popped into Gross Electric and Top of the Lamp where the spectacular displays might have fooled me into thinking that I was in the wrong store if I'd strictly been shopping for the lowest price, but both stores carry fixtures in a wide price range (yes, even comparable to big box stores) and gladly work with all budgets. Both stores also carry American-made fixtures.
My next stop was Fingerle Lumber where the retail cost, including delivery, for materials to build a 10x12-foot pressure treated deck was $494.63. The same materials, including delivery, at big box stores ranged from $66.84 to $80.91 more.
An extra bonus at Fingerle was finding American-made nails, manufactured by Maze Nails.
Because my husband and I are in the homebuilding business and have worked with suppliers — local and non-local — for many years, we can say from experience that the prices for home improvement materials at locally owned businesses are generally equal to or less than big box stores, but experience has also taught us that the intangible benefits to shopping locally have value that can't be measured in dollars.
Local stores generally offer more choices and a variety of better quality materials or products which often outperform and outlast their cheaper counterparts, which can ultimately end up being more expensive because they have to be repaired or replaced sooner.
And if you need a part, local suppliers are better equipped to get them, not to mention that they go the extra mile to stand behind their products.
If, for example, you needed to replace a broken glass globe, Melissa Filter, manager of Top of the Lamp, tells me that she can generally get replacement parts and glass from their suppliers. You'd likely have to replace the whole fixture if it was purchased at a big box store. And replacing a globe is far less expensive than replacing a fixture, not to mention less of a hassle than removing the old and installing the new.
Mark Bishar, whose family has owned and operated Big George's since 1959, tells me that his company promotes American made appliances not just because they're made in America but also because any necessary parts that may be needed are much easier to get from domestic factories.
And while most think of Big George's as an appliance store, the company recently added mattresses to its product line, but not just any mattresses. Theirs are manufactured by Serta right down the road in Romulus. Mark says that you can order a mattress on Monday, it's made on Tuesday and delivered on Friday — which means your mattress doesn't sit in a warehouse collecting dust before you buy it and sleep on it.
Ah, but I digress.
Another benefit to consumers is the long term employment generally found at local businesses. Salespeople at Anderson Paint, for example, average 15 years at their stores while Fingerle's salespeople average 14 years — not counting years in the same business with previous employers.
Long-term employees have experience and knowledge that helps us get the right materials in the right amount, size or style which saves both time and money because we're neither returning to a store to pick up something we forgot nor are we making an additional trip to return wrong or unused materials — or simply wasting them.
And this brings me to the advice that salespeople at locally owned businesses readily dole out in generous proportions to help projects go smoother and faster and last longer. Says Anderson Paint's Tony Anderson, "As my dad has said for years, 'If we could sell all the advice we give, we could give all the paint away for free.'"
All that advice even helps pros like Eco House Coloring's Robin Grosshuesch, who has been painting professionally for years but says he relies on the help he readily gets when he runs into a challenging job. He says he's found that self service stores don't have that level of personalized service or knowledge, whereas the local stores — be it a paint store, a hardware store or a lumber yard — are "problem solvers."
Indeed they are. And so much more. With a vested interest in their communities, locally owned businesses contribute up to four times more to local charities and fundraisers than their non-locally owned counterparts, according to MSU's report. Both Tony Anderson and Mark Bishar made a point of telling me how proud they are to support local teams, clubs and organizations.
But a challenge moving forward, say local merchants, is getting the younger generation to understand that purchasing at locally owned stores not only benefits them but also the community. And it doesn't mean spending more. It simply means spending differently.
Memo to Millennials: Feel free to prove them wrong next time you have a project.
Don't misunderstand. National chains and online retailers have a place and they're here to stay. But if local businesses are to stay along side them, that's up to us every time we shop.
All this rah-rah for local businesses may sound like an old-fashioned, feel-good notion, but it's more than a notion. Our shopping habits matter mightily because the prosperity of communities depends on thriving local businesses.
And one more thing: If each of us bought American made products when possible, we could help create a wave of jobs across the country.
When projects beckon this spring and summer, they really can serve a dual purpose. Completed, they'll give you something new and fresh to enjoy. And when you shop local for the materials you need, with an emphasis on American made products, you'll have invested well in your community and country.
Betsy de Parry and her husband, Alex, own Ann Arbor Builders Inc., which is in the process of building a home constructed mostly of American made materials. Betsy de Parry is a regular online contributor to AnnArbor.com through her Candid Cancer column.