Posted on
Tue, Feb 7, 2012 : 8:56 a.m.
Time for major reform for Detroit and Wayne County
By Guest Column
What happens in Detroit/Wayne County impacts us all.
It was 32 years ago that Wayne County voters decided to "reform" Wayne County government.
Now Wayne County's largest city, Detroit, is teetering on bankruptcy with debt exceeding $20 billion. The Wayne County "severance" scandal continues to unfold with the FBI on the scene.
I recall the political brochure I created to promote my successful candidacy as one of 27 charter commissioners elected in 1980 to write a "constitution" for Michigan's largest county. It read, in part, "When county government is hundreds of millions in debt and no one is in charge -- a change is needed."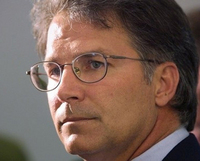 Today, sadly, Wayne County and Detroit are once again steeped in debt and no one seems to be in charge. Scandals pop up as quickly as a Whack-A-Mole game and have yet to be beaten down.
But there is hope, because scandal and crisis are terrible things to waste.As Governor Snyder likes to say, we should use the latest crisis rocking Detroit/Wayne County to "have a conversation" on ways to improve, reform and produce an efficient, responsive, and accountable government.
The status quo should not be an option. And the focus should not be confined to county government, not when its home city is even more in need of overhaul.
The reasons to restructure and reform the self-serving Detroit/Wayne County governments become more apparent each day. We have too much government, mismanagement, inside dealing and corruption.
We have a system of local government that predates the Model T, is outdated and nonfunctional. Try to provide one good reason, beyond preserving political fiefdoms, why we need two separate governmental bodies to govern our affairs in a shrinking region.
Detroit's population dropped by 25 percent in the past decade and is now at slightly more than 700,000, the lowest level since 1910. For the third year in a row, Wayne County has led the nation in counties with population declines.
Both Detroit and Wayne County have massive deficits and no realistic plan to close the gap. The resources we once had to support these duplicative layers of government are no longer there. Basic services suffer as fading tax dollars prop up an aging system of duplicative and nonresponsive government.
So why not seek ways to minimize costs, enhance efficiency and better market and manage the region through a modern city-county consolidation? This should be done -- and is, in fact, being looked at across the state.
It's insane to maintain government structures created in a different age from our fast-paced, hyper-competitive, disruptive, knowledge economy, where ideas and jobs move around the globe effortlessly. Leaders should be driving us to governmental structures that offer regional leadership, effective and efficient local government, and a globally competitive regional economic climate.
There are city/county consolidation models to consider, most notably in Indianapolis, Jacksonville, Lexington/Louisville and Nashville.
What we once had in Detroit/Wayne County is gone, never to return. With the implosion and reformation of the auto industry, globalization and technology, the world has permanently changed. These radical changes require an equally radical response to governmental structure.
There have been significant changes in how business has responded to shifting global change. Meanwhile, our city and county governments simply continue stumbling along.
There is much to gain and nothing to lose by having a serious conversation about the pros and cons of how we can structure government to serve the people and make Detroit-Wayne County and the region a global economic magnet.
There will certainly be resistance from those benefiting from the status quo. There is little to be gained by local officials initiating such a call for change. Yet change and progress are needed.
State legislation could be drafted establishing something similar to the Wayne County Charter Commission 30 years ago to allow local voters to decide if they want to consider reforming and consolidating their governmental bodies and drafting a "constitution" for a new form of local government.
Reform has a way of wearing out. It's time for 'Reform 2.0' in Detroit/Wayne County -- and across the state.
The question remains whether leadership will emerge at the state and local levels and in the public and private sectors to get the conversation -- and, more importantly, action -- underway to create a city/county government to help us thrive as the 21st century unfolds.
After all, a crisis and scandal are terrible things to waste.
Tom Watkins is a former Michigan state school superintedent and the 2011 recipient of The Detroit Regional Chamber's Leadership Detroit Lifetime Achievement Award. He may be reached at tdwatkins88@gmail.com.