Posted on
Mon, Jan 30, 2012 : 5:01 a.m.
Whole Foods parking lot encounter: Was it my car or just the way I was dressed?
By Dwight Lang
After turning onto Stadium Boulevard, I headed east toward Washtenaw Avenue. It was still sunny and around 2:30 p.m. First stop would be Planet Fitness behind the Big Boy restaurant in Ypsilanti for a vigorous workout. I could already feel my heart thumping at resistance level ten on the elliptical machine.
On the way home, I'd stop off for a few tasty dinner items and make a quick visit to the Postal Annex at Georgetown Gifts. Perhaps, I'd see my daughter at Whole Foods as she tallied up food bills for hungry customers.
About two hours later, I pulled into the crowded parking lot at Whole Foods on Washtenaw Avenue in Ann Arbor. A large SUV was close behind.
Fortunately it wasn't snowing yet and a parking spot appeared off to my left. Getting out of my car into slightly cold air I could see and smell smoke from meat cooking at nearby Satchel's BBQ. As the Cadillac Escalade (SUV) parked directly behind me, the driver used up one-and-a-half spaces.
We both exited our vehicles about the same time and would occupy similar walking space heading to Whole Foods' front door.
This well-dressed woman in her mid-40s casually glanced over her left shoulder in my direction as I stepped behind my car — a pretty good looking 1993 Toyota Corolla with a little rust, a bent right rear fender area and a few scratches here and there. This second car is still a dependable source of in-town transportation.

My soon-to-be fellow shopper urgently clutched her purse and started walking briskly — continuing to look at me over her shoulder.
I slowly made my way to the sliding glass doors thinking I might see her in the vegetable or fruit areas. What happened during this brief 10- or 15-second event? Why did she practically run into the store? Why did she seem fearful?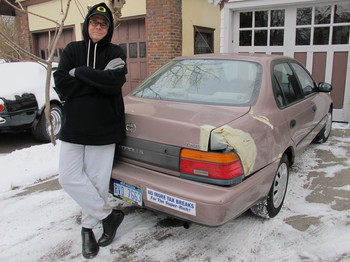 Dwight Lang | AnnArbor.com Contributor
Was she afraid I'd call out for her to re-park her Cadillac?
Was it my older car with a bumper sticker reading: No More Tax Breaks for the Super Rich? Surely she didn't think I was a wealth-redistributing, entitlement-preaching socialist — you never know about Ann Arborites in their bubble.
Was it the way I was dressed on my way home from the gym: baggy gray sweatpants, an over-sized black sweatshirt, a hood pulled up over my head and black baseball hat with a yellow O on the front? Perhaps I looked like a much older version of Eminem just in from the trailer park on Eight Mile for a night of rapping who knows where.
Was I a radical monk with a vow of poverty from a nearby monastery?
Was I headed in to rob the place?
I cautiously considered her possible sources of anxiety and wondered if she'd alert the manager. Would it be risky to sample more than one spicy Italian sausage slice at the meat counter or snatch a delicious green olive near the wine section?
I made it through Whole Foods that afternoon without any problems and all store personnel were friendly and helpful. I did pull down my hood in the warmth of the store. Hopefully a clear view of my Oregon Duck hat would help.
Later, I hoped to see my shopping friend in the check out area where a non-threatening wave or nod might help ease her worries. She was nowhere in sight.
When I left the store and headed to my car I noticed the Escalade was gone and two spaces were now available for other shoppers. Did she only need one bottle of Bordeaux Chateau Lafite-Rothschild for dinner? My Super Rich bumper sticker had not been tampered with.
Dwight Lang is a lecturer in sociology at the University of Michigan and an Ann Arbor.com contributor.